---
Tuesday, April 13, 1999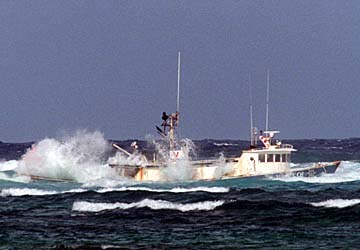 By Kathryn Bender, Star-Bulletin
Bad weather kept workers from recovering diesel fuel from a ship
lodged on a reef off Kauai since early Saturday.
---
Fuel leaks out;
recovery effort ends


Workers this morning
find the ship has broken up,
dumping 16,000 gallons
of diesel oil

By Anthony Sommer
Star-Bulletin

KAPAA, Kauai --The Coast Guard has determined that 16,000 gallons of diesel fuel aboard a grounded fishing boat here have leaked out.

The question now is how much damage will be done to Kauai's east shore beaches and marine life. However, officials believe heavy wind and wave action of the past couple of days have thoroughly diluted the fuel.

"If the whole 16,000 gallons spills, it's going to be fairly concentrated and affect untold miles of shore area," Don Heacock, a marine biologist with the Department of Land and Natural Resources, said early today in assessing the damage potential of the sudden release of all the fuel.

The gradual release of the fuel since Saturday reduces the damage potential, officials believe.

Recovery workers rebuffed for two days by high wind and waves awoke hoping calmer seas would allow them to get aboard the Van Loi, but found the wreck breaking apart this morning.

A Coast Guard helicopter flew over the wreck early this morning shooting videotape for decision-makers in Oahu. PENCO crewmen in jet boats circled the vessel, checking the damage ,but were forbidden from boarding.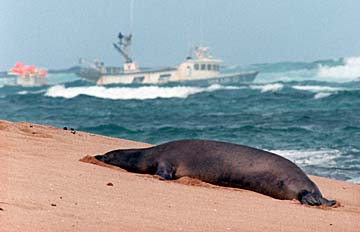 By Kathryn Bender, Star-Bulletin
A Hawaiian monk seal sleeps on a part of the beach that was
supposed to be cleaned.
---
After determining that the fuel had leaked from the Van Loi's tanks, officials late this morning announced that the recovery effort would be abandoned.

The Van Loi is pointed south and has been pounded by surf on its port side since it went aground Saturday morning. The port side of the superstructure was torn away on Sunday.

Last night, waves broke through the starboard side of the superstructure.

The steel hull was twisted and perhaps broken last night.

Heacock said fish will sense diesel fuel and swim away it, but crustaceans actually are attracted to it. The fuel affects the outer lining of their gills, he said.

Meanwhile, PENCO workers again today found themselves plagued by curious monk seals that disrupted their operations. The crewmen have been given orders to go nowhere near the endangered seals.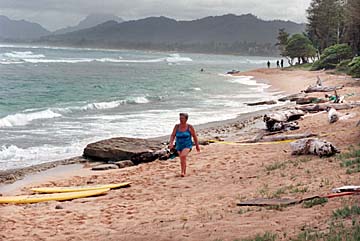 By Kathryn Bender, Star-Bulletin
Tourists stroll a beach just onshore of the grounded ship.
---
Before the recovery operation was called off, PENCO workers carefully laid out long sections of hose on the beach. As soon as they finished, a monk seal hauled out right in front of them, worked its way up to their gear and went to sleep.
E-mail to City Desk
---
---
© 1999 Honolulu Star-Bulletin
https://archives.starbulletin.com