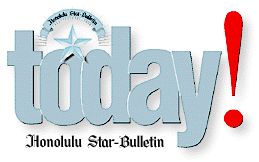 ---
Tuesday, April 13, 1999



A team of 10 conquered the
summit of Everest to make a
film dedicated to heroes
everywhere

By Stephanie Kendrick
Assistant Features Editor
Star-Bulletin

TO ascend Mount Everest from Base Camp at Nepal, climbers begin by navigating the Khumbu Icefalls. This frozen river flows at a rate of about four feet per day. It is riddled by massive boulders of solid ice that shift without warning. Splits in the ice of unfathomed depths are spanned by slippery metal stepladders.

Some people say adventures happen when the best-laid plans fall apart.

But climbing Mount Everest is an undertaking so massive no amount of intense and careful planning precludes adventure.

About five years ago producer Greg MacGillivray of MacGillivray Freeman Films began the journey that would result in the 45-minute film "Everest," the first large-format footage ever shot at the highest summit in the world.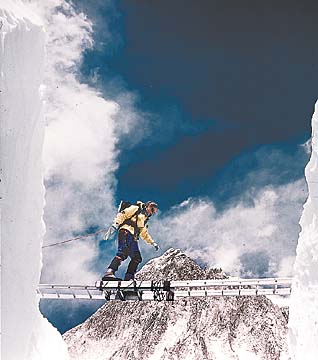 It was directed by mountaineer/filmmaker David Breashears and filmed with a light-weight IMAX camera designed for the expedition.

The movie documents a climb to the summit of Everest completed just days after the May 10, 1996, storm that killed eight climbers; the highest single death toll in the history of Everest expeditions. The all-too-real roles played by the IMAX team in those rescue efforts are included in the film.

Polynesian Cultural Center has won the exclusive rights to show "Everest" in Hawaii.

The top grossing IMAX film ever, "Everest" will be shown three times a day in PCC's IMAX Theater beginning May 17.

Visitors to Hawaii can view the film as part of several admission packages. Kamaaina can purchase a $15.95 pass and gain admission to the park and the IMAX Theatre for one year.

On the evenings of May 14 and 15, PCC will host gala fund-raisers that will include screenings of "Everest," a presentation by photographer Brad Ohlund on the making of the film, dinner and other entertainment.

In conjunction with the Hawaii premier of "Everest," the Honolulu Star-Bulletin will judge an essay contest. Readers are invited to write about the highest, fastest, deepest, most challenging, most frightening, most rewarding adventure of their lives -- in 50 words or less. For details, see the contest entry form on this page.

High on "Everest"

What: Everest Premier Benefits
When and where: May 14 and 15. The event starts at 6 p.m. with bus pick-up at either Hilton Hawaiian Village or Bishop Museum. Dinner at the Polynesian Cultural Center at 7:30 p.m. catered by Sam Choy. Entertainment begins at 8:30 p.m. and includes a presentation by IMAX photographer Brad Ohlund. "Everest" will be shown at 9 p.m. Buses leave for Honolulu at 10 p.m..
Cost: Tickets are $65 and are available at Bishop Museum or by calling 1 (877) PCC-1411. Proceeds benefit Bishop Museum and the Polynesian Cultural Center Foundation and $40 of each ticket is tax deductible.
Call: Peter Rosegg at 539-5720.

---

Mail entries to P.O. Box 3080, Honolulu 96802
or e-mail them to features@starbulletin.com.
No faxes and no hand-written entries please.

---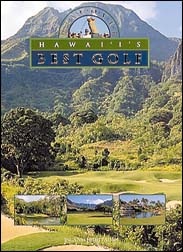 Discover Hawaii's
Best Golf

By George Fuller
Island Heritage
84 pages; soft cover, $11.95.

From the perspective of 10 years spent writing about golf in Hawaii, author and photographer George Fuller has put together a book of his impressions about the best golf in the islands.

The book includes descriptions of the top courses in all four counties, as well as excerpts from interviews with some of the architects who designed those courses.

In addition to his own impressions, Fuller posed the following question to a sampling of Aloha Section PGA professionals: "Without naming your own course, which would you list as the top 10 courses in Hawaii?" A list of the 10 most frequently named courses is included in the book.

"Discover Hawaii's Best Golf" is available in your choice of four covers, one each for Oahu, the Big Island, Maui and Kauai. The content is the same regardless of cover.

Information, call 487-7299.

Calendar

UP COMING

Golf
235-0255
Benefit for Providing Awareness Referrals Education Nurturing Therapy Support group, Thursday, Mamala Bay Golf Course, Hickam Air Force Base. Registration, 10:30 a.m.; shotgun, 12:30 p.m. Three-person modified scramble. Cost: $125 per person; $350 per 3-person team (includes tournament and buffet dinner). Register at the above number or write to: 45-955 Kamehameha Highway, Suite 403, Kaneohe, Hawaii 96744.

The Adventurers Club
262-4273
Buffet dinner, slide show and talk by Nobuo Yoshioka, "Tibet -- The Mysterious Buddhist Kingdom." At 6:45 p.m. Thursday, Queen Kapiolani Hotel. Cost is $16.

Pu'u Hapapa Trail Hike
Ron Fenstemacher, 988-7378
Very advanced hike, 8:30 a.m.-6 p.m. Saturday. Meet at Foote Gate, Schofield Barracks. Proper hiking shoes required. Wear long pants, sunscreen, hat and either a bright colored yellow-orange shirt or bright colored jacket. Bring raingear, lunch and water. Optional: sweater, binoculars and camera. Cost: $12. Limited space. Registration required.

Kaena Point
Charles Lamoureux, 988-7378
Intermediate nature walk, 9:30 a.m.-3 p.m. Saturday. Meet by restrooms on Yokohama Beach. Wear sunscreen and good walking shoes. Bring lunch and water. Shorts OK. Children allowed with parental supervision. Cost: $12. Limited space. Registration required.

Nuuanu Valley Walk
Scott Burlington, 948-3299
Member of The Clean Air Team leads a tour around the valley, 9 a.m.-2 p.m. Sundays through May. Meet at Gandhi Statue near Honolulu Zoo entrance. Participants will take the bus to Nuuanu. Cost: $10 plus bus fare/pass.

SPECIAL

Black Point Cleanup
Dan Sailer, 455-2311
Hawaii Audubon Society's second annual clean-up, 9 a.m.-noon Saturday. Meet at the corner of Papu Circle and Kaiko'o Point (look for orange signs along Kahala Ave.).

25th Anniversary American Heart Golf Classic
Waikele Golf Club, 538-7021
10:30 a.m. May 5, lunch and dinner provided. Drawing awards and door prizes will be given, the grand prize being a golf package for two at St. Andrew's Golf Course in Scotland. Cost is $480 per three-person team, $160 an individual, $1,500 per tee sponsorship, $3,000 per silver sponsorship and $5,000 per gold sponsorship. Registration deadline is tomorrow.

CONTINUING

The Wheel Thing
487-5283
Inline skating classes. Call to register.






Click for online
calendars and events.
E-mail to Features Editor
---
---
© 1999 Honolulu Star-Bulletin
https://archives.starbulletin.com