---
Monday, April 12, 1999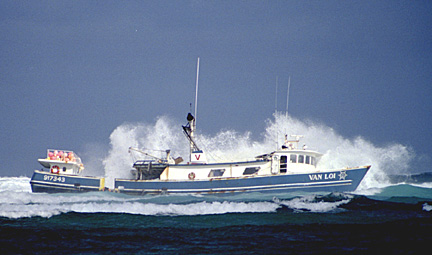 By Bruce Borthwick, U.S. Coast Guard
The 95-foot-long Van Loi is battered by high surf
about 100 yards off shore.
---
Surf halts effort
to avert fuel
oil spill


Ship aground; fuel threatens
Kauai shoreline

By Anthony Sommer
Star-Bulletin

KAPAA, Kauai -- For the second day in a row, heavy surf forced a team of oil recovery experts today to abandon attempts to pump 16,000 gallons of diesel fuel out of a long-line fishing boat aground on Kapaa Reef before its tanks rupture and spill the refined oil on miles of East Shore Kauai beaches.

The only question was whether the 95-foot Van Loi's steel hull would survive long enough for workers to rig a hose and pump. The boat has been pounded by heavy seas since it went aground early Saturday morning, and strong trade winds are forecast for at least two more days.

The boat had moved since yesterday, and this morning was rocking back and forth. A coral head that had been holding it steady appeared to have broken off overnight, crewmen said.

Cleanup crews were at work on beaches in front of hotels and condos again today. There already was a heavy smell of diesel fuel on many of the beaches, and debris ranging from cabbages to chemical lights was being swept in by the wind and surf.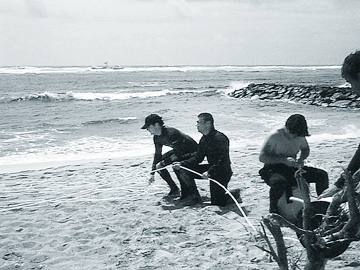 By Anthony Sommer, Star-Bulletin
Pacific Environmental Corp. crewmen lay out nylon line before
attempting to rig an oil hose to the Van Loi, background.
---
Meanwhile, a monk seal appeared in the waters between the ship and the beach today. Response personnel contacted state and federal officials regarding any potential impact to the seal, which is protected by the Endangered Species and Marine Mammal Protection Act.

A crew from PENCO -- Pacific Environmental Corp. -- contracted by the Coast Guard managed to put two men aboard the Van Loi about noon yesterday, but they were forced to retreat when 12-foot waves began breaking completely over the boat as high tide approached.

They had been unable to reach the two 8,000-gallon fuel tanks which reportedly are nearly full.

All they had to show for their effort was a snatch block pulley they attached to the boat and hoped to use to run a nylon line that would bring oil hoses from the shore to the boat.

PENCO supervisor David Carter shut down yesterday's attempts to pump fuel out of the boat at 1 p.m. after a PENCO Sea Doo being used to reach the Van Loi was upended by a wave and flipped over several times by following breakers. The driver was unhurt.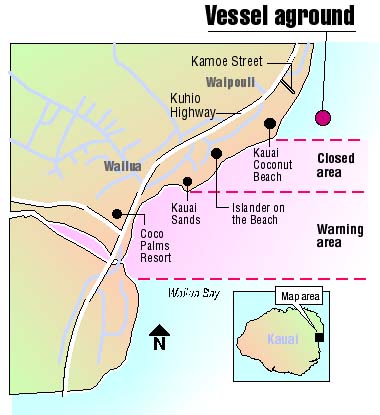 Just before low tide at 7:30 this morning, two more PENCO workers managed to climb aboard the Van Loi, but with the vessel now rocking violently from side to side, they found conditions were worse than yesterday's.

"It got a little too exciting for the crew that was out there, so we got them back off," Carter said this morning.

He said the most immediate problem is that there is nothing for his crew to hold on to near the openings to the two fuel tanks.

PENCO and the Coast Guard flew 1,400 feet of hose to Kauai from Oahu on Saturday night. If workers can reach the fuel tanks on the boat, they hope to pump the fuel into a container on shore.

The Van Loi, which operates out of Kewalo Basin on Oahu, is in water only about waist deep, according to the PENCO crewmen who reached the boat. Its bow is pointed south, and the entire port side is being hammered by the surf.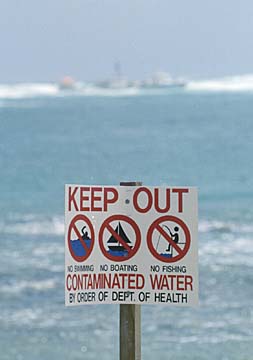 By Bruce Borthwick,U.S. Coast Guard
Signs warn beachgoers of hazardous conditions.
---
"The hull appears to be intact, but the port side of the wheelhouse has been ripped away. Structurally, that's the weakest point," said one of the PENCO crew who boarded the boat, adding, "It reeks of diesel."

Hundreds of local residents and visitors watched from shore as the crewmen tried to recover the fuel. The two PENCO crewmen who went aboard yesterday were at times clearly visible and at other times completely covered by surf and spray.

"This is the most exciting thing to happen here since Hurricane Iniki," said Kapaa businesswoman Ann Leighton, who opened up several pieces of vacant shore-front property she owns so PENCO could set up its equipment.

The odor of diesel fuel was evident at four hotels downwind of the wreck, but only two couples in one resort had asked to be moved as of this morning.

"The guests are really fascinated with all the drama. A lot of them are out on the beach watching the debris float in," said Anna Laranio, manager of the Kauai Sands resort.

According to the Coast Guard, the Van Loi first struck a reef off Anahola, north of Kapaa, early Saturday morning but managed to get back out into the open ocean. The boat began taking on water and sent a Mayday call about 4:30 a.m.

The boat had no anchor, and the wind blew it close to shore and onto the reef.
E-mail to City Desk
---
---
© 1999 Honolulu Star-Bulletin
https://archives.starbulletin.com