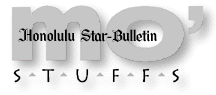 ---
Friday, April 9, 1999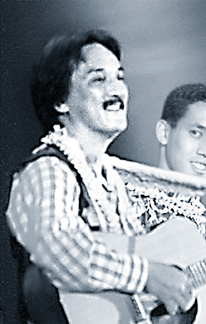 File photo
George Kuo will be among the performers
at Kona's Ki Ho'alu Fest .
---
Slack-key fest
heads to Kona
Back for the sixth year, the Kona edition of the Bank of Hawaii's Ki ho'alu slack-key guitar festival takes place 4 to 9:30 p.m. tomorrow at the King Kamehameha Kona Beach Hotel on the Big Island.

The event is free, and kicks off the first of four slack-key festivals around the state.

Appearing Saturday on the Big Island are Ledward Ka'apana, Elmer "Sonny" Lim, Marcus Wong Yuen, Gary Haleamau, Mathew Swalinkavich, Martin and Bla Pahinui, John Keawe, Brother Noland, Dennis Kamakahi, George Kuo and the Native Hawaiian Band.

If you can't get over to the Big Island over the weekend, mark your calendars for upcoming Ki Ho'alu festivals to be held June 13 on Maui, Aug. 15 on Oahu and Nov. 14 on Kauai.

Information: 239-4336.

Read All About It
Read All About It presents news and notices about Hawaii's literary scene. Send items -- at least two weeks in advance of publication date -- to Read All About It, P.O. Box 3080, Honolulu, Hawaii 96802.
STORYTELLING
AINA HAINA PUBLIC LIBRARY
377-2456
Professional storyteller Jo Ho share, stories with kids of all ages 3 p.m. Tuesday. Sign language interpretation available. .

WAIPAHU PUBLIC LIBRARY
675-0359
Storyteller Jo Ho shares childrens' tales, 1:30 p.m. Wednesday. Call a week in advance if you need a sign language interpreter.
AUTHOR SIGNINGS
GARDNER MCKAY
Borders/Waikele, 676-7820
Meet the author of "Toyer," noon April 17.

BOOK LAUNCH PARTY AND AUTHOR SIGNING
Mutual Publishing, LLC, 732-1709
Meet authors William Dorrance and Walter Judd, and celebrate their new releases, 1-2 p.m. April 17, Bookends, Kailua. Refreshments served. Call 261-1996 for information.
READINGS
JOSEPH STANTON
Borders/Waikele, 676-7820
The author reads from his new book, "Imaginary Museum: Poems in Art,"4 p.m. April 17.
WORKSHOPS
ANNELAMOTT
Lodge at Koele, 808-565-7300, or 808-321-4666

With Anne Lamott, author of "Traveling Mercies: Some Thoughts On Faith" 8:30-9:30 p.m. tomorrow.

EWA BEACH PUBLIC & SCHOOL LIBRARY
689-1204
Free series of book reviews and discussions, 3 p.m. tomorrow-April 16, Hawaiian Room.


"Country Crafts & Decorating," tomorrow.


"Poetry," Monday.


William H. Dorrance discusses "Oahu's Hidden History," Tuesday.


"Biography," Wednesday.


"Eating Well In Hawaii: Fish & Poi Chefs' Low-Fat Recipes," with co-author and chef Patricia Salvador, Thursday.


"Dogs as Pets," April 16.
PEARL CITY PUBLIC LIBRARY
453-6566
Rich Budnick gives two free seminars: "How to Get the Job You Want in Hawaii," 10:30 a.m. April 17, and "How to Self-Publish Your Book," 11:30 a.m. April 17.
MISCELLANEOUS
FRIENDS OF WAIPAHU PUBLIC LIBRARY
675-0358

Book sale, 10 a.m.-3 p.m. tomorrow, Waipahu Public Library, 94-275 Mokuola St. Donations of books, music and videos may be dropped off prior to the sale during library hours. Proceeds to benefit the library.
CONTINUING
AFRICAN AMERICAN LITERARY BOOK GROUP
1132 Bishop St., Suite 1404; 528-5037
Group discusses fiction and non-fiction African literature, 6:30-8:30 p.m. the second and fourth Monday of every month. Call to confirm attendance and book title.

African Black American Education Center Hawaii

First Hawaiian Tower, 528-5037

Literary book group discusses African American literature, two Mondays each month, 1132 Bishop St., Suite 1404. Reservations required. Call Deloris for time, date, book title and reservation.

"Anne of Green Gables Society"
Call 1-902-436-7329 or fax 1-902-436-1787
New group focusing on "Anne," Prince Edward Island and the writings and life of L.M. Montgomery. For information write to: Anne of Green Gables Society, c/o George Campbell, Avonlea, Prince Edward Island, Canada, COB 1M0.

Crafts and stories
Barnes and Noble, 737-3323
Meets 10 a.m. and 4:30 p.m. Tuesdays and Thursdays.

Get in touch with your creative side
678-0561
Two group studies focus on books by Julia Cameron, 6:30-8:30 p.m. On Wednesdays, the group will discuss Cameron's book "Artist Way"; and on Thursdays, another group will discuss Cameron's book "The Vein of Gold." Call Sue for locations.

Honolulu Chapter of the National Writers Association
Manoa Gardens, 845-9585
Meets 7 p.m., second Tuesdays of each month, 2790 Kahaloa Drive. Manuscript critique too.

Literature Readers Group
Borders, Ward; 591-8995
Meets 7 p.m. second Tuesday of each month.

Online fun
(212) 414-6157
Barnes and Noble author chat group at barnesandnoble.com and barnesandnoble@aol (keyword: bn). Call Elke Villa or e-mail her at evilla@bn.com.

Professional Writers Group of Hawaii
941-1768
Meets 4-6 p.m. second and fourth Saturdays of each month. Call Susan.






Click for online
calendars and events.
---
Send WatDat? questions, stories
or any other story ideas or comments to:
Features, Honolulu Star-Bulletin, P.O. Box 3080,
Honolulu, HI 96802 or send a fax to 523-8509
or E-mail to features@starbulletin.com.
Please include your phone number.
E-mail to Features Editor
---
---
© 1999 Honolulu Star-Bulletin
https://archives.starbulletin.com