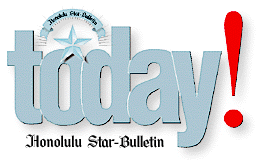 ---
Monday, April 5, 1999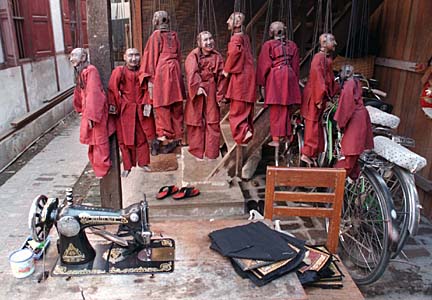 By George F. Lee, Star-Bulletin
Eighteen-inch puppets in a puppet maker's stall in Mandalay
represent those killed -- including students and monks --
in the unrest in Myanmar from 1990 to the present.
---


Elephints a-pilin' teak
In the sludgy, squdgy creek,
Where the silence 'ung that 'eavy
you was 'arf afraid to speak!
On the road to Mandalay ...
But that's all shove be'ind me --
long ago an' fur away,
And there ain't no 'buses runnin'
from the Bank to Mandalay;
An' I'm learnin' 'ere in London
what the ten-year soldier tells:
"If you've 'eard the East a-callin',
you won't never 'eed naught else."
No! you won't 'eed nothin' else
But them spicy garlic smells,
An' the sunshine an' the palm-
trees an' the tinkly temple-bells;
On the road to Mandalay ... -- Excerpt from "Mandalay,"
by Rudyard Kipling

---


Photos and Story by George F. Lee
Star-Bulletin

THE words Kipling wrote a hundred years ago ring true today. Myanmar, the country formerly known as Burma, is a place where, until recently, time has stood still.

The road to Mandalay from Yangon (formerly Rangoon) involves an eight-day ground excursion covering 650 miles. Tour books don't tell you it may also involve four flat tires, sputtering taxi vans and leaky mufflers.

Six hours in a rented taxi van departing from Yangon, my traveling companion and I are probably halfway to our stop in Taungoo, a former capitol that is now a logging town. The road is pitted by the traffic of heavy trailer trucks carrying hardwood logs.

Marie is fast asleep just after 11:30 p.m. when one of our two drivers leans out of his window, frowns, looks back and communicates that we have a flat tire.

As our drivers -- Ko Koji and Ko U -- scurry to change the tire, Marie and I amble out of the van to stretch our legs, when out of the darkness blares Burmese folk music, overmodulated and distorted through old-fashioned public-address speakers in the trees.




George's vacation

Back from a trip to Myanmar, photographer George F. Lee asked, "Want to see my vacation pictures?"

Even though, or perhaps because I had an 7-inch stack of mail -- one of two stacks that arrive daily -- on my desk, I said, "Sure."

George is way too humble.

Normal people take vacation photos, the kind in which contemporary figures in shades and T-shirts obscure national monuments and treasures.

He creates art worthy of galleries and National Geographic.

Now, you can see George's "vacation pictures" too.

-- Nadine Kam, features editor




We follow the sound down the road toward a small hamlet. Even under the dusty light of a half moon, the locals know that strangers are approaching. We were the only ones not wearing the traditional skirtlike garment known as "longyi."

An amicable group of young men gather to gawk at my tall, redheaded Catalan friend and me. A dust-covered hand extends itself and a voice asks in heavily accented English, "Where are you from?"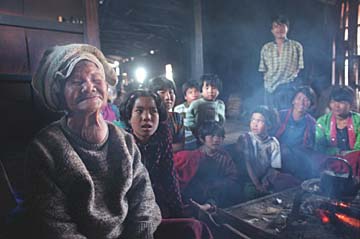 By George F. Lee, Star-Bulletin
A Palaung family awaits our photographer in a longhouse near
Kalaw. A hospitable people, they began preparing for the
visit hours ahead, with advance notice from a tour guide.
---
Shaking the hand I state that I am an American, not Japanese, as they had assumed. The group seems impressed and flattered that two Westerners in the night took such an interest in their music.

Eventually saying their goodbyes, they disappear again, leaving us with only the distorted music blaring into the darkness. Our curiosity had been met with curiosity.

Myanmar has only recently been opened to tourists. Organized French, German and Italian groups in full-sized, air-conditioned buses now share unimproved highways with foot traffic, bicycles, horse carriages and ox-drawn carts.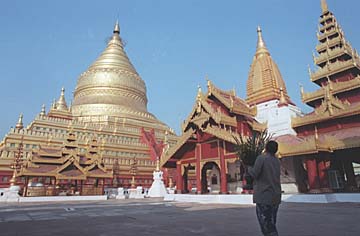 By George F. Lee, Star-Bulletin
Shwezigon Paya at Wetkyi-in, above. "Paya" is the word for temple.
---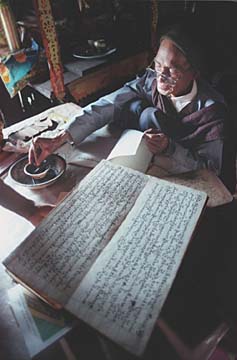 By George F. Lee, Star-Bulletin
A Palaung scribe, left, copies Buddhist text in a village near Kalaw.
---

By George F. Lee, Star-Bulletin
Everyone in Myanmar is expected to be a monk at some point
in their lives. Some families send members to be a monk at an
early age to bring good luck to the family.There are lot of
part-time monks in the country. These are novice
monks at Shwezigon Paya.

---





By George F. Lee, Star-Bulletin
Padaung women start wearing brass rings around their
necks at puberty. No one knows how the custom started,
but it's said the strange look was meant to ward
off men from other tribes.

---





By George F. Lee, Star-Bulletin
The dusty plain of Bagan is home to the largest concentration
of 11th to 13th century pagodas. The path is open to foot
travel as well as full-size tour buses.

---


In a country where fax machines are not readily accessible to the common man, and the Internet is illegal, government-licensed guest houses -- some with MTV, CNN and World Wrestling Federation matches playing on lobby TVs -- have sprung up to make tourists feel more at home.

Even so, the government is not easy on tourists. Americans are still viewed with suspicion by the SLORC (State Law and Order Restoration Council). Further north into the Shan state, military check points become more frequent. I bumped into a couple of Western journalists during my brief stay in Bangkok and all they had were horror stories of film and notes being confiscated at the border on the way out of Myanmar. Guards are also looking for gems and antiques that may otherwise be smuggled out of the country.


By George F. Lee, Star-Bulletin
The entrance to Aung Chan Naung Zedi temple at
Kalaw, a former refuge for the British.

---


Not willing to risk losing my film, I strategically place Marie on the side of the van nearest guards at check points. All eyes fixed on her, drawing smiles and polite nods of the head as they waved our vehicle through the road blocks and on to our next destination.

Winding our way through the foothills of the lower Shan state to Kalaw and Inle Lake, mountain traffic would often come to a halt as animal-drawn carts and motor vehicles attempted to pass each other on a road barely a lane-and-a-half wide. The bigger, faster vehicles commanded the right of way.


By George F. Lee, Star-Bulletin
The Disneyland of Buddhism, Shwedagon is the largest temple
complex in the world. In spite of poverty, the people of
Myanmar will put most of their resources into the
upkeep of the temples. This one is being gold leafed.

---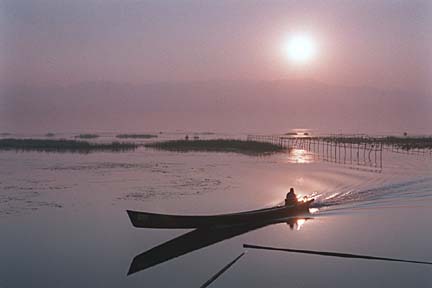 By George F. Lee, Star-Bulletin
Longboat in the morning on Inle Lake.
---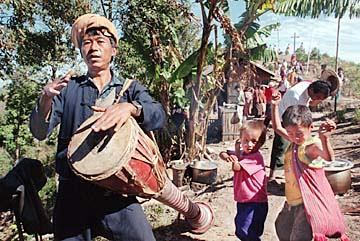 By George F. Lee, Star-Bulletin
Pa-o villagers drum and dance near Manawhla Pagoda, Kalaw.
---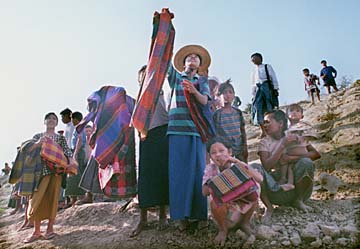 By George F. Lee, Star-Bulletin
Shore side vendors at Pakkaku greet a tour boat
on the Irrawaddy River.
---
During the late afternoons, it was common for a convoy of lorries to pull over on the road, allowing their occupants to squat in truck shadows to enjoy a meal.

At the reconstruction of Shwedagon Paya, I met a worker, a little boy about 6 or 7 years old, who became entranced by my eyeglasses, a simple 35mm camera and my Timex watch with a light-up dial. He was as mystified by a Westerner and his accouterments, as I was by his culture and lifestyle.

Now back in the First World, wearing a brass Padaung bracelet, occasionally smoking a cherute, with a nat puppet watching over my home computer, I think of the simplicity of a life of a somewhat troubled people and troubled land with a beautiful face.


By George F. Lee, Star-Bulletin
Children play outside Ananda Pahto in old Bagan. The girl
is wearing thanakha on her face, the ground bark used is
used as a skin emollient, sun screen and cosmetic.

---




How to get there

Fare to Myanmar from Bangkok is about $200 via Air Mandalay and Myanmar Airways. Travel visas are available through the Embassy of the Union of Myanmar, 2300 S St. NW, Washinton, D.C. 20008, or the Permanent Mission of Myanmar to the U.N. 10 E. 77th St., New York, NY 10021. Would-be travelers are advised that Myanmar is a country in a technical state of war with its Northeastern tribes.






Click for online
calendars and events.
E-mail to Features Editor
---
---
© 1999 Honolulu Star-Bulletin
https://archives.starbulletin.com