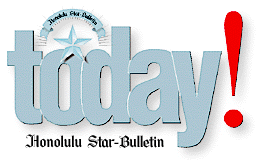 ---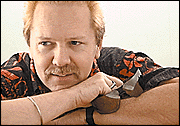 Island Mele

By John Berger
Friday, April 2, 1999
---
Helemano still plays
sure, straight

Strictly Reggae
Artist: Butch Helemano& The Players of Instruments
Label: Hula Records International

BUTCH Helemano was recording original reggae years before it became trendy here. Many Rasta wannabes affected bogus Jamaican accents but Helemano sang it straight and didn't pose as a Rastafarian. He had a monotypical style. Almost all his material was original.

Helemano's new album shows growth as both singer and writer. One of his early songs told of the pain of alimony payments; a new one includes an apology to an ex-wife. His originals here are better than the remakes.

Only "My Boy Lollipop" is a clunker. It is sung by a guest without the winsome appeal of Millie Small's 1964 original.

Heart Jams
Artist: Bryan Kessler
Label: Wire Wood

BRYAN Kessler was an original member of the Hawaiian Style Band. He and Wade Cambern led the HSB to several Hoku Awards; he also won a solo Hoku for "Heiau." As with the HSB albums, he employs an assortment of guest artists.

Kessler favors a soft acoustic style. "Jah Jah" is a pseudo-Rastafarian affectation, but other songs capture his natural appeal as a sensitive singer-songwriter. "Slack Key Guitar," "Heart of Mine" and "Lullaby" are standouts.

"Shine Like the Sun" is his contribution to the growing list of songs about the late Israel "Iz" Kamakawiwo'ole.

La Esperanza
Artist: La Esperanza
Label: Higher Octave Music

CARLOS Villalobos was the talent behind Yasmeen Sulieman's recent debut. He does good work here in what is essentially a solo instrumental project. His blending of acoustic guitar and electronic instruments is reminiscent of Kapono Beamer's landmark early solo recordings, but with a rich Hispanic ambience.

Unlike local record producers, who use synthetics as simple sonic filler, Villalobos uses them creatively while also allowing the silence between notes to add impact. The last song features Glenn Medeiros as guest vocalist and should get local radio play.

See Record Reviews for some of John Berger's past reviews.

---




John Berger, who has covered the local
entertainment scene since 1972, writes reviews of recordings
produced by Hawaii artists. See the Star-Bulletin's Home Zone
section on Fridays for the latest reviews.
E-mail to Features Editor
---
---
© 1999 Honolulu Star-Bulletin
https://archives.starbulletin.com