---
Thursday, April 1, 1999



M A J O R _ L E A G U E _ B A S E B A L L
---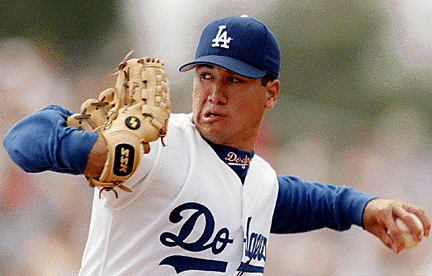 By Steve Martine, Special to the Star-Bulletin
Relief pitcher Onan Masaoka is a likely candidate to
earn a spot on the Dodgers' roster when the
season opens next week.
---
Who's that lefty?

Big Island boy Onan Masaoka
is making a name for himself
with the Los Angeles Dodgers
By Dave Reardon
Special to the Star-Bulletin

VERO BEACH, Fla. -- There's a special guest in Dodgertown today, someone who wanders in every now and then. But not many know who he is, even with a program.
Onan Masaoka knows who the healthy-looking older fella is, and isn't exactly in awe. But he's definitely paying attention to this wiry man and the way he grips a baseball.
Who is this guy in shorts and deck shoes, anyway? And what's he doing messing with a prospect's delivery?
These days, Sandy Koufax looks more like an age-group marathoner than the most powerful left-hander in baseball history. In fact, he looks pretty much like the other area retirees who volunteer each year to help this community's biggest money-maker and source of pride.
God bless the souvenir hawkers and the ushers. But, unassuming as he is, Koufax's contributions could have much more impact on the Dodgers' fortunes -- and those of Masaoka.
Koufax was already long-retired when Masaoka was born in 1977. And Masaoka grew up on the Big Island following football more closely than baseball. Still, the former Waiakea High star knows the lesson he's receiving this day is like getting cooking tips from Emeril, or a little astrophysics tutorial from Stephen Hawking. Or a longboard lesson from Buffalo Keaulana.
"I've seen him around before. He pops in every now and then," Masaoka says of Koufax. "He was showing me a different way to hold my four-seam fastball today. It's nice to know you're learning from someone who knows what he's doing."
And learning he is. This spring, Masaoka has put up Koufax-like numbers (12 strikeouts in 12 innings, 0.75 ERA). Those who decide say Masaoka will probably make the Dodgers' opening day roster, as a set-up reliever.
General manager Kevin Malone: "Right now he's positioned himself to make this club. He's opened a lot of eyes."
Pitching coach Charlie Hough: "His fastball moves well, and he's consistently at 92 and 93 mph. He appears to be very composed in everything he does."
Manager Davey Johnson: "He's been our best left-hander, when you look at performance and the way he handles himself. We've asked a lot of him, changing roles." Johnson said he wants to have two lefties in the bullpen, and he appears ready to choose between veteran Greg Cadaret (0-1, 4.97 ERA this spring), Pedro Borbon (0-0, 2.00) and Masaoka.
Before yesterday's Grapefruit League finale against the Houston Astros, the Dodgers gave Masaoka a commemorative watch as the recipient of the Jim and Dearie Mulvey Award. It's given to the top rookie during spring training.
Masaoka was projected as a starter -- he started 64 of his 83 games in four minor-league seasons since signing in 1995, after the Dodgers chose him in the third round of the June draft.

But he lost endurance after missing a month last season at Double-A San Antonio with tendinitis in his left shoulder. After returning, he was ineffective as a starter, but closed the year with four scoreless relief outings (5 innings) and a 1.86 ERA.

Masaoka doesn't care what his role is, as long as he makes the team.

"I'm comfortable with coming in and pitching to one or two guys," he says. "I think that's what my job will be."

Any job with the Dodgers would make him an instant home-state hero.

He's not among the many Hawaii people who grew up as a Dodger fan. But Masaoka said he likes the organization that has a history of Hawaii-born pitchers. Hough, an Air Force dependent, was born at Tripler. Local boys Sid Fernandez and Carlos Diaz were traded from and to the Dodgers for each other.

"If anything, I liked the Braves," he says. "Yes, there's a connection with home and I like being a Dodger. The guys who have been with other organizations say this is the best they've been a part of, and don't take it for granted."

He says he misses Hawaii's beaches.

"I don't go too often here," says Masaoka, who pitched for Single-A Vero Beach in 1997. "The setting's just not the same."

The original projection for him this year was Triple-A Albuquerque, where there are no beaches. But with each effective outing, Masaoka seems more a lock for the big club.

"I did everything I could pitching-wise. Now I just have to wait and see," he says.

The Dodger brass has only one question about Masaoka. Ironically, it stems from his consistent effectiveness.

"What we need to see with a guy like this is how he reacts the next day when things haven't worked out for him," Hough says. "He hasn't had a bad day, so we don't know."

Sounds like the kind of problem to which Sandy Koufax could relate.





E-mail to Sports Editor
---
---
© 1999 Honolulu Star-Bulletin
https://archives.starbulletin.com