---
Wednesday, March 31, 1999



H A W A I I _ P A C I F I C
---



Game's fun again
for Monzon


Hawaii Pacific's pitcher is
12-1 with a 0.46 ERA

By Jerry Campany
Special to the Star Bulletin

Jennifer Monzon has earned every drop of enjoyment she is squeezing out of this softball season.

Monzon, 18, is 12-1 with a 0.46 earned run average in her freshman season at Hawaii Pacific.

It's not the first time the phenom has sported such a gaudy record, but it is the first time she has posted such numbers while also enjoying the game.

When Monzon was 5 years old, her father dragged her out to the oil fields across the street from their California home and started her on softball training that would consume nearly every free moment for the next 13 years. Anthony Monzon hoped that softball would be a ticket to a college education.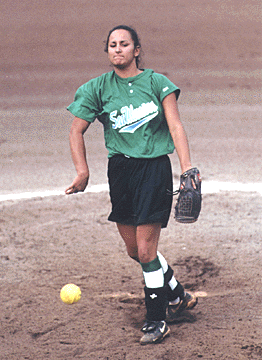 Photo courtesyof HPU
Jennifer Monzon has thrived in her first
year with the Sea Warriors.
---
"She seemed to be better than the other girls early on,"Jennifer's mother, Joy Monzon, said. "We switched her to pitching and hired a professional pitching coach, and she did the rest."

But softball quickly became a chore rather than a game.

"Between 13 and 16 years old, I really didn't enjoy softball anymore," Monzon said.

With an eye to the future and her parents in her ear, Monzon stuck with it. She became determined to use her talent to get away from home and test herself by living on her own.

Monzon weighed interest from Tulsa and Texas Tech, but when HPU called, she decided that Division I competition was not important to her. "I've always wanted to come to Hawaii," she said. "I can't live without the beach. Coming here was like living out a childhood dream."

For all of her struggles with the game and her family, she has no regrets with the way it has turned out for her, and thinks perhaps her parents had a pretty good plan.

"For all of the years I fought it, I'm glad I listened to them and stuck with it," Monzon said.

With the help of herteammates, Monzon is enjoying the game like never before.

Before her collegiate career, she had trouble dealing with teammates with different motivations and was not a team player. She sulked after errors made behind her, and wondered why she seemed to be the only one trying to win. But all of that is in the past now that she has hooked up with a collection of athletes who share a common goal -- winning.

"I like playing softball again," Monzon said. "I've never been on a team where the girls are always there for me."
E-mail to Sports Editor
---
---
© 1999 Honolulu Star-Bulletin
https://archives.starbulletin.com