---
Wednesday, March 31, 1999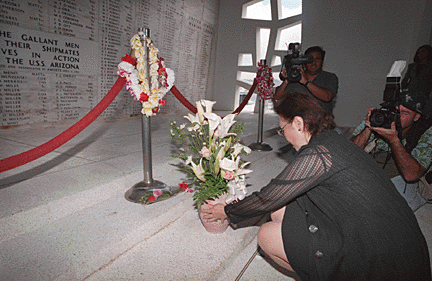 By Ken Sakamoto, Star-Bulletin
Yuko Tojo Iwanami, 59, granddaughter of Japanese Gen.
Hideki Tojo, visited the Arizona Memorial at
Pearl Harbor yesterday.
---
Granddaughter
hopes to clear
Tojo's name


Her book portrays him as
a victim of vindictive
Allied judges

By Gregg K. Kakesako
Star-Bulletin

The granddaughter of Gen. Hideki Tojo hopes that an American television network will pick up the broadcast rights for a movie that portrays the Japanese wartime prime minister as a victim of vindictive Allied judges during the Tokyo war-crime trials.

Yuko Iwanami, 59, wrote a sympathetic book about her grandfather three years ago that tried to change Tojo's image as a "butcher" responsible for unleashing the war in Asia and the Pacific, and for most of Japan's atrocities during World War II.

Tojo was executed by the Allies at Tokyo's Sugamo prison on Dec. 23, 1948.

Last year, Iwanami's revisionist history book, "My Grandfather Hideki Tojo," was made into a movie featuring actor Masahiko Tsugawa, and became a top Japanese box office film grossing $169 million. Her book, which was printed in Japanese and Chinese, is now being translated into English.

Iwanami, who doesn't speak any English, said through interpreter Isao Ashiba that Tokyo Film Production is "now negotiating with a major U.S. television network" to get the movie "Pride" shown in the U.S.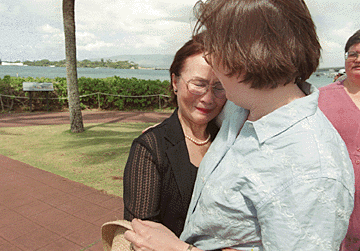 By Ken Sakamoto, Star-Bulletin
Tojo met Monica Nye of Utica, N.Y., whose father, Lt. Col.
Gerald Kearney, was involved in the surrender of the
Japanese at the war's end. Nye introduced herself
to Iwanami and gave her a hug.
---
Iwanami also wants to build a memorial in Peleliu, one of the major islands of Palau, to honor the 6,526 Marines, 3,089 U.S. Army soldiers, 10,000 Japanese soldiers and sailors, and countless numbers of Palauans who died there in 1944.

"It was a most desperate battlefield," Iwanami said.

Iwanami said that she has begun a fund-raising campaign in Japan and hopes to begin construction in two years. She wants the names of everyone who was killed in that battle etched on the walls of the Palau monument -- much like the Arizona Memorial at Pearl Harbor, where a wall features the names of 1,177 sailors and Marines who were killed on the battleship on Dec. 7, 1941.

Iwanami envisions the Showa War Memorial in Palau to be about the size of the 10-acre USS Arizona Memorial, on land that has been donated to her.

Following her visit to the Arizona Memorial, Iwanami said she was "moved by the names engraved on the wall."

During her visit, Iwanami and her 20-year-old daughter, Nahoko, placed a vase of white lilies and pink roses before the altar that bears the names of Arizona's victims. Her visit was "to fulfill her grandfather's wish" honoring Americans and Japanese who were killed in World War II.

Iwanami at one point was greeted warmly by Monica Nye, a tourist from Utica, N.Y., whose father, Lt. Col. Gerald Kearney, was part of an Army Air Corps squadron that provided fighter protection for the Japanese surrender in Tokyo Bay in 1945.

The warm embrace by Nye brought tears to Iwanami's eyes.

However, several other veterans questioned the motives behind Iwanami's visit. Three-war veteran Stanley Igawa said it wasn't "a good idea" for the granddaughter of the Japanese general who ordered the attack on Pearl Harbor to visit a national shrine like the Arizona.

Iwanami was to leave Hawaii today for Washington, D.C.
E-mail to City Desk
---
---
© 1999 Honolulu Star-Bulletin
https://archives.starbulletin.com