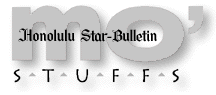 ---
Wednesday, March 31, 1999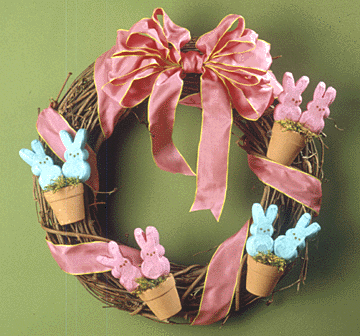 Just Born
If the idea of eating those squishy soft marshmallow bunnies
just can't be stomached, try putting the confections to use --
plant 'em in mini planter pots set on an Easter wreath.
---
Take a peek at
Peeps facts
Easter is coming and soon some Peeps are bound to come into your life. They're all over the stores and they seem so fitting for the season in their pastel glory and their bunny and chick shapes.

You'll buy them or somebody will give them to you or your kids. After all, 600 million are sold each Easter. But let's face it, not everyone likes these marshmallow treats. The answer: Peep crafts!

Hang several from fishing line to make a mobile; put them on popsicle sticks and plant them in pots filled with jelly beans; string them into Peep garlands; use them to trim hats or wreaths. They also turn plain cakes instantly into Easter cakes.

By the way, Just Born, creator of Peeps, has three new products this season -- Peeps Eggs in vanilla creme, marshmallow-flavored jelly beans and blue marshmallow bunnies. Just in case you want to stay on the cutting edge.
---
Slack-key fest set
Kick back with some of the biggest names in slack-key guitar at the 1999 Bankoh Ki ho'alu, taking place on four islands.

The first event in the four-concert series will take place April 10 at the King Kamehameha Kona Beach Hotel.

The "Kona Style"slack key festival will run from 4 to 9:30 p.m. and will include performances by Ledward Ka'apana, Elmer "Sonny" Lim, John Keawe, Brother Noland and Cyril Pahinui.

Admission is free.

The series continues with concerts June 13 at the Maui Arts and Cultural Center; and Aug. 15 at the Royal Hawaiian Hotel. The final event in the series will take place Nov. 14 at the Kauai Marriott Resort Hotel.

The series is presented by Bank of Hawaii. For more information, call 239-4336.
More Metallica
One Hawaii show just wasn't enough. Metallica has added an April 11 concert at the Blaisdell Arena. (The earlier announced April 12 show is sold out.) Monster Magnet will open both shows.

Tickets for the 7:30 p.m. concert are $29.50 and $39.50, and are available at the Blaisdell Box Office, ITT Kaneohe MCBH, Schofield ITR, Pearl Harbor Block Arena. Or charge by phone at 591-2211.
Wrestling royalty visits
Champions from both the World Wrestling Federation and World Championship Wrestling will be in Honolulu for Hawaiian Heat Superstar Wrestling '99.

The April 15 event starts at 7 p.m. at Blaisdell Arena and will include a women's title match and a lumberjack match between two former WWF intercontinental champions.

Participants will include Greg "The Hammer" Valentine and "Nature Boy" Buddy Landell.

Tickets , at the Blaisdell Box Office, cost $35 ringside, $30 for risers and loges, and $25-$20 upper level. Charge by phone at 591-2211.

MORSELS

Feast fit for a Blue Moon: Gastronomy and astronomy merge at Ward Centre's Brew Moon, 7:30 p.m. today.

Explore tonight's blue moon through telescope viewings, displays, trivia, videos and a presentation by the Bishop Museum. "Blue moon" is the term used if a second full moon occurs during one calendar month. Limited seating. Free. Call 593-0088.

Brew Moon is also offering a $25 gift certificate to those who become Bishop Museum members by today, in the individuals, family and family plus categories.

Sample savory ethnic fare: Trek down to Waialua Public Library for cooking demonstrations 11 a.m.-1 p.m. April 10. Charlene Terukina, Edita Agricula and Heather Castro will cook up Portuguese bean soup and selected Filipino and Hawaiian dishes. Free. Call 637-4876.

Dinner with Cecilio: Cecilio Rodriguez, of Cecilio & Kaponofame, performs at a special dinner concert, 8-10:30 p.m. April 10, 3660 On The Rise. A buffet featuring prime rib and Alaskan king crab precedes the concert.
Cost is $50, and includes the buffet, tax, tip, and entertainment. Call 737-1177.

Mavro goes golden: Hawaii's Chef Mavro, George Mavrothalassitis, demonstrates his GQ Magazine's Golden Award-winning onaga recipe 8:30-9 a.m. Friday, on the Discovery Channel.
Chef Mavro is in San Francisco for the Hawaii Visitors and Convention Bureau/Bon Appetit promotion of Hawaii's Cuisine on Tour.

Food for a cause: The Hawaii Foodbank's 10th Annual Food Drive kicks off April 17, 8 a.m.-5 p.m. at Restaurant Row, Koko Marina Center, Mililani Shopping Center, Pearl City Shopping Center and Windward City Shopping Center.
The Foodbank seeks "angels," or volunteers to help with the 2-5:30 p.m. shift at Koko Marina, Mililani, Pearl City and Windward shopping centers. Call 836-3600.

Rockin' in another year: L'Uraku celebrates its third anniversary 6 p.m. April 15 with a Hapa concert. Emme Tomimbang will emcee, Chuck Furuya will head the wine selection and Dean Okimoto of Nalo farms will do the salads.
Cost is $55 and covers food, wine and entertainment. A Davidoff concession will feature cigars and cognacs for sale. Call 955-0552.

Call for scholarship applicants: James Beard Foundation offers more than 100 professional cooking school scholarships. Candidates must have a strong commitment to the culinary arts, an outstanding academic or work record and financial need.
For applications, call 212-675-4984, ext. 311; mail a postcard to the James Beard Foundation, 167 West 12 Street, New York, NY, 10011; or visit the web site: http:www.jamesbeard.org.
Deadline to apply is April 15.

Bella Italia!: Enjoy Italian music and food with the Friends of Italy Society 6:30-8:30 p.m. April 23, Paki Hale, 3840 Paki Ave. Mary Nole will make her cannoli and Tony Calabro will contribute Aunt Tina's biscotti at the gathering.
The public is encouraged to bring musical instruments and join society members for a jam session.
Admission is free.
Call 254-5847.

On air today

"Century of Country," 6 p.m., Nashville Network. CBS News correspondent Bob Schieffer, a life-long country music fan, will narrate a 13-part documentary series hosted by James Garner. The network says the documentary is the most thorough exploration of country music ever produced for television.

"Metropolitan Opera Presents," 8 p.m., KHET/PBS. "Luciano Pavarotti 30th Anniversary Gala" Luciano Pavarotti recalls his Metropolitan Opera debut by performing selections from "L'Elisir d'Amore," "La Boheme" and "Aida."

"It's Like, You Know ... ," 7:30 p.m., KITV/ABC. In "The Getaway," Arthur, Shrug, Robbie, Lauren, Jennifer and all of L.A. are glued to the set watching a televised car chase, but Jennifer worries that the premiere of her career-reviving TV commercial will be pre-empted.

"Drew Carey," 8 p.m., KITV/ ABC. This episode follows in the wake of last year's April Fool's Day episode in which viewers were asked to find all of the mistakes and "bizarre stuff" in the episode. For "April Fool's II," the grand prize has been increased to $100,000 in cash and an evening of bowling with the show's star.

"60 Minutes II," 8 p.m., KGMB /CBS. The Rev. Michael Bray is a Lutheran minister who writes and preaches that people have a God-given right to kill doctors and nurses who perform abortions. Bray himself spent four years in prison for conspiracy in 10 anti-abortion bombings. He hosts an annual meeting of hard-core anti-abortion militants. The federal government is investigating whether he is part of a violent anti-abortion conspiracy.


Click for online
calendars and events.
---
Send WatDat? questions, stories
or any other story ideas or comments to:
Features, Honolulu Star-Bulletin, P.O. Box 3080,
Honolulu, HI 96802 or send a fax to 523-8509
or E-mail to features@starbulletin.com.
Please include your phone number.
E-mail to Features Editor
---
---
© 1999 Honolulu Star-Bulletin
https://archives.starbulletin.com