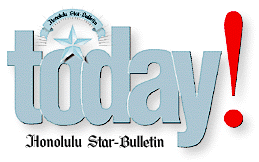 ---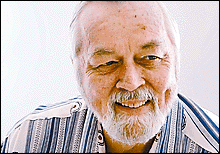 Hawaii

By Dave Donnelly
Wednesday, March 31, 1999
---
Sari splendor
part of fete

SHE doesn't have a social secretary, but Indru Watumull manages to keep all her many appointments straight anyway. On April 8th, for example, Mrs. Watumull and husband Gulab will be at "A Night In India" at the Ka'Ilena Dining Room of Kapiolani Community College. Chef Kusuma Cooray and her international cuisine students will prepare Indian foods and there'll be an Indian fashion show featuring saris from the closets of Indru Watumull. The dinner will be repeated on April 9, but Indru won't be there because she'll be at the 75th anniversary Junior League gala at the Royal Hawaiian Monarch Room. Her daughter, Jojo Watumull, as Junior League president, is the head of that program. The theme is "Roaring Back to 1923," when the League was started and the flappers were flapping. Kit Samson will be providing dance music for the $125 a ticket fund-raising event. See Page C-1 for more about "A Night in India" ...

HERE is another example of following in parental footsteps, much as Jojo Watumull is doing. When Hawaii Pacific took on Nevada-Las Vegas in baseball last night, the announcers were Scott Robbs and Kanoa Leahey, sons of UH baseball radio broadcaster Don Robbs and TV announcer Jim Leahey. Kanoa's actually a third-generation announcer - grandfather Chuck Leahey was a familiar radio voice in years past ...

Case studies

SOME members of the Punahou Class of 1976 apparently didn't see my correction on an item about America On Line founder Steve Case making a huge contribution to his high school alma mater. I first said he was the class of '73, but he's really a '76 grad. Case, who edited Ka Punahou in his senior year, is a member of the 13 Year Club at Punahou, and puts his money where his mouth is. Some of his class members are quite proud of both his accomplishments and contributions, including Rich Mirikitani of Castle & Cooke, Dr. Chuck Kelley (of the Outrigger Hotels family), Raymond Noh of Noh Foods, Judi Anderson of Princess Kaiulani Fashions (and a former Miss America), Nalani Bickson of - shhhhh - St. Louis High, actors Willy Falk and Brenda Wong Yim. There are many more, too numerous to mention ...

TWO of Lanikai's most famous residents, actor Michelle Pfeiffer and husband David Kelley are continuing the remodel of their home there, putting on a new roof ... He may appear before the public often as leader of the Royal Hawaiian Band, but Aaron Mahi remains a regular guy. He was spotted waiting his turn in line at Supercuts in Nuuanu, and according to his wife, Cathy Foy-Mahi, is an excellent cook as well ...

THOSE Warner Brothers folks don't miss a trick. With Easter coming up Sunday, they've been trotting out Bugs Bunny. He assisted Sally Parker (author of the "Sugar and Spice" cookbook) making a pasta dish on TV's "The Hearty Chef." And Bugs (along with pal Tweety Bird) will be helping Gov. Ben and Vicky Cayetano greet keiki Easter Sunday at their annual open house ...

June is busting out

JUST as new UH football coach June Jones gets spring practice under way, comes a letter over his signature thanking alumni for the aloha he's received since his arrival. It goes on to urge support to the university as a whole by joining him in making a commitment to support the school financially each year. Win a few games, June, and you'll be surprised at how fast cash pours in ...

---




Dave Donnelly has been writing on happenings
in Hawaii for the Star-Bulletin since 1968.
His columns run Monday through Friday.

Contact Dave by e-mail: donnelly@kestrok.com.
E-mail to Features Editor
---
---
© 1999 Honolulu Star-Bulletin
https://archives.starbulletin.com