---
Tuesday, March 30, 1999
Hawaii gas prices
expected to rise


Critics blast industry leader
Chevron for being so quick
to hike its fees

By Rob Perez
Star-Bulletin

Chevron Corp., which was slow to lower Hawaii gas prices as crude oil costs were plunging, has started pushing prices up just weeks after crude began a sharp spike upward.

The company, Hawaii's industry leader with roughly one-third of the retail market, over the weekend raised its Oahu wholesale prices by 3 cents a gallon -- the largest one-time jump for Chevron since 1996.

The increase is the first for the company in about a year and a half.

Dealers and others say this is the strongest indication to date that Hawaii's gas prices are heading up, since Chevron historically has been the pace-setter for local prices.

The increase followed a series of 1- and 2-cent decreases Chevron passed to its dealers dating to early 1998. The most recent one came last Wednesday.

In the wake of the weekend increase, some Chevron dealers raised their pump prices by several cents a gallon, prompting competing dealers in some markets to follow suit.

Chevron spokesman Albert Chee Jr. said the company was responding to the local marketplace, noting that prices at competitor gas stations have gone up recently.

"At the end of the day, that's what pretty much dictates movement up or down," Chee said.

The increase, however, prompted critics to blast what the industry has commonly said in the past.

Industry officials have said crude-price declines aren't quickly reflected at the retail level because of a several-month lag between when crude is purchased by Oahu's two refineries and when the resulting gasoline is pumped by motorists at service stations.

Crude prices started spiking up dramatically just last month.

When oil prices go down, Chevron has been slow to react, but that's not the case when prices go up, critics say.

"Funny how that only works one way," said Spencer Hosie, the San Francisco attorney heading the state's $1.8 billion antitrust lawsuit against Hawaii's oil companies. "If oil prices go up, gas prices go up almost immediately."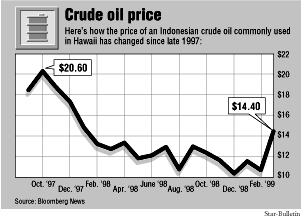 Added Chevron dealer Frank Young, an outspoken company critic: "The very minute that oil prices go up on the West Coast, (wholesale) prices go up here."

Chevron officials, however, have told the Star-Bulletin that Hawaii prices are based purely on local market conditions and in the short term have no relation to cost, including the going rate for crude.

Chee yesterday said the weekend increase had nothing to do with what's happened on the West Coast, where refinery accidents and rising crude costs have pushed pump prices up dramatically the past several weeks.

At some West Coast stations, prices top even Hawaii's, which on average are the nation's highest.

As crude prices dropped roughly 50 percent between late 1997 and late last year, sending mainland pump prices plunging, Chevron dealers on Oahu saw their wholesale prices drop only a penny or two each time, Young said.

During that period, the Oahu price fell about 12 cents to 88 cents a gallon (excluding taxes) for regular unleaded, according to figures provided by Young.

Chevron's wholesale price for regular unleaded continued dropping this year to a low of 82 cents a gallon before the 3-cent increase over the weekend.

Dealers for other oil companies yesterday said their wholesale prices had not changed. But they expected increases imminently because the companies typically match or stay within a few cents of Chevron's prices, they said.

"That's always been the tradition," said Gail Au, who runs a Niu Valley 76 station.

Chevron's Chee disputed that his company has been slow to lower prices.

"Response time is a matter of opinion or what you perceive," he said.

After Arco entered the Oahu market this month with low initial pump prices, Chevron dropped its wholesale prices to dealers twice in two weeks, or 4 cents total, Chee noted.

"People thought we were pretty quick to respond," he said.