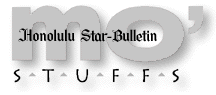 ---
Tuesday, March 30, 1999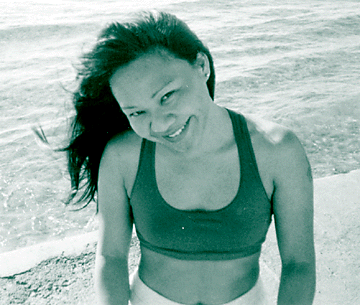 Courtesy of Freda Banggo
"Awards are nice to get, but I don't feel its changed
who I am," says Kathy Dee Kaleokealoha
Kaloloahilani Banggo.
---
Cades Award
winner gives
reading tomorrow
Kathy Dee Kaleokealoha Kaloloahilani Banggo, winner of the 1998 Elliot Cades Award for emerging writers, reads her poetry at 7:30 p.m. tomorrow in the Hale Na'auao lounge on the Windward Community College campus.

Admission to the event, presented as part of the WCC "People Who Write" series, is free.

Banggo, 34, will read selections from her book "4-evaz, Anna."

The writer says she draws on her daily experiences -- her jobs, her family, her Hawaiian-Filipino background -- in her work. "I use things from people's lives and turn it into a story," she says.

Banggo is now at work on a novel and a book of short stories.

Preview
Coming to the big screen
Four movies begin their Oahu run on Friday:
Lock, Stock and Two Smoking Barrels

Rated R
This complicated crime comedy follows four young cockney con men on the mean streets of London.

Matrix

Rated R
Sci-fi thriller blends morphing and other visual effects with mythology, mysticism and martial arts in a tale about a software expert (Keanu Reeves) recruited by a cult leader (Laurence Fishburne) to be transformed into a cyberwarrior to battle a malevolent artificial intelligence.

10 Things I Hate About You

Rated PG-13
Shakespeare's "The Taming of the Shrew" is given a contemporary retelling. Pretty and popular Bianca (Lara Oleynik) is forbidden to have a boyfriend until her older sister, the ill-tempered Kat (Julia Stiles), has one of her own. So Bianca schemes to find Kat's match.

Out of Towners

Rated PG-13
Steve Martin and Goldie Hawn star in a remake of the Neil Simon work about a Midwestern couple's comically calamitous visit to New York.

There will also be sneak previews of one movie this weekend:

Never Been Kissed:

Friday and Saturday at Kahala, Saturday at Pearl West, Friday at Kapolei. Rated PG-13
Drew Barrymore stars as a mousy journalist posing as a high school student on an undercover assignment.

Liberty House hosts
a noble tea party
Piers Anthony Weymouth Wedgwood, who represents the 11th generation of Wedgwoods since the founding of the legendary tableware and gift company, will autograph purchases Thursday and Friday at Liberty House Ala Moana.

He'll be signing Wedgwood "Peter Rabbit" collectibles from 5-8 p.m. both days in the third floor china department.

Wedgwood is known for its jasper ware -- pastel colored, unglazed stoneware with white classical reliefs; fine bone china table ware; and ceramic figurines.

Also, Wedgwood has used the images from Beatrix Potter's "Peter Rabbit" story to create a full line of collectibles that are in keeping with the Easter season.

For more information, call 945-8144.

Also focusing on table settings, entertaining and dining, Neiman Marcus hosts "The Art of Entertaining" through April 10 in The Galleries on the Third Level at the Ala Moana store.

Featured will be table settings designed by Hawaii's First Ladies -- past and present -- Vicky Cayetano, Lynne Waihee, Jean Ariyoshi and Beatrice Burns. Their special occasion gowns, now part of the Bishop Museum's gown collection, will also be displayed near their settings.

"The Art of Entertaining" will also showcase a table setting by international designer Emilia Castillo, known for her artistry in fusing silver and porcelain.

Castillo will be in The Galleries 11 a.m. to 4 p.m. Saturday to sign purchases made that day from her collection. Call 951-3412 for more information.

The Birds of Kauai

By Jim Denny
University of Hawaii Press
103 pages; $19.95, paperback
BY day, Jim Denny is a medical technologist at Kauai Veterans Memorial Hospital, but his passion is ornithology.

Denny gives frequent lectures on Kauai's avian inhabitants, and his photographs of birds have been exhibited at Bishop Museum and Kokee Natural History Museum. His photos also have been published in Smithsonian magazine and National Geographic.

In "The Birds of Kauai," Denny shares his knowledge, passion and photographer's eye. The book is a comprehensive reference and a must read for anyone interested in Hawaii's avian species.

It's that time again:
The Chinese Women's Club of Honolulu will award several college tuition scholarships for the 1999-2000 school year.

For an application, write: Irene Johnson, 1509 Laukahi St., Honolulu 96821. Application deadline is April 25.

Create a tsunami:
Know someone who experienced a tsunami? Interview him or her and write about it or, create a poster. Then enter your work in the 4th Annual Tsunami Essay/Poster Contest and compete for $100 savings bonds, among other prizes.

Posters must be 11-by-17-inches in size, and of paint, pastels, crayons, pen and ink or collage medium.

Deadline is April 23. Call 935-0926 for information.






Click for online
calendars and events.
---
Send WatDat? questions, stories
or any other story ideas or comments to:
Features, Honolulu Star-Bulletin, P.O. Box 3080,
Honolulu, HI 96802 or send a fax to 523-8509
or E-mail to features@starbulletin.com.
Please include your phone number.
E-mail to Features Editor
---
---
© 1999 Honolulu Star-Bulletin
https://archives.starbulletin.com