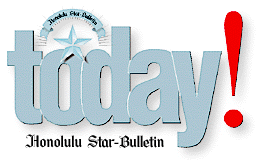 ---
Tuesday, March 30, 1999

By Ken Sakamoto, Star-Bulletin
Roastmaster Elijah Peterson serves visitors at the coffee bar.

---




Drive to Waialua
has its perks

By Betty Shimabukuro
Star-Bulletin

You've done the wave-watching thing, the pineapple thing and the maze thing. You've walked Haleiwa, sucked up shave ice. But there's still daylight left on the North Shore.

How about a cup of coffee?

Waialua Coffee has a new visitor center, offering another stop for wanderers to the North Shore.

It's only been open a little over three months and remains a work in progress, but once complete, the center will offer a total sensory experience for coffee lovers.

They'll be able to see how coffee is processed, hear the roaring of the mill, touch beans as they dry in the sun, smell them as they roast and, of course, taste the brew.


By Ken Sakamoto, Star-Bulletin
Dirk Hendrickson, mill manager of Waialua Coffee,
checks out some coffee beans ready for roasting.

---


The visitor center is in an old industrial part of the Waialua Sugar Mill, which closed in 1996. It is also the center of the Waialua Coffee operation, which last year produced 60,000 pounds of coffee beans ready for roasting on 170 acres of old sugar land.

"It's a bunch of buildings that weren't taken care of for a lot of years when sugar was in decline," says JoAnn Rezents, marketing director for the center and for Dole Foods Hawaii, which owns Waialua Coffee.

When the buildings were restored, a lot of old equipment was reclaimed and recycled. Tongs and lathes stand upright, holding ash trays; giant tires from cane-hauling trucks, clamps and anvils are part of the new decor.

Just outside the visitor center shop -- housed in the old blacksmith's shop and where you can now buy coffee, T-shirts and other souvenirs -- is Waialua coffee's wet mill, where coffee beans are separated from their pulp and fermented.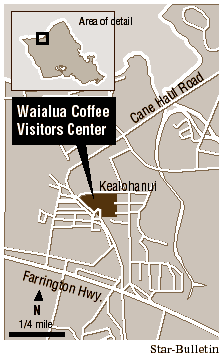 During harvesting months, roughly August to January, visitors will be able to watch the mill in live production. Other times, it'll be turned on each hour for demonstrations.

Waialua's beans are now sent out for roasting, but in the next few months a roaster will be installed on site, giving visitors a chance to watch the full cycle of coffee production. Not to mention smell its great aromas.

More plans: Rezents hopes to see other buildings in the complex renovated for North Shore businesses such as surfboard makers.

The better to attract visitors with, my dear.

"It's far enough away that it's interesting," Rezents said, "and it brings people out to a part of the island they might not otherwise get to see."

Waialua Coffee Visitors' Center

Hours: 9 a.m.-4 p.m. daily except Christmas
Address: Kealoha Nui Street, site of the old Waialua Sugar Mill
Admission: Free
Call: 637-2411






Click for online
calendars and events.
E-mail to Features Editor
---
---
© 1999 Honolulu Star-Bulletin
https://archives.starbulletin.com