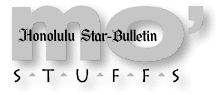 ---
Wednesday, March 24, 1999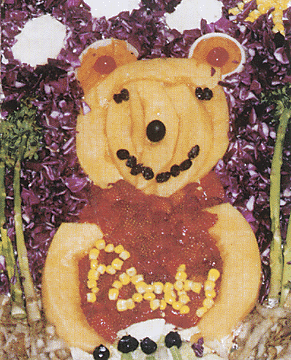 State Nutrition Branch
Pukalani Elementary created this Pooh Bear.
---
Mark the months
with 'Salad Head'
In celebration of National Nutrition Month, the state Department of Health is releasing its annual calendar, which features creatures made out of fruits and vegetables.

The '"Salad Head" artwork was created by elementary-school students for a contest last fall. The contest and related lesson plan were designed to teach the importance of eating five fruits and vegetables daily.

In some cases, kids went to farms and supermarket produce departments to hone their nutritional knowledge.

The calendar is available free at the department's Nutrition Program, Room 410 of the state Capitol. Call 586-4671.

Hey sleepyhead, you're not alone
More than 132 million Americans suffer from sleep problems. The National Highway Traffic Safety Administration estimates that more than 100,000 accidents a year may be related to sleepiness.

As part of National Sleep Awareness Week, running March 29 through April 4, Straub will be presenting a free seminar 6:30 to 8:30 p.m. March 30.

Dr. James W. Pearce, neurologist and director of the Straub Sleep Disorders Center, will speak on "Excessive Sleepiness: New Treatments and Drug Therapies" in the Straub Clinic and Hospital Cafe at 888 S. King St.

Seating is limited. Call 522-4395 for reservations.

Warwick replaces Newton
Dionne Warwick will sing Burt Bacharach's greatest hits in the Honolulu Symphony's Vacations Hawaii Starlight Series at the Waikiki Shell at 7 p.m. May 8.

Warwick replaces Wayne Newton who asked to reschedule his appearance here so he can accept the 1999 Ellis Island Medal of Honor in New York the same day. The National Ethnic Coalition of Organizations Foundation, Inc. is honoring Newton for his humanitarian efforts and outstanding contributions to the United States.

Newton's performance with the Honolulu Symphony has been rescheduled to May 6 next year.

Ticket holders for the Newton concert may use their tickets for this concert or exchange them for any other 1999 Vacations Hawaii Starlight Series concert or for Newton's May 6, 2000, concert.

For ticket information and exchanges, call the Honolulu Symphony ticket office at 538-8863.

Hot show for secretaries
A Secretaries Day luncheon fashion show will take place April 21 at the Hyatt Regency Waikiki Ballroom.

Men and women from Hawaii Federal Firefighters will model clothing in the show, called "Rescue Me!" to benefit Easter Seals.

Lunch will be served 11:30 a.m. and the show starts at 12:15 p.m.

Tickets are $40; Gold Circle tables for 10 are $600. Call 536-1015 for information.

Musical instruments needed
If you have an unused musical instrument in usable condition tucked in the back of a closet, the Salvation Army wants it.

The nonprofit group is looking for musical instruments, particularly string, brass or percussion for its annual summer music camp for children. This year, the camp will run July 10 through 18.

For 50 years, the summer camp has helped children to learn voice, hula, theory and band.

Cathy Hayes, music director for the camp, said that the experience helps children to develop self-esteem and a sense of accomplishment and teamwork as they hear their improvement.

Instrument drop-offs can be made at The Salvation Army Divisional Headquarters, 2950 Manoa Road. Or call Cathy Hayes at 988-2136.

Marking Ching Ming
A Ching Ming program will be held at the Manoa Chinese Cemetery, 3430 E. Manoa Road, beginning 8:45 a.m. April 5.

The ceremony honoring ancestors begins with taiko drumming, followed by performances by the Celtic Pipes and Drums of Hawaii, a service at the Seven Heroes Tomb, a pilgrimage to the Grand Ancestor's Tomb with the U.S. Marine Marching Band.

There will also be a 21-gun salute, helicopter flower drop and rainbow pigeons release, followed by speeches at 10:30 a.m. and closing with a Royal Hawaiian Band Concert at Memorial Hall beginning 11:45 a.m.

For information, call 988-5543.

Pa'ina slated on Kauai
The Kaua'i Historical Society will present its 3rd annual Royal Pa'ina beginning 5:30 p.m. April 17 at the Jasmine Ballroom of the Outrigger Kaua'i Beach Hotel.

The evening will start with a silent auction and no-host cocktails, followed by a dinner program of chants, dances and oral histories inspired by the maka'ainana, or common people of ancient Hawaii, who built a complex civilization.

The Pa'ina is the annual fund-raiser for the nonprofit society, founded in 1914 to preserve the history of Kauai.

Tickets are $60 per person. Reservations can be made by calling Mary Requilman at 1-(808)-245-3373 between 8 a.m. and 4 p.m. Mondays to Fridays.






Click for online
calendars and events.
---
Send WatDat? questions, stories
or any other story ideas or comments to:
Features, Honolulu Star-Bulletin, P.O. Box 3080,
Honolulu, HI 96802 or send a fax to 523-8509
or E-mail to features@starbulletin.com.
Please include your phone number.
E-mail to Features Editor
---
---
© 1999 Honolulu Star-Bulletin
https://archives.starbulletin.com