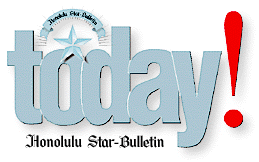 ---
Hawaii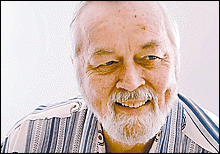 By Dave Donnelly
Wednesday, March 24, 1999
---
Oscar show
comparison's
gotta hurt

SIBLING rivalry: I've no idea whether Jim Leahey and Pal Eldridge, who make the UH baseball games come alive on K-5, heard the Channel 8 news yesterday morning. Leahey is pretty thick-skinned, and inured to criticism, but coming as it did yesterday from weatherman Guy Hagi on K-5's "Sister Station," it might have stung. Hagi uncharacteristically commented that Leahey and Eldridge's telecasts of the UH games were almost as exciting as the Academy Awards show. This was the four-hour-plus yawner in which Whoopi Goldberg proved once and for all that she's her own favorite comedian, mugging and giggling at every little remark writers had prepared for her. And as David Letterman put it after the telecast, the academy is an organization that presents an award for editing? ...

ARCHITECT Don Fowler was a member of the Punahou Class of 1950, and as he saw the school come to the middle of the 20th century, his son is about to put the capper to it. Nicholas, a junior at Punahou, has been elected president of the Class of 2000, and no one is more proud than his dad. Was he president of his class? "Are you kidding?" says he ...

Schussing right along

Former isle residents Gary Barton, now of Long Beach, and Dennis Conway, of Vegas, met on Paddy's Day in Deer Valley, Utah, for skiing. Barton and his girlfriend, Shelly Rogers, told Conway and wife Lynda that they were treating them to dinner on March 19. The four met at the Stein Erickson Lodge and proceeded to a private room where the Conways were given an announcement that Gary and Shelly were married that day at the Lodge. The minister showed up and the nuptials took place while the Conways acted as witnesses. Announcements were then sent out to family and friends. They'd picked March 19 because it was the anniversary of their first date eight years ago. Nothing like getting married on a ski slope -- it's all downhill from there. On the other hand, maybe it'll give them a lift ...

THERE'S a full page Barnes & Noble ad in the Wall Street Journal this week which includes as a "must read" for business in the 21st century, David Thielen's book, "The 12 Simple Secrets of Microsoft Management." Thielen, who grew up on Windward Oahu, is the son of state Rep. Cynthia Thielen ... Campbell Estate trustee David Heenan has also written a book, "Co-Leaders: The Power of Great Partnership." He'll be signing copies 2 p.m. Saturday at Borders in Ward Centre ...

RETIRING as president of Smith Davis Miyasaki Advertising is Pat Davis, who coincidentally was given a Lifetime Achievement Award by the American Advertising Federation. Timing is everything in advertising. It worked out perfectly for Davis, who took the opportunity to do a single speech instead of two, making an acceptance and retirement speech at the same time ...

Super subs

IT figures with a name like Don Ho's Island Grill, that live entertainment would be a regular feature at the Aloha Tower Marketplace eatery. Last Saturday night's show featuring the Brothers Cazimero was a sell-out, thanks in part to it being Robert's 50th birthday. The Brothers have a long-standing off-island engagement for this Saturday, so subbing for them will be the dynamite duo of Willie K and Amy Gilliom with two shows, at 7:45 and 10 p.m. ...

---




Dave Donnelly has been writing on happenings
in Hawaii for the Star-Bulletin since 1968.
His columns run Monday through Friday.

Contact Dave by e-mail: donnelly@kestrok.com.
E-mail to Features Editor
---
---
© 1999 Honolulu Star-Bulletin
https://archives.starbulletin.com