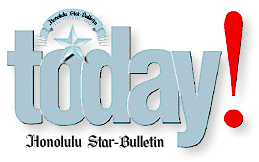 ---
Hawaii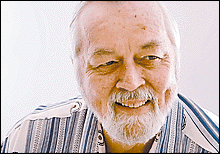 By Dave Donnelly
Tuesday, March 23, 1999
---
Art Academy lunch
offers some surprises

YOU never know what you'll find when lunching at the outdoor Garden Cafe at the Academy of Arts. The other day a friend and I were there and I spotted a fellow walking out who looked awfully familiar. "Was that Dick Dupere?" I asked. My friend went to see and sure enough, brought back Dupere, a former isle lawyer now living in Carmel, Calif., but who with his wife keeps an apartment on the Gold Coast here and slips into town quietly from time to time ... I found myself sitting next to two women, one wearing a T-shirt with something about "surfing" and "Jesus" on it. She was Shinko Fujimoto, a former isle resident who now lives in Japan and is involved with Christian Surfers Japan, an off-shoot of a group called Surf Ministries International. A brochure she sent me mentions "Surfing the Nations," a ministry from Grace Bible Church in Kalihi. She reports that in addition to Grace Bible, there are other isle churches that focus on surfers, such as Hope Chapel Hawaii Kai and Kaneohe and North Shore Christian Fellowship. Joey Akaka, with Hope Chapel Kaneohe, is head of Christian Surfers Hawaii as part of Surf Ministries International. E-mail jcsurfclub@juno.com ...

Karamazov. Gesundheit!

TWO showbiz vets who took in the Karamazov Brothers show at Hawaii Theatre were most impressed. Both Belle Armstrong (unsinkable as "Molly Brown") and the man of many voices, Billy Sage, waxed eloquent about them at Indigo after the show. Billy sagely described the Brothers as "inspired controlled lunacy," which pretty much describes much of what he does ... At a Kahala Mandarin reception for the Karamazovs (who aren't really brothers), guests rushed to greet a bearded man who entered only to learn he was local eye doctor Michael Kroll with wife Sandy. Kroll has "cousins" among the Karamazovs -- Tim Furst and Paul Magid -- and closely resembles them. By the way, the Krolls have been cast in Army Community Theatre's "Fiddler on the Roof." Oy! ...

THE local advertising community's Pele Awards didn't last quite as long as the Oscars, but by all reports was a snoozer anyway. Quipped one radio station sales director, "I knew I was in trouble when they gave out an award for best stationery." As for the Oscars, about the biggest news was that some people didn't applaud when director Elia Kazan, who named fellow Communist Party members when questioned by the House Un-American Activities Committee, was given a vastly overdue (in my view) Oscar for his collected work. Actors like Nick Nolte and Ed Harris were shown not clapping for Kazan, but then, if I'd sat for four hours and not won an Oscar after being nominated, as they had, I'd be in a bad mood too ...

Look, feel and taste good

THE women at the YWCA's Fernhurst Residence got the royal treatment the other day, further inspiring them to their goal, the support of women in transition. First, Kathy Bogatin, lead make-up artist for Bobbi Brown at Neiman Marcus, gave them all beauty makeovers. In addition, Mariposa Chef Doug Lum prepared an organic salad and shared tips on the benefits of eating healthy. The reason behind the choice of Fernhurst for this treat? Their effort to help women put their lives back together follows the tradition of Bobbi Brown, who adopted a similar women's shelter in Manhattan ...

---




Dave Donnelly has been writing on happenings
in Hawaii for the Star-Bulletin since 1968.
His columns run Monday through Friday.

Contact Dave by e-mail: donnelly@kestrok.com.
E-mail to Features Editor
---
---
© 1999 Honolulu Star-Bulletin
https://archives.starbulletin.com