---
Thursday, March 18, 1999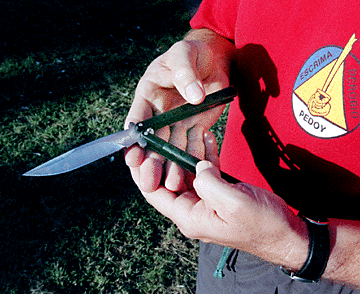 By George F. Lee, Star-Bulletin
Martial arts instructor Ron England demonstrates
how a butterfly knife works.
---
Bill banning
butterfly knives
debated


Opponents to a ban say
the 'balisong' is a vital part
of Filipino heritage

By Pat Omandam
Star-Bulletin

As a youth on Maui, Mark Tolentino remembers when he and his friends would practice handling the butterfly knife, hoping to become as good with it as their elders.

To them, the butterfly knife, or balisong, was part of their Filipino heritage, an instrument viewed not as a deadly weapon that must be banned -- as the state Legislature is proposing -- but as a cultural and martial-arts tool taught from one generation to the next.

"There was no intention to hurt somebody," said the 21-year-old University of Hawaii-Manoa student. "It was more like learning an art."

Ron England, Tolentino's martial arts instructor, said knives such as the balisong are an integral part of the Filipino culture, as they are in many other Southeast Asian countries.

"That knife was your weapon, your agricultural tool; it got you firewood; it was everything," saidEngland, who operates the Pedoy School of Escrima and teaches a defensive form of blade-and-stick fighting twice a week at Old Stadium Park.

England opposes any attempt by the Legislature to ban the sale, possession, use, transport or purchase of butterfly knives -- a response by lawmakers to rising reports of use by minors.

Of the five bills introduced this session dealing with butterfly knives, two remain alive. The Senate Judiciary Committee tomorrow votes on a House bill that would make it a misdemeanor to make, sell, transport or keep a butterfly knife.

The House Judiciary Committee, in the meantime, has before it a Senate bill that would make it a class-C felony to sell a butterfly knife to a minor. A hearing date for the bill is pending.

Balisong used in martial art

Currently, state law does not prohibit people from owning butterfly knives and other deadly weapons such as dirks, daggers, blackjacks and billy clubs, but it makes it illegal to conceal them in any form or to use them in a crime. Only switchblades are banned.

According to the 1986 book "Balisong: The Lethal Art of Filipino Knife Fighting," blade combat has a long and colorful history in the Philippines. The balisong was among several blade weapons used as part of escrima -- a type of martial art -- most of which predate the arrival of the Spanish in 1521. Those practices, however, were banned after the Spanish conquest of the islands over the next 350 years.

Capt. George McKeague, head of the Honolulu Police Department's Criminal Investigation Division, said he understands the significance of the butterfly knife to people of Filipino descent.

"It's almost a rite of passage to have one, to know how to use it, and to open it," he told lawmakers on Tuesday.

Concern is with juveniles

Nevertheless, McKeague said, tougher laws are needed because butterfly knives are ending up in the hands of juveniles. For example, the knives were recently found in the purses of juvenile girls picked up for truancy. Also, more juvenile boys are using them to commit robberies or threaten classmates, he said.

"Butterfly knives are preferred as they are easy to conceal and are more intimidating when brandished," said McKeague, who added they can be bought cheaply at swap meets and open-air markets.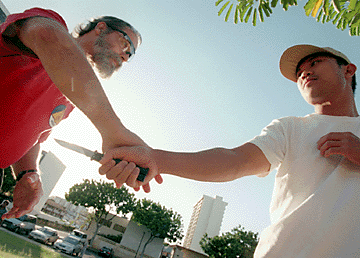 By George F. Lee, Star-Bulletin
Ron England teaches a defensive form of blade-and-stick
fighting twice a week at Old Stadium Park. Here,
he works with Mark Tolentino.
---
Deputy Prosecutor Lori Nishimura said butterfly knives are dangerous weapons closely associated with criminal activity. They are solely designed to harm or kill people, she said.

As for the knives having a practical purpose, Nishimura told senators she questions whether there is a recognized social use for knife-fighting in any kind of martial arts. She urged lawmakers to craft legislation to withstand court challenges.

"The anomaly here is right now under the current law, you can carry a butterfly knife openly but you can't carry it concealed," she said.

"And that seems to make no sense to us at all. Is there a purpose in having it? Is there not a purpose in having it? But it shouldn't matter whether or not it is concealed or openly carried."

'Penalizing the mystique'

England and others contend a ban on the balisong would destroy a part of the Filipino culture. He stressed lawmakers' need to research the issue thoroughly before acting.

"What they're doing is they're penalizing the mystique of a weapon because they found a few bad boys that carry them. You know what I mean? It's blind mentality," England said.

"Anything can be a weapon. (Senate President Norman) Mizuguchi's wife was attacked by that guy with a rubber mallet. What are they going to do? Outlaw rubber mallets? They can get those out pretty quick too, you know," he said.

Mike del Mar, owner and operator of the Del Mar School of Filipino Martial Arts in Waipahu, also opposes a ban. He questions whether it would stop youths or gang members from committing crimes, noting other weapons are available.

"I kinda look at it as the singling out of a particular weapon and the type of ethnic culture that belongs to that weapon," he said.

Part of cultural heritage

Deputy Public Defender Ronette Kawakami, who opposes a ban, said the balisong's use in escrima shows it does have a cultural purpose.

"Like karate, aikido, or tae kwon do, escrima is a martial art that developed and arose out of the country's unique culture," Kawakami said.

"Escrima schools here in Hawaii teach balisong as a legitimate martial art. Martial art instructors and enthusiasts should be allowed to continue the teaching of a cultural heritage."
E-mail to City Desk
---
---
© 1999 Honolulu Star-Bulletin
https://archives.starbulletin.com