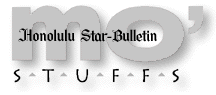 ---
Thursday, March 18, 1999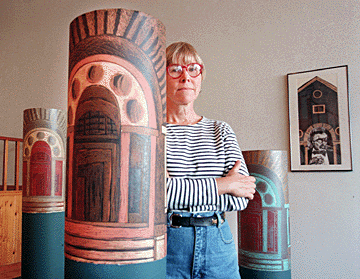 By George F. Lee, Star-Bulletin
Laura Smith, above, stands with her columns, titled "Villa 14,"
"Villa 15," and "Villa 13." Linda Gue's "Unsolved Dilemmas 11,"
below, measures about a square foot.
---
Duo alters
Ramsay Galleries
Altered Spaces
Ramsay Galleries
10 a.m. to 5 p.m. Monday-Friday, 10 a.m. to 4 p.m. Saturday through 3/26.
537-2787
By Suzanne Tswei
Special to the Star-Bulletin

They seem to be scenes out of a surrealistic movie requiring actors the size of Tom Thumb.
A ladder comes out of nowhere and leads to nowhere. Another ladder leads up to a lonely swing perched high off the ground. On a stage, a giant boulder sits between two chairs.
In an exhibit at Ramsay Galleries in Chinatown, artist Linda Gue set out to explore the theme of "Altered Spaces" and ended up with Zen-like riddles in miniature. The exhibit also features printmaker Laura Smith's work inspired by Italian Renaissance villas.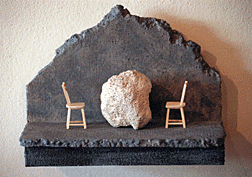 Using bits of wood, papier-mache, concrete and paint, Gue constructed seven miniatures. The scenes offer no solutions, only reflections of life's impossible situations, Gue said.

Imagine you in one chair and hubby in the other and both of you trying to talk with a giant boulder in the middle. "Who hasn't had a conversation when you just can't reach the other person? It's like having a big rock in the middle blocking your way," Gue said.

Not all personal relationships need to be exercises in frustration,Gue and fellow artist Smith get along swimmingly. It was Smith who was granted the exhibit and asked Gue to share it with her.

Smith, who is executive director of Honolulu Printmakers, tapped into her love of Italian villas designed by Renaissance architect Andrea Palladio for her part of the exhibit.

Smith painted imaginary portraits of the owners of a villa and framed them with woodcut prints of the villa. For the rest of her work, Smith created colorful columns with a series of prints based on one villa.

---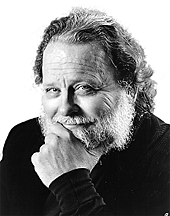 Courtesy KHPR
Peter Schickele offers three performances.
---
Schickele to mix it up in Hawaii

Peter Schickele will be visiting Hawaii from his home in New York to headline three performancesbenefiting Hawaii Public Radio.

Familiar to Oahu audiences through his P.D.Q. Bach Performances with the Honolulu Symphony, the host of Public Radio International's "Schickele Mix" will present "An Evening with Peter Schickele" 7:30 p.m., April 8 and 9, at Manoa Valley Theatre and 4 p.m. April 11, at Hilo's Palace Theatre.

The composer, musician and satirist will be joined on stage by singer David Düsing.

Tickets are $50, or $45 for KHPR members and Manoa Valley Theatre season subscribers. For reservations for Oahu shows, call 955-8821 or 988-6131. For information, call 955-8821.

Jammin' festival

Reggae and hip-hop share the bill at Spring Break Music Festival '99 Saturday at Waimanalo Polo Field, beginning at 9:55 a.m.

The lineup features Yellowman, De La Soul, Black Eye Peas, The Pharcyde, Universoul B-Boyz, Hi-State Family, Ooklah the Moc and The Rocksteady Crew.

Tickets are $30 at the door, $25 presale at Tower Records Kahala and Pearl Kai; Jelly's Market City and Pearl Kai; Radio Free Music Center; Hungry Ear Records Kailua, Makaloa and Wahiawa; Kaneohe MCBH and Tower Video Kapiolani. Information, 377-9348.






Click for online
calendars and events.





---





Send WatDat? questions, stories
or any other story ideas or comments to:
Features, Honolulu Star-Bulletin, P.O. Box 3080,
Honolulu, HI 96802 or send a fax to 523-8509
or E-mail to features@starbulletin.com.
Please include your phone number.
E-mail to Features Editor
---
---
© 1999 Honolulu Star-Bulletin
https://archives.starbulletin.com