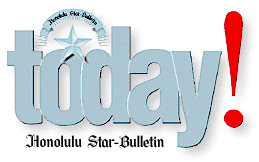 ---
Thursday, March 18, 1999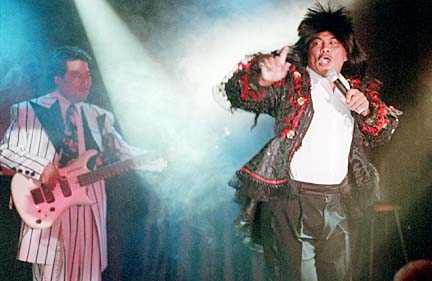 By George F. Lee, Star-Bulletin
Bert Sagum does his Little Richard impression.
---






The Society Of Seven
On stage: 8:30 p.m. Monday, 6:30 and 8:30 p.m. Tuesday-Saturday
Place: Outrigger Waikiki
Cost: Several packages available
Call: 923-6408 or 922-6408.

By John Berger
Special to the Star-Bulletin

The Society Of Seven's superb 1998 show seemed impossible to top but they've done it. The new 30th anniversary show closes with a preview of "Hong Kong -- The Musical" by Danny Diaz and SOS leader Tony Ruivivar.

The story takes place as Hong Kong awaits the change from English rule to ambiguous status as a territory of the People's Republic of China. Many celebrate, but American-educated Ricky Wu Chao sees the end of his relationship with Angela Devonshire, who must leave with her family.

As adapted for the Outrigger Main Showroom, the emphasis is on music rather than characters. The staging includes a lion dance by SOS member Wayne Wakai and stage manager Josh Revells, elaborate costumes, props and scenery. Ruivivar, Gary Bautista and Randy Abellar control the vocals.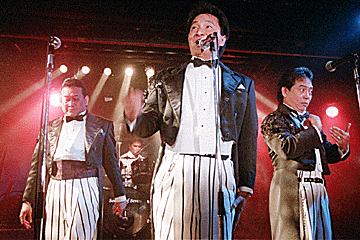 By George F. Lee, Star-Bulletin
The "Three Tenors" --Tony Ruivivar, Gary Bautista and
Randy Abella --take the stage in the Society of Seven's 30th
anniversary show at the Outrigger Hotel.
---
A blacklight segment restates Ruivivar's view of Hong Kong as a beautiful butterfly pursued by a ravenous tiger. Another number speaks of the erosion of civil rights and genocidal policies in Chinese-occupied Tibet.

Ruivivar is never heavy nor didactic, but "Hong Kong" is fresh and unusual stuff for Waikiki. It is also a colorful and promising Broadway-bound work-in-progress, and a commendable step forward by the SOS and Outrigger Hotels & Resorts.

SOS fans wanting more traditional fare will find plenty of that too. A "Top 30 Celebrity Impressions Countdown" includes Miss Piggy (Hoku Low), Sammy Davis Jr. (Roy Guerzo), Liberace (Bautista), Kenny G (Wakai) and the Three Tenors (Ruivivar, Bautista and Abellar).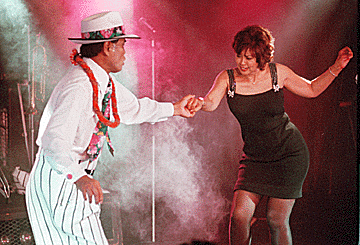 By George F. Lee, Star-Bulletin
Bert Sagum takes a spin with Carole Kai.
---
Frank Sinatra is saluted separately with Ruivivar, Wakai, Bautista, Low and Bert Sagum as soloists. Expect irrepressible Sagum to sing "Strangers in the Night" to a man in the audience. Sagum is hilarious throughout.

Ruivivar's keen eye for pop trends makes the opening number another winner. The SOS has worn zoot suits before, and played big band music for years, but everything's updated with "Jump Jive & Wail" and "Zoot Suit Riot." No one in town sports better zoots and plays hotter jive.

The SOS has charmed fans with a "boys will be girls" bit for years. This time there's a clever tribute to "Cabaret." Given their skill as comic transvestites there's no need to get men from the audience into drag too. Not that it isn't funny, but the show needs no such filler.






Click for online
calendars and events.
E-mail to Features Editor
---
---
© 1999 Honolulu Star-Bulletin
https://archives.starbulletin.com