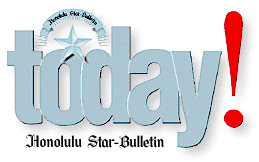 ---
Hawaii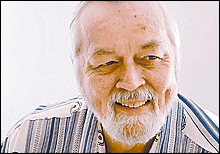 By Dave Donnelly
Thursday, March 18, 1999
---
Bride-to-be's
green sparkles

THE wearin' of the green seemed to be everywhere yesterday to mark St. Patrick's Day, but one person who was proudest of the green she was wearing was Candy Bahouth. Now Candy, and let's hasten to add her maiden name was Adair, has always been proud of her Irish heritage -- her grandparents emigrated from the Emerald Isle. She went on a romantic weekend getaway to the Kona Village Resort with her longtime boyfriend, travel exec Nane Aluli, son of legendary entertainer Irmgaard Aluli. As they walked along the ocean admiring the stars, Nane suddenly stopped and proposed. She said yes, just like in the movies, and he sealed the deal by slipping an emerald engagement ring on her finger -- just the touch of green to make her last St. Patrick's Day as a single woman memorable ...

YET another item about kids of entertainers. In the Kamehameha Schools Song Contest (telecast tomorrow on Channel 2 at 6 p.m.), Pohaikealoha Kahoone, granddaughter of Kealoha Kalama is dancing during the Ho'ike while Jeffrey Apaka, son of the late Alfred Apaka, sings "Love Song of Kalua." Also performing will be Nina Keali'iwahamana, Genoa Keawe, Myrtle K. Hilo, Myra English, Dotty Ortiz and Lovey Del Toro. The contest honors the Music of the Renaissance ...

Thank you very much!

IT looked to be one of those awful days for Rick Davis, former publisher of Aloha magazine. He had an important luncheon date with a VIP this week and when he got to his trusty chariot in the parking lot, found he had a flat tire. Not the most skilled of repairmen, Davis caught a ride to Restaurant Row with a pal, but got there 15 minutes late and his lunch date had already departed. As deflated as his tire, Davis decided to walk to a parts store to get a can of emergency air to put in his tire so he could get to a service station to get the flat fixed properly. As he was crossing Queen Street, he spotted Lex Brodies, deciding on the spot to go in and explain his problem. Before he knew what had happened, Davis found himself in a pickup truck with the supervisor, who drove him to his car, filled the tire with emergency air, returned him to the shop, removed, patched and replaced the tire on his car. "How much?" asked Davis, not accustomed to dealing with such matters. "No charge," came the reply. "Have a nice day." Davis still can't believe such a display of aloha, and observes, "Guess where I'll buy my next set of tires?" ...

MURPHY'S Law: It was just a minute shy of an hour after Perry & Price ended their live radio show from the Cal in Las Vegas that someone hit the "Cash Fall" machine for $11,000. Alas, it wasn't one of their listeners, who'd been given free guest pulls at the machine throughout the program. Apparently they'd primed the pump for the post-show players, because the very machine the promotion duo of Be-Jay Kodama and Sweetie Pacarro had predicted would win did just that ...

Have a ducky day

IT'S that time of year again, that the zany atmosphere created by St. Patrick's Day spills over to others. Tomorrow, for example, is the day the Cerebral Palsy Association's annual Hawaiian Rubber Ducky Race gets underway with KRTR D.J.'s Chris Reiser and Paul Ogata perched at the corner of Kapiolani and McCully until 500 ducks have been "adopted." The annual duck race itself takes place on the Ala Wai on March 27 at 2:30 p.m., but you have to adopt a duck if you want have a "quack up time" and win some major prizes from McCully Shopping Center ...

---




Dave Donnelly has been writing on happenings
in Hawaii for the Star-Bulletin since 1968.
His columns run Monday through Friday.

Contact Dave by e-mail: donnelly@kestrok.com.
E-mail to Features Editor
---
---
© 1999 Honolulu Star-Bulletin
https://archives.starbulletin.com