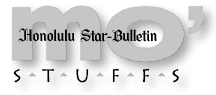 ---
Wednesday, March 17, 1999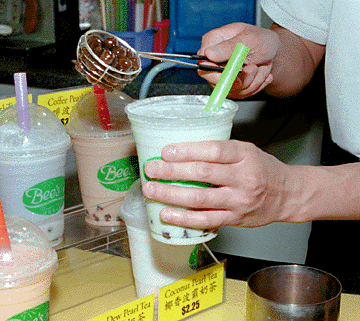 By Ken Sakamoto, Star-Bulletin
Black tapioca "pearls" are a popular
addition to Bee's beverages.
---
Creamy drinks
to chew on
Smooth ... yet chewy. Black pearl tapioca drinks sold at Bee's Dessert House present a pleasing combination of textures in flavors from fruit to coconut to coffee or tea.

The mochi-like globes sit at the bottom of the creamy drinks, where they are sucked up through extra-large straws. The first time is quite a surprise.

Owner Dannie Chan says the drinks are popular in Taiwan and -- oddly enough -- Los Angeles, although they originated in Hong Kong.

Bee's, which is in the food court outside 99 Ranch Market in Mapunapuna, opened in September. One measure of customer traffic: Chan has given away more than 5,000 frequent-drinker cards -- customers get a stamp for each drink purchased. He's already traded free drinks for 900 filled cards (10 stamps each).

His most popular flavors are honeydew and taro. Pearl Cream Tea drinks sell for $2.25 each. Call 834-8888.

Kapiolani wins $25,000 grant
Kapiolani Medical Center for Women and Children has been awarded a $25,000 grant for early childhood health programs.

It was one of 10 recipients nationwide of Pfizer Inc.'s Committed to Kids Pediatric Health Grant Initiative and the only Hawaii institution to get funding.

Kapiolani will use the money for a series of monthly seminars designed to educate parents and child care providers on early childhood development and health issues.

Resident doctors at Kapiolani who are with the University of Hawaii Department of Pediatrics work under the supervision of pediatric faculty members to develop and lead the discussions. Topics include toilet training, infection control, nutrition and discipline.

Seminars are offered on the UH Manoa campus but plans exist to expand to other areas of Oahu as well as the neighbor islands.

For more information, call 535-7233.






Click for online
calendars and events.
---
Send WatDat? questions, stories
or any other story ideas or comments to:
Features, Honolulu Star-Bulletin, P.O. Box 3080,
Honolulu, HI 96802 or send a fax to 523-8509
or E-mail to features@starbulletin.com.
Please include your phone number.
E-mail to Features Editor
---
---
© 1999 Honolulu Star-Bulletin
https://archives.starbulletin.com