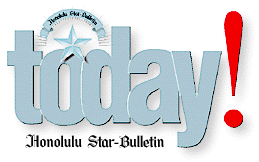 ---
Wednesday, March 17, 1999



Spice up your cooking
with kim chee

Here are the recipes for dishes prepared by Mike Irish, president of Halm's Enterprise, on "Hawaii's Kitchen" this week. The program aired at 5:30 p.m. Sunday and will be rebroadcast at the same time Saturday on KHON.Fox 2.

Halm's Kim Chee Dip

8-ounce block cream cheese, softened
12-ounce bottle Halm's Won Bok Kim Chee, chopped
1 stalk green onions, chopped (optional)

In a mixing bowl, add softened cream cheese and mix with a wooden spoon.

Add kim chee juice from the bottle to desired consistency.

Add chopped kim chee and green onions, stir to combine. Serve chilled with crackers or chips.

Halm's Kim Chee Stir Fry

1 teaspoon vegetable oil
1/2 onion, sliced
1 can Spam, julienne cut
12-ounce bottle Halm's Won Bok Kim Chee, drained & roughly chopped
10-ounce bottle Halm's Head Cabbage Kim Chee, drained
1/4 to 1/2 cup Man Nani BBQ Sauce

Heat oil in wok.

Add onions and sauté until softened.

Add Spam and sauté.

Add drained kim chee and BBQ Sauce and mix.

Simmer 3 to 5 minutes to heat.

Serve immediately over hot rice.

Halm's Kim Chee Pasta Salad

16-ounce package linguine -broken into thirds, boiled in salted water with dash oil until al dente
12-ounce bottle Halm's Won Bok Kim Chee-julienne cut
10-ounce bottle Halm's Cucumber Kim Chee-chopped
6.5-ounce block. kamaboko or imitation crab meat-julienne cut
1/4 to 1/2 bottle Tropics Oriental Salad Dressing

Mix all ingredients, chill and serve.

Nutritional information unavailable.






Click for online
calendars and events.
E-mail to Features Editor
---
---
© 1999 Honolulu Star-Bulletin
https://archives.starbulletin.com