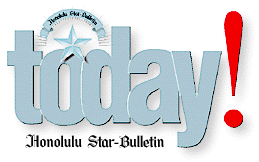 ---
Hawaii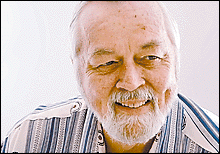 By Dave Donnelly
Wednesday, March 17, 1999
---
Anderson hones
language skills

YMCA president Don Anderson has been spotted talking with sales clerks at the J.C. Penney cosmetic department, but it doesn't mean he's shopping for mascara. Likewise, he's been chatting up the dining room staff at the Pacific Club. So what's up? Well, Anderson is about to embark on the Y's annual visit to the Philippines, where he and 14 staffers and volunteers will be repairing and painting schools in remote areas. As part of his preparation, Anderson has been seeking out places to practice Cebuano, the Filipino dialect he'll be using on the trip. Penneys and the Pacific Club both have workers who speak the language and Anderson figures his understanding the local tongue will be invaluable during his stay in the Philippines ...

HAVE you seen the national American Express Financial Services ads in various financial magazines as well as the Wall Street Journal? Turns out the lovely child featured in the ads is a Hawaii resident, 6-year-old Lauren Tseng, daughter of St. Francis orthopedic surgeon Dr. Mickey Tseng and Dr. Vivian Ishimaru-Tseng. The theme of the campaign is, "Can you promise her the future?" and AmEx is getting great response from it. Lauren is a first-grader at Hongwangi Mission School, and had a great time during the photo shoot, which took place in San Francisco. Local AmEx Financial honcho Vernon Wong has been kept busy tracking down extra posters of young Lauren for her grandparents and many aunties and uncles ...

Non-stop Ho

ENTERTAINER Don Ho showed once again he can perform non-stop, and it was appropriate the other day because he was on Maui at ceremonies marking Hawaiian Airlines' non-stop flights from L.A. to the Valley Isle. He'd already entertained at the inaugural hoopla in L.A., so while his show was nothing new, he at least had Jack and Cha Thompson's Tihati review on Maui at Hawaiian's party at the Grand Wailea Resort. Syndicated columnist Marilyn Beck couldn't jot down items fast enough on the inaugural flight, sharing first class as she did with the likes of Minnie Driver, Josh Brolin, Lisa Loeb and Dweezil Zappa. Some of the newer celebs making the trip also were Garcelle Beauvais ("Jaime Foxx Show"), Johnny Galecki ("Roseanne" and "Opposite of Sex"), Jose Salano Jr. ("Baywatch" - in Hawaii?) and the two guys from "Two Guys, A Girl and A Pizza Place," Traylor Howard and Ryan Reynolds ...

ST. PATRICK'S Day isn't such a big occasion for Chef Sam Choy, so when his friend, Emeril Lagasse, invited him to be on his "Emeril Live" show today, Sam said faith, and he'd be glad to. He even took along some Dole pineapples, Big Isle candies and mac nuts to throw into the audience. After the show, the king-sized chef heads for Philadelphia to kick off the release of his new cookbook, "Sam Choy's Island Flavors." ...

The Last Paddy's Day

IT'S certainly the hope of Irish folks everywhere that this isn't the last Paddy's Day ever, but it is the last one of the century, and indeed, the millennium. To mark the occasion, the size of downtown's block party has been doubled to two blocks this Paddy's Day. Nuuanu between King and Merchant and Merchant over to Bethel will be closed off to vehicular traffic. Beat Poets will provide music in the street and O'Toole's will have its own Irish music, other Nuuanu restaurants will join in offering food on the street as Dublin comes to Downtown. But as the sergeant used to say on "Hill Street Blues" on TV: "Be careful out there." ...

---




Dave Donnelly has been writing on happenings
in Hawaii for the Star-Bulletin since 1968.
His columns run Monday through Friday.

Contact Dave by e-mail: donnelly@kestrok.com.
E-mail to Features Editor
---
---
© 1999 Honolulu Star-Bulletin
https://archives.starbulletin.com