[News]
[Sports]
[Editorial]
[Do It Electric!]
[Info]
[Stylebook]
[Classified Ads]
[Home]


OBITUARIES in the news section daily.




What's happening in Honolulu?
UpdatedThursdays


To March 18, 1996
PAST WEEK:
| M | T | W | T | F | S |






Same-sex marriage:
Past articles


1998 Election

SAT Scores
[Stylebook]
Island names, word usage and writing style




Phone numbers, e-mail addresses, subscription info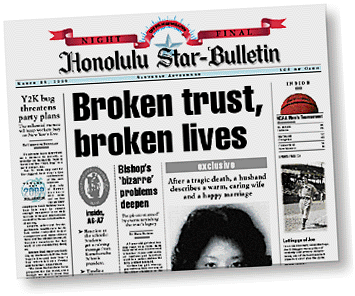 Transit Survey Results


Fireworks Survey Results



1999 Legislature Online Directory

---
This site is designed for use with a frames-capable browser
like Netscape Navigator or Microsoft Internet Explorer and a larger screen.
If you use a different browser or have a smaller screen, you'll probably be happier
with our No-Frames Directory. The content is the same.
Download: [Netscape] [Microsoft]

---
starbulletin.com publishes online editions Monday through Saturday.
The online edition is normally posted between 2 and 4 p.m.
Entire contents of this Web site © copyright 1999 by
Honolulu Star-Bulletin. All rights reserved.

---
Featured on:






Broken trust, broken lives; 'Bizarre' scandal deepens; Estate of disarray; Teamsters stall 'Baywatch'; UH chemist piques car makers; Y2K party pooper; Gas lawsuit go-ahead; City shaving budget; Hemlocks not daunted; Senate gets silly; Review - 'Trees''; Wood Craft; Kokua Line; Corky's Hawaii; Island Images; Top Teacher; Super Student; Religion



Honors for UH's Raylene Howard; Beach no picnic for 'Bows; Road woes for Base'Bows; Sports Watch; Water Ways; Hawaii Beat; Bullboard



Linda Lingle as leader of Hawaii Republicans; Waikiki Natatorium; A Palestinian state; To Our Readers; Volcanic Ash; View Point; Other Views; Letters to the Editor