---
Tuesday, March 9, 1999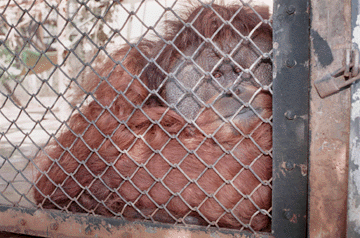 By Kathryn Bender, Star-Bulletin
Rusti, above, sits in a Honolulu Zoo cage awaiting his new cage
on the Big Island. If construction doesn't begin by early summer,
Rusti will go back to California.
---
Lease talks stall
orangutan sanctuary
on Big Isle


The new home for Rusti, who
is housed at the zoo, was supposed
to be complete last October

By Rod Thompson
Star-Bulletin

HILO -- Rusti the orangutan, who is temporarily housed at the Honolulu Zoo, is overdue for a permanent home on the Big Island and his human friends are getting antsy.

"We're practically leaping and bursting to get moving," said world-renowned orangutan specialist Birute Galdikas, in a telephone interview from Vancouver, British Columbia.

The first phase of a Hilo sanctuary for unwanted, captive orangutans -- proposed by Galdikas in 1993 -- was supposed to have been finished last October. Rusti is intended to be its first resident.

But no ground was broken as lawyers for Hawaii County and Galdikas' Orangutan Foundation International negotiated a lease.

They're still negotiating the 20-acre, 20-ape proposal next to Hilo's Panaewa Rainforest Zoo, but foundation consultant Steve Carbank expects an agreement within a week or so. Work could start immediately if the county signs the agreement, Carbank said.

Honolulu Zoo Director Ken Redman said Rusti now lives in an enclosure with a concrete floor. "We'd like to see him get into a soft environment, to get out onto the grass, to climb in trees."

Rusti gets stimulation from human volunteers who sit just outside his cage, and he also likes to watch cartoons on a VCR, Redman said.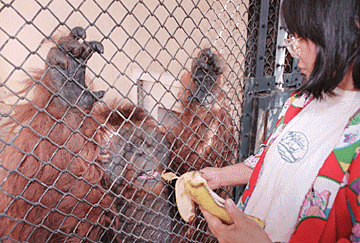 By Kathryn Bender, Star-Bulletin
Pablyn Bolpa sits with Rusti on Sunday mornings
and has volunteered her time for about a year.
---
The agreement with the foundation says Rusti can stay at the zoo until July 1, or a little longer if construction is under way at the sanctuary.

Rusti's relatives in Indonesia are in big trouble. In just the last two years, their numbers have declined from around 30,000 to perhaps 15,000, victims of logging of forest lands, huge fires, and conversion of land to agriculture, Galdikas said.

"We're talking about a highly endangered species," she said.

There is no intention to bring Indonesian orangutans to Hilo or to breed the apes at the sanctuary, she said. But the facility is intended to be a major center for conservation studies.

Carbank said at least one great-ape conference would be held in Hilo each year, and Galdikas said a major one with 200 attendees is planned for 2001.

"Some people don't have time or don't want to go to another country (to discuss orangutans)," Carbank said. "Everybody wants to go to Hawaii."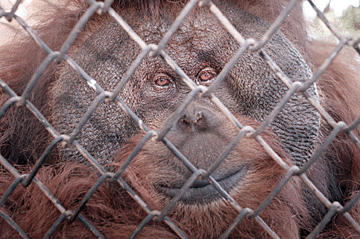 By Kathryn Bender, Star-Bulletin
Rusti gets stimulation from human volunteers who sit just
outside his cage, and he likes to watch cartoons
on a VCR, zoo officials say.
---
"For the non-scientific community, to go to Indonesia and slog through the swamps, it's rarely possible. Hawaii makes it possible," he said.

Galdikas noted the sanctuary will be on forest land planted 60 years ago with trees not native to Hawaii, but some of which are from southeast Asia.

"It will be a world-class facility, unequalled anywhere in the world. It's a perfect match between the animal and local, non-native habitat," she said.

The foundation was offered a site in Florida and could move there immediately, Galdikas said. Hawaii is preferred because of the better match with the Indonesian climate.

Still to be resolved is a foundation proposal to allow primates other than orangutans at the facility. Carbank said the purpose is to allow comparative studies, but Mayor Stephen Yamashiro says the foundation should make a separate request for that.

Designed in three phases, the first would cost about $600,000 and would include a place for the public to view Rusti, Carbank said.

The total for all three phases, to be built over three to five years, would be $4.4 million, he said. That includes $987,000 authorized by the state Legislature last year, with the rest in private donations.
E-mail to City Desk
---
---
© 1999 Honolulu Star-Bulletin
https://archives.starbulletin.com