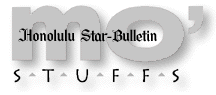 ---
Friday, March 5, 1999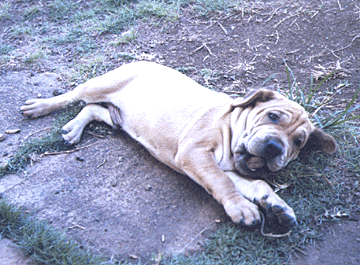 File Photo
Pooch pulchritude
---
How sexy is your pet?
Have you ever looked at that lazy mutt or cat of yours and decided it would be great if Rover got a job? How about modeling for a centerfold? Or singing?

The Kauai Humane Society is looking for alluring pets to star in its first "Hawaii's Sexiest Pets Calendar." To enter, send an 8-by-10-inch photo of your fine feathered, furred, gilled or scaly pet to the society, along with a 3-by-5-inch card stating the pet's name, owner's name, address and phone number. Each entry requires a $10 fee.

The address is Kauai Humane Society, P.O. Box 530, Hanapepe, HI 96716. Entries must be postmarked by June 15. Call 1 (808) 335-6000 for more information.

Singing pets may be entered in the "Advantage Search for North America's Best Singing Pet" contest. Entry forms are available where Advantage flea control products are sold.

The contest requires a half-inch videotape of your pet's performance. The winner will receive a session at a recording studio and may be featured in Advantage advertising. The contest deadline is Aug. 6.

For more information, visit web site http://www.nofleas.com or call (800) NO-FLEAS (663-5327).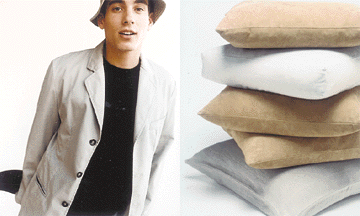 Banana Republic
A three-button men's blazer ($178) is treated to achieve
a soft, lived-in feel. The hat is $24.50. For the home,
chino ($34) and leather ($98) pillows.
Chino: It's not just
for pants anymore

Chinos are no longer synonymous with pants. This season, look for the cotton twill fabric all over the body and in the home, sometimes in combination with such luxe materials as silk, cashmere and linen.

Banana Republic is showing plenty of chinos this season in men's blazers, hats and more. For women, there are chino cashmere tank tops or stretch cotton chino sheaths available, both $88.

If you like wearing the stuff, you might want to surround your environment with the fabric as well. For the home, Banana Republic offers chino rugs ($42), bath towels ($6 to $19) and even a chino shower curtain. Then dress your table top with crisp placemats and napkins, both $6, that provide a neutral base for your tableware.

Raise for Wong

Honolulu Symphony music director Samuel Wong has received a 2.9-percent salary increase to be spread over three years. His current salary is $120,000 annually.

He also has agreed not to accept any other engagements that interfere with his work at the Honolulu Symphony.

Wong signed the contract extension yesterday, which keeps him with the orchestra through the 2001-2002 season. He's been the symphony's music director since the 1996/97 season.

Read All About It

AUTHOR SIGNINGS

Nicole Dean: Author of "Fever," at Borders tomorrow, noon-1 p.m. at Waikele, call 676-6699; and 2-3 p.m. at Ward, call 591-8995.

Joe Bice and Troy Kline: Authors of "Chippendales: The Naked Truth," 4 p.m. Sunday, Borders, Waikele. Call 676-6699.

WORKSHOPS

Ko'olau Writing workshops: Marie Hara will be the speaker and there will be two writing sessions with participants choosing two out of four topics (non-fiction, fiction, scriptwriting and poetry). Facilitators are Helen Chapin, Deborah Ross and Catherine Sustana, Mark Tjarks, Adele NeJame and Patrice M. Wilson. Brown bag. Drinks will be provided. From 9 a.m.-3:30 p.m. tomorrow, Hawaii Pacific University, Hawaii Loa Campus. Cost: $10. Register at 544-9340.

MISCELLANEOUS

"Blacks in the Pacific": Slide lecture by Runoko Rashidi, historian and author, 7:30 p.m. tomorrow, UH Manoa, Center for Hawaiian Studies. Call 239-8112.

International Women's Day Celebration: Revolution Books presents a program of poetry, music and talks, 7:30 p.m. Monday, UH Manoa, Center for Hawaiian Studies Auditorium. Carolyn Hadfield from the Revolutionary Communist Party will be the featured speaker. Potluck, 6:30 p.m. Call 944-3106.

Borders Bestsellers Reading Group: Discusses "Memoirs of a Geisha" by Arthur Golden, 7 p.m. Wednesday, Borders, Waikele. Call 676-6699.

Romance Readers Anonymous: Discusses "My Man Pendelton" by Elizabeth Bevarly, "Send No Flowers" by Sandra Brown, "The Bridegroom" by Joan Johnston and "With This Ring" by Amanda Quick, 6:30 p.m. Thursday, Borders, Waikele. Call 676-6699.

African Black American Education Center Hawaii: Literary book group discusses African American literature, two Mondays each month at First Hawaiian Tower, 1132 Bishop St., Suite 1404. Reservations required. Call Deloris at 528-5037 for time, date, book title and reservation.

Crafts and stories: 10 a.m. and 4:30 p.m. Tuesdays and Thursdays, Barnes and Noble. Call 737-3323.

Read All About It presents news and notices about Hawaii's
literary scene. Send items - at least two weeks in advance of
publication date - to Read All About It, P.O. Box 3080,
Honolulu, Hawaii 96802.






Click for online
calendars and events.





---





Send WatDat? questions, stories
or any other story ideas or comments to:
Features, Honolulu Star-Bulletin, P.O. Box 3080,
Honolulu, HI 96802 or send a fax to 523-8509
or E-mail to features@starbulletin.com.
Please include your phone number.
E-mail to Features Editor
---
---
© 1999 Honolulu Star-Bulletin
https://archives.starbulletin.com