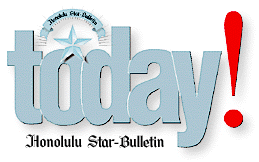 ---
Hawaii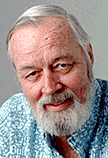 By Dave Donnelly
Friday, March 5, 1999
---
Barbie reaches
middle age

BARBIE turns 40 next week. No, not Barbi Benton, ex-girlfriend of Playboy Hugh Hefner (it'll be on her gravestone one day), but the Barbie doll. Benton, who's a bit of a doll herself, slipped gracefully past 40 some time back, but that hasn't stopped her from appearing as Dorothy in "The Wizard of Oz" with the Honolulu Symphony on March 19 & 20. (I'd mention my one "date" with Barbi years ago, but her millionaire husband, George Gradow, who luckily has a great sense of humor, is tired of reading about it.) But back to the other Barbie. About a dozen years ago the National Enquirer did a story about Kailua woman Florence Delos Santos, who had 948 Barbies in her collection. In their March 16 issue, the Enquirer revisits Delos Santos and her Barbie Doll Museum, where she now has 5,000 of the dolls on display. Even with a wide-angle lens, free-lance photog Tim Wright couldn't get all of them in a photo for the tabloid ...

LEOPARDS, Lions, Bears and Foxes: All will be represented in the Alzheimer's Association's silent auction tomorrow at the Hilton Hawaiian Village. The benefit gala's auction will include a 1960s leopard skin pillbox hat, Lion Coffee, a basket of E.K. Fernandez bears and a set of earrings personally donated by Michelle Phillips, the foxy member of the Mamas and the Papas. In addition there'll be NFL memorabilia from Brett Favre and a "Seven Hour Metamorphosis" provided by stylist Paul Brown ...

Good Kimes, Bad Kimes?

HAWAII is the setting for much of a new book due out late this month called "The Mother, the Son, and the Socialite." It deals with former isle resident Sante Kimes and her son, Kenny, and the charges they face in the disappearance of Irene Silverman, widow of investment guru Sam Silverman, who also lived in Hawaii for a time before settling into a Fifth Avenue townhouse in Manhattan. It's feared she was murdered, but her body has yet to be found. Meanwhile, the Kimes are behind bars. Sam Silverman was an investment advisor to the late Chinn Ho, and both Ho and his son, Stuart, are featured in the book, as is attorney David Schutter. The book, an Edgar Award nominee, will be published by St. Martin's Press ...

DANCER Gil Duldulao, who was here performing in the Janet Jackson concert, took the opportunity to return to Castle Performing Arts Center for the auditions of "Sweet Charity" before heading off to L.A. The performer reminisced with choreographer Marcelo Pacleb and director Ron Bright about his days on stage at CPAC. By the way, Bright has cast senior Aiko Schick in the lead role of Charity Hope Valentine. Aiko was just back from auditioning for "Rent" on Broadway ...

And fancy free

MY old island friend Dean Pitchford, basking in the huge financial success of his musical, "Footloose," on Broadway, has a legit complaint. While happy I've written about the show's box office success, I've also mentioned its success was despite something less than raves from the critics. He writes that while there were some negative reviews of the opening, notably in the dailies, there have been many enthusiastic ones as well -- Liz Smith, for example. The box office builds week after week on Broadway, the national tour is getting great receptions and is booked into the summer of next year, the album has just been released and is selling briskly, promising to bring yet another audience into theaters. So his success, Pitchford suggests, is not so much in spite of the critics, but in many cases because of them ...

---




Dave Donnelly has been writing on happenings
in Hawaii for the Star-Bulletin since 1968.
His columns run Monday through Friday.

Contact Dave by e-mail: donnelly@kestrok.com.
E-mail to Features Editor
---
---
© 1999 Honolulu Star-Bulletin
https://archives.starbulletin.com