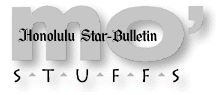 ---
Thursday, March 4, 1999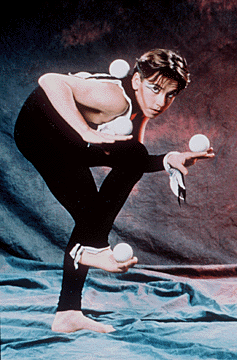 YES! Photo
Vladik joins YES! with an energetic routine
of juggling, tumbling and acrobatics.
---
YES! adds more and
continues to dazzle

By John Berger
Special to the Star-Bulletin

The new edition of Sal Murillo's international production, "YES! '99," at the Polynesian Palace is just as spectacular as the original show that opened more than a year ago.
The most impressive act in the original line-up, Los Mayas, returns. Multi-talented silent comedian Joe Monti, still a relatively new face after several months in town, is a versatile, quick and colorful crowd pleaser. Two new acts - Vladik the juggler and Anatoli & Irina - await discovery.

The top attraction in terms of local appeal is DisGuyz - Calsen Aiwohi, Justin Alverio, Ian Ayson, Jason Lent and Junior Mika. The five young men are the latest proteges of Society of Seven leader Tony Ruivivar and Frances Kirk of Outrigger Entertainment, and are evolving rapidly from a "stand-there-and-sing" local pop vocal act into versatile showroom entertainers.
A capella harmonies are the quintet's strength, but DisGuyz also look comfortable doing brief character bits, going five-on-one as balladeers singing to a member of the audience, and working with the YES! Dancers.
The dancers add a bit of Hollywood-Tahitian ambience elsewhere. The opening number has been trimmed a bit but the impression of tropical fish and crustaceans swimming is still an impressive show opener.
Joe Monti provides pre-opening entertainment as a silent janitor and returns for a stellar bit as a silent clown and magician. He returns again to enlist several members of the audience to act out roles in a silent movie. Monti conducts that whole thing without words. His "Silent Movie" routine is one of the best audience-participation bits to play Waikiki in years.
The international concept of YES! is maintained by the two new acts. Youthful Leningrad-born Vladik combines juggling, tumbling and acrobatics in his energetic routine. Anatoli & Irina give YES! an elegant and sensual ambience with "The Cube."
The duo performs with a large quadrilateral constructed of metal tubes. The cube defines their performance space as the duo blends dance, gymnastics, and feats of strength and balance. The pair's adagio-with-cube adds an aura of graceful sexual romance.
Los Mayas tops YES! with gymnastic excellence and feats of strength of a different type. Gold-painted Remy Farfan, Sachenka Pacheco and Mario Vargas create living "sculptures" in slow motion, striking tableaux. Their technical skill and superb physical conditioning makes their performance an inspirational experience unlike anything ever seen in Waikiki.
This family-oriented revue is great entertainment.

YES! International Revue
Where: Polynesian Palace, Outrigger Reef Tower Hotel, 227 Lewers
When: 6:30 p.m. and 8:30 p.m., nightly except Monday
Admission: Packages available, some require ID. Validated parking at Royal Hawaiian Shopping Center, $5.
Call: 923-7469 (923-SHOW)
---
Whale of a fest
Jean-Michel Cousteau is returning to Maui for his third year as WhaleFest's special guest lecturer.

Participants in Lahaina's WhaleFest '99, which runs tomorrow through March 14, can meet the marine naturalist at lectures; snorkel, SCUBA and whale watching trips; or beach cleaning activities throughout the 10 day event.

WhaleFest '99 offers both free and paid events. It concludes with the Ocean Arts Festival March 13 and 14 from 9 a.m. to 5 p.m. at Banyan Tree Park in Lahaina. There will be arts and crafts displays and children's art classes as well as food and entertainment.

WhaleFest buttons are available for $5 and will entitle festival goers to discounts and gifts from participating merchants.

A portion of the proceeds from WhaleFest '99 will be used to send a Maui County high school student to the Jean-Michel Cousteau Institute's Environmental Ocean Camp in California.

For a complete list of activities, call (808) 667-9193 or e-mail action@maui.net.






Click for online
calendars and events.
---
Send WatDat? questions, stories
or any other story ideas or comments to:
Features, Honolulu Star-Bulletin, P.O. Box 3080,
Honolulu, HI 96802 or send a fax to 523-8509
or E-mail to features@starbulletin.com.
Please include your phone number.
E-mail to Features Editor
---
---
© 1999 Honolulu Star-Bulletin
https://archives.starbulletin.com