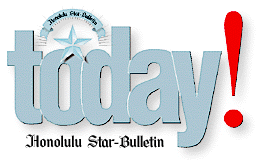 ---
Thursday, March 4, 1999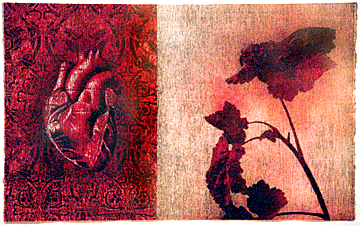 By George F. Lee, Star-Bulletin
An untitled lithograph woodcut print by Charles Cohan.
---
It's a dirty job


But the print-maker's gotta do it

By Suzanne Tswei
Special to the Star-Bulletin

T O say it would be safe to eat off the floor at artist Charles Cohan's studio is no exaggeration. It is a spotless, gleaming space with everything in its place.

A visitor would be hard pressed to find a single ink splat or a smidgen of eraser dust in the entire 200-square-foot-or-so studio.

By contrast, his hands are major disaster areas, red and scratched up. His fingernails are short and hopelessly blackened with printer's ink.

"Yeah, these hands have had it," Cohan said, holding them up as if they were his badges of honor.

Untidy hands are the hazards of a printmaker's life, but the magic of creating images on a hard surface and transferring them onto pieces of paper is Cohan's passion.

Cohan's work is on exhibit with 83 prints by 64 Hawaii printmakers in the Honolulu Printmakers 71st annual exhibition. The show is juried by printmaker Jeffrey Sippel, who teaches at the University of Missouri. Sippel also will conduct a printmaking workshop this week.

Ask Cohan about the work that went into the gift print he created for the exhibition and he will run and haul out every sketch, every color swatch, every little thing that went into the making of the print.

And he will explain every printmaking tool in his neatly organized tool box with the fervor of a teen-ager in love.

"I guess you can say I am kind of an ink nerd," Cohan said during a tour of his studio at the University of Hawai'i at Manoa, where he is an assistant art professor and the printmaking program chairman.

Honolulu Printmakers commissioned him to create its gift print this year and for the occasion, Cohan mixed up 11 different reds -- from a dark chocolate-brown red, to a deep wine red, to the orangy red of ripe tangerines. He added one muted green, three yellows, one very dark brown and topped it off with the usual black ink.

The images he chose are a heart with anatomical details and a plant with big shadowy leaves. Cohan said the images offer a reflection of life: side-by-side comparison and contrast of elements that are organic and fragile.

The result is a dark, sophisticated print that is both captivating and inscrutable -- as a good piece of art should be. One needs to look carefully to see the quiet changes from one color to another, and layers upon layers of intricate details.

Cohan estimates he spent about 140 hours making 75 prints that are being sold as a fund-raiser for the Honolulu Printmakers. The prints are $80 unframed.

The gift print is a bargain. Prints by the 38-year-old artist normally cost $300 to $400.

---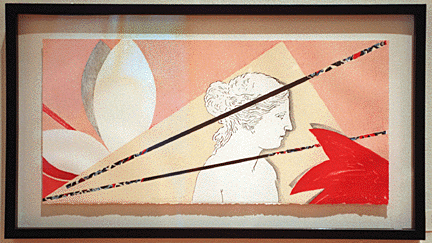 By George F. Lee, Star-Bulletin
"Mexican Venus," a lithograph by Helen Gilbert,
is on display in the printmakers' exhibit.
---
Printmaker honored
as living treasure

By Suzanne Tswei
Special to the Star-Bulletin

Artist Louis Pohl's response to being called a "living treasure" is to stick out his tongue and blow a big, juicy Bronx cheer.

"Pthhhhhhhhhhhh. That's what I think," Pohl says.

The fact that the Honolulu Printmakers chose him as the first recipient of the award does not seem to impress the 84-year-old artist one bit. After all, the state Legislature had recognized him as a living treasure five years ago.

But a fleeting twinkle in his eyes allows a hint that he indeed may be pleased by the award given by fellow artists for his work as painter, printmaker, teacher and advocate for more than 50 years.

In honoring him, the Honolulu Printmakers is showing two of Pohl's prints that are perfect examples of what he is best known for: subtle and eloquent interpretations of nature, particularly the scenery unique to Hawaii.

His refined sense of restraint is played out beautifully in his print of a fiery volcano. A lesser artist would have been tempted to go overboard because of the subject matter, but Pohl knew how to edit himself to avoid falling into the usual Madame Pele cliches.

"I do what I want to do. If I like what I do, I keep it. If I don't like it, out it goes," Pohl said during the show opening last night.

"He throws away more art than most people paint in a lifetime," his wife, Sandy, added.

Pohl does not see the practice as anything unusual. Being a perfectionist is the only way he knows how to be an artist.

Pohl first came to Hawaii in 1941 as a Navy seaman painting camouflage on warships in Pearl Harbor. The Cincinnati native returned to the islands in 1945 after he left the military.

One of the first things he did was to join the Honolulu Printmakers, boosting its membership to three. Since then, he has taken a leading role in the art community.

He served as president of the Honolulu Printmakers and was one of the founders of the Honolulu Academy of Art's teaching facilities. He has taught countless aspiring artists at public schools, Kamehameha Schools, the academy, University of Hawaii and in private lessons.

Honolulu Printmakers
71st Annual Exhibition

On exhibit: Through March 20
Hours: 10 a.m. to 4:30 p.m. Tuesday-Saturday, 1 to 5 p.m. Sunday
Place: Academy Arts Center, Honolulu Academy of Art
Cost: Free
Call: 536-5507






Click for online
calendars and events.
E-mail to Features Editor
---
---
© 1999 Honolulu Star-Bulletin
https://archives.starbulletin.com