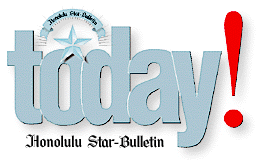 ---
Thursday, March 4, 1999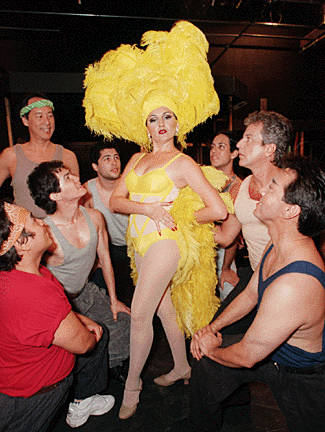 By Dennis Oda, Star-Bulletin
Yvonne Fillius is surrounded by admirers in a
dance number from "Spider Woman."
---





A dozen costume changes, several characters and dance numbers, songs in a key lower than her norm and a sheer Lycra unitard all make starring in Manoa Valley Theatre's "Kiss of the Spider Woman" a challenge for actress Yvonne Filius.

"This is a very, very difficult show," says Filius. "Let's just say it's two hours of challenges for me."

Noted mainly for her singing, Filius is concerned most with the dancing. "I'm pretty frazzled about it. I don't like to think when I'm on stage, and when I go into the dancing it's not as spontaneous as I would like."

Filius doesn't dance to a count -- as in one-two, one-two -- so she could dance in rehearsals when the music was playing.

"I know John (Rampage, the director and choreographer) was pulling his hair because of it," she said. "This whole show is movement. I'm one of those people who you could say is a singer who moves well."

But Rampage, artistic director at Diamond Head Theatre, said Filius will pleasantly surprise audiences. "Believe me, she can dance," he said.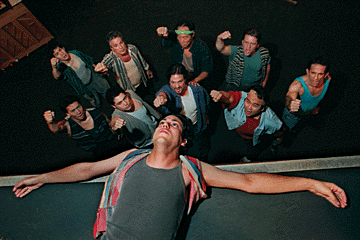 By Dennis Oda, Star-Bulletin
Josh LenWai dies in a fantasy dance sequence in "Kiss."
---
Filius is reprising the role that Broadway supernova Chita Rivera made famous and for which Rivera won a Tony award. "I wanted this part because it's one of the most demanding roles in a play for a female lead," Filius said.

"Kiss" revolves around Molina, a gay prisoner, and his enchantment with an actress, Aurora, played by Filius. The setting is a prison camp run by a ruthless warden. Molina's cellmate is Valentine, a key prisoner, whose girlfriend's identity could end an underground operation. Molina learns the girlfriend's identity and is pressured by the warden to give it up for the sake of seeing his dying mother.

Valentine views Molina as crazy, but gradually becomes addicted to his impersonations of Aurora's roles in different movies.

Filius, 37, started taking dance lessons in a Rampage class six months ago, losing 15 pounds in the process. "I needed to get my body back in shape and I needed better stamina."

But she spends as much time backstage changing costumes as she does performing, including five changes just for the Spider Woman outfit that includes the soon-to-be-famous unitard.

"That outfit is very intimidating," she said. "I'm always wondering just how I look in it."

Every character Filius plays has different mannerisms and voice inflections. "When I'm Aurora I'm loving and sensitive; when I'm the Spider Woman I'm quite demonic.

"Somewhere in this I'm supposed to have fun."

Kiss of the Spider Woman

On stage: Through March 21
Showtimes: 7:30 p.m. Wednesdays-Thursdays, 8 p.m. Fridays-Saturdays, 4 p.m. Sundays
Place: Manoa Valley Theatre
Tickets: $25
Call: 988-6131






Click for online
calendars and events.
E-mail to Features Editor
---
---
© 1999 Honolulu Star-Bulletin
https://archives.starbulletin.com