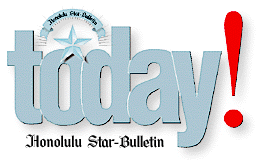 ---
Hawaii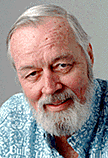 By Dave Donnelly
Thursday, March 4, 1999
---
Jackie Chan takes
a day off

ACTOR Jackie Chan was so busy running to and fro during his stay here that he asked United Airlines if he could stay over an extra day to relax before returning with his entourage of 53 to the mainland. The airline did even better than that. They contacted one of their best customers, dentist Larry Tseu, who invited Chan and his gang (including actress/martial arts devotee Rosie Perez) to his St. Louis Heights mansion (six car garage, six Mercedes!) for a relaxing day around the pool. Tseu quickly cooked up a 100-pound roast pig, and set up a sushi and tempura bar with China House dim sum to keep Chan & Co. sated. Chan brought his own photography crew to record the party. Now Dr. Tseu is off for one of his eight annual trips to his mansion in Hong Kong. Because Tseu was sworn to secrecy, getting an invite to his house party was like, well, pulling teeth ...

THERE'S bound to be much local interest in "Miss Saigon," when it plays at the Blaisdell Concert Hall in October, thanks to the Asian locale and East-West theme. But the one sure way to sell the place out is to bring in Lea Salonga to reprise the role of Kim she's doing once again on Broadway. Her local following would line up around the block to get tickets ...

Westminster West

ONE of the highlights of the sports world in New York each year is the Westminster Dog Show. It's even carried on ESPN. And Big Apple society folks all sit up and take notice as well. Well, now we have the local version, a kind of Westminster West. Friday and Saturday will see the 119th and 120th All Breed Dog Shows at the Blaisdell Exhibition Hall. Dog fanciers in New York ended up fancying a cute little papillon and named it best in show. Some 14 papillons will be among the virtual community of canines being exhibited this weekend. There'll be 451 dogs on view Saturday and 463 on Sunday, and in a bit of an oddity, no pets are allowed at the event, unless they're registered in the show ...

PERHAPS I've just discovered where the expression "eagle-eyed" came from. All this time I thought it had to do with the eyesight of our national bird, but after an experience the other day, I'm not so sure. A pal I was with had to stop by Eagle Hardware in Waikele, and so I accompanied him. I hadn't been there since its opening. What immediately hit me is that the place is a babe magnet. For some reason, young women are all over the place, which can be distracting. I ran into model agency owner Susan Page there, and asked what she was doing. "Going to the hardware store is one of my favorite things," she said. It occurred to me that single guys should be alerted that instead of the local bar, or even the supermarket, a big hardware store like Eagle may be the place to troll ...

SPEAKING of trolls, I found it amusing that perennial Presidential candidate Pat Buchanan chose the pitchfork as a symbol of his candidacy this year. Some local politicos might want to jump on the pitchfork bandwagon. It's particularly appropriate in Buchanan's case, since shoveling is what he does best ...

Who's the boss?

KHPR music director Alan Bunin talks about classical music on the radio on his "Morning Concert" daily, and he plays classical pieces as a violist with the Maui Symphony. Tomorrow night, he'll appear live at the podium of the Maui Arts & Cultural Center to host a concert called "Mostly Mozart on Maui." Filling in for him on the air tomorrow morning will be new KHPR president Michael Titterton ...

---




Dave Donnelly has been writing on happenings
in Hawaii for the Star-Bulletin since 1968.
His columns run Monday through Friday.

Contact Dave by e-mail: donnelly@kestrok.com.
E-mail to Features Editor
---
---
© 1999 Honolulu Star-Bulletin
https://archives.starbulletin.com