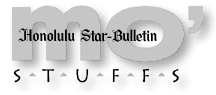 ---
Wednesday, March 3, 1999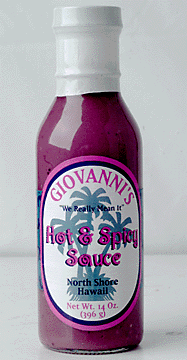 ---
Hot Stuff!
Local sauces win top awards
Three Hawaii-made sauces have won national recognition -- Scovie Awards from Fiery Foods Magazine.

They were selected from among 450 products -- including sauces, salsas, condiments, dressings, seasonings, oils, even candies and pancake mixes. The emphasis was not on heat alone, but also on flavor blends and palatability.

The Scovies take their name from the Scoville unit, which measure the amount of capsaicin in a chile to determine its hotness.

Giovanni's Aloha Foods in Haleiwa won first place in the pasta category for its Scampi Marinade and second place in the grilling sauce category for its Hot & Spicy Sauce. Hawaiian Kine won third-place in the dressings category for Oriental Three Cracked Pepper Dressing.

All the sauces are available at It's Chili in Hawaii, 2080 S. King St. Call 945-7070.

Kidney Foundation
offers screenings
According to the National Kidney Foundation of Hawaii, this state has a rate of kidney disease 30 percent higher than the rest of the nation.

To raise awareness during March, "Kidney Month," the foundation will be offering free screenings:
Saturday -- Ala Moana Center community booth (near Wet Seal), and at Windward Mall (under escalators), 10 a.m. to 2 p.m.

March 13 -- Pearlridge Center (Uptown), Mililani Town Center (in front of Mililani Town Florist) and Hawaii Kai Shopping Center (near Longs), 10 a.m. to 2 p.m.

March 25 -- Fort Street Mall, 10 a.m. to 2 p.m.

March 27 -- Waianae Mall (near Longs), 10 a.m. to 2 p.m.
Risk factors for kidney disease include a family history of the disease, high blood pressure, diabetes, frequent urinary tract infections and drug and alcohol abuse.

Call 593-1515.






Click for online
calendars and events.
---
Send WatDat? questions, stories
or any other story ideas or comments to:
Features, Honolulu Star-Bulletin, P.O. Box 3080,
Honolulu, HI 96802 or send a fax to 523-8509
or E-mail to features@starbulletin.com.
Please include your phone number.
E-mail to Features Editor
---
---
© 1999 Honolulu Star-Bulletin
https://archives.starbulletin.com