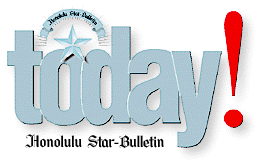 ---
Hawaii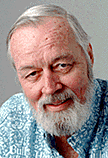 By Dave Donnelly
Wednesday, March 3, 1999
---
It's March and
everyone's Irish

FAITH, and unless my calendar is amiss, it's just two week's until St. Patrick's Day. Preparations are already under way at Hawaii's "Irish Corner," Nuuanu and Merchant, where Murphy's and O'Toole's are located. (Just whiffing the Guinness around me, I once took note of their location and designated them "parallel bars.") Publicans Don Murphy and Skip Naftel are again readying for their biggest day of the year, where the annual Paddy's Day celebration calls for a block party on Merchant Street, with music ranging from Celtic to Hell-tic, rocking as long as the law will allow ...

THE good people of Boston, Ireland's haven in the New World, have been alerted to the Hawaii "Irish Connection" this year thanks to James F. Murphy Jr. in the Boston Globe. The Globe correspondent met with his namesake at Murphy's ("no relation -- but, then, you cannot be certain" he wrote) and got the lowdown on all the Irish food and celebrations going on in Hawaii, dutifully reporting on the annual Waikiki parade and the Emerald Ball put on by the Friendly Sons of St. Patrick. Other local "Micks" Murphy interviewed were Jack Sullivan, John Mahan Judge and Matthew Fitzgerald. He also mentioned Barry Flanagan, one half of the group Hapa. Writer Murphy's favorite moment seemed to come when he learned how eclectic the Irish in Hawaii can be, reporting the band performing for the Emerald Ball is Abe Weinstein and his orchestra ...

Olympic form

OLYMPIC golf medalist Ilia Kulik, known by some as the "Romeo of Figure Skating," showed off his championship form at the Orchid at Mauna Lani. Oh, not on skates, but by dancing the hula under the tutelage of Nani Lim, much to the delight of some 70 visiting travel writers from Japan, all of whom gave him a "10." Kulik helped get in shape for his performance by receiving a beach massage from one of the hotel's therapists, who is probably still talking about Romeo's firm form ...

THE Contemporary Arts Museum's March 13 "Contempo '99" local art display fund-raiser is called "A Night in the Garden of Eden." Despite the title, it's a black-tie affair -- you expected maybe fig leaves? They are making one concession to Eden -- Yvonne Cheng will be decorating the tables with leaves, figuring they were the first fashion statement. And 26 pieces of art will be sold in a silent auction. Call 526-1322 for more info ...

THE theme of Maryknoll's Monsignor Charles Kekumano Award Dinner April 8 at the Sheraton-Waikiki is "Remembering the Past, Honouring the Present." To be honored are Dr. Livingston Wong, a leader in organ transplantation, and Jim Gahler, who devoted 32 years to Moryknoll School. The past is personified in Monsignor Kekumano, who died a year ago. He was my next door neighbor, which he'd doubtless attribute to the Lord acting in mysterious ways ...

No triskaidekaphobia here

WHEN Keith and Carmen Haugen celebrate their 13th anniversary of performing at the Royal Hawaiian on March 16, they'll be ignoring advice of superstitious friends who suggest they say they're "entering their 14th year" there. The two have been performing in Waikiki for 26 years, so half of it now is at the Surf Room ... That same night the Society of Seven marks its 30th anniversary next door at the Outrigger Showroom. Only two of the original seven members remain, but Tony Ruivivar and Bert Sagum appear ageless. They date back to the days when they were known as the Fabulous Echoes ...

---




Dave Donnelly has been writing on happenings
in Hawaii for the Star-Bulletin since 1968.
His columns run Monday through Friday.

Contact Dave by e-mail: donnelly@kestrok.com.
E-mail to Features Editor
---
---
© 1999 Honolulu Star-Bulletin
https://archives.starbulletin.com