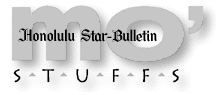 ---
Tuesday, March 2, 1999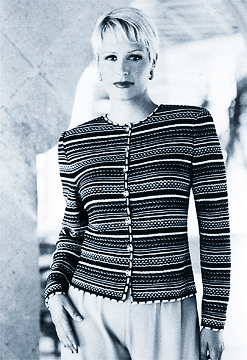 St. John
Knits from St. John have a casual ease.
---
Fashion show ushers in
St. John 'Elegance'
Fall "Elegance" is the theme of the Japanese Women's Society annual luncheon fashion show April 25 at the Sheraton Waikiki Hotel. The event will present the St. John fall collection, including the line's popular knitwear and designs for evening occasions, staged by professionals from St. John headquarters in California. There will also be a drawing for two tickets to Japan from ANA airlines.

This year's fashion show is being staged as part of the society's 45th anniversary celebration.

Tickets are $40, and credit card purchases are being accepted. Call 739-0664 or 735-6766 for ticket information.

Proceeds will benefit the JWS Gerontology Scholarship Fund and the Care Home for the Elderly (Hale Pulama Mau) Kuakini Foundation.

A boutique will be open from 9 a.m. Doors for the luncheon/fashion show will open at 11:30 a.m.

Teen pageant open
Females ages 13-19 as of Aug. 1 who have never been married are eligible to enter the Miss Teen All American pageant. Delegates will be judged in three categories -- evening gown, swimsuit and personal interview. The event will be held Aug. 5-8 in Miami, Fla. and the winner will receive $5,000 cash, a personal appearance contract, jewelry and more. To enter, send a recent photo, name, address, telephone number, date of birth and a short biography to: Dept. A - Miss Teen All American, 603 Schrader Ave., Wheeling, W.Va., 26003-9619; or fax information to 1-304-242-8341. Delegates must be U.S. citizens. Deadline to apply is March 19. For more information, call 1-304-242-4900; or e-mail teenallam @aol.com.

PREVIEW
Two movies begin their Oahu run on Friday:

Analyze This: (R) A shrink pushes a mobster to get in touch with the good fella inside him in this situation comedy starring Robert De Niro and Billy Crystal

Cruel Intentions: (R) Kathryn (Sarah Michelle Gellar) and her step brother Sebastian (Ryan Phillippe) bet on his ability to seduce a young virgin. If he can't, she gets the Porsche. If he can, he also gets Kathryn.



Click for online
calendars and events.
---
Send WatDat? questions, stories
or any other story ideas or comments to:
Features, Honolulu Star-Bulletin, P.O. Box 3080,
Honolulu, HI 96802 or send a fax to 523-8509
or E-mail to features@starbulletin.com.
Please include your phone number.
E-mail to Features Editor
---
---
© 1999 Honolulu Star-Bulletin
https://archives.starbulletin.com