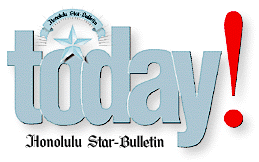 ---
Tuesday, March 2, 1999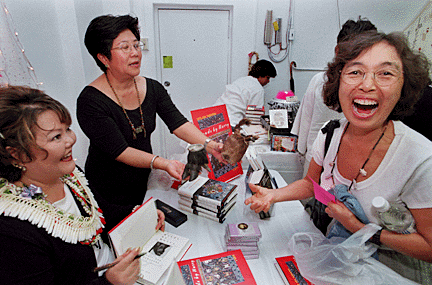 By Dennis Oda, Star-Bulletin
Author Lois-Ann Yamanaka, left, signs her new book, "Heads
by Harry," for Kay Mura, right. Ann Asakura is holding
Yamanaka's pig-feet ashtray and pig's scrotum,
gifts from her father.
---
It is a fact that beneath the streets and buildings
of Mo'ili'ili, water flows through a network
of caverns. It is legend that fish live in these
subterranean waters, becoming blind in their
lightless environment.

From these come the name for...

By Cynthia Oi
Star-Bulletin

THE two-story concrete building is unremarkable except for its sky-blue color and the plastic-sheet sign that reads "Mo'ili'ili Blind Fish Tank," but the business it houses is as intriguing a venture as its name.

It has little to do with fish -- blind or not -- or tanks, for that matter.

Blind Fish Tank is a retail store, selling books, art work, crafts and clothing by local artisans, as well as island collectibles. That's downstairs.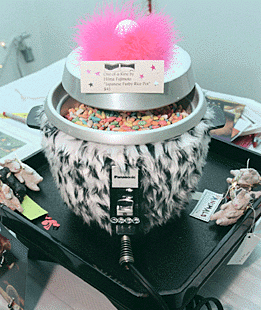 By Ken Ige, Star-Bulletin
A Japanese Furby Rice Pot by graphic artist Hilma
Fujimoto, for sale in the retail area of the building.
---
Upstairs, a rabbit warren of rooms once inhabited by university students are now the work spaces for a collection of friends who all have literary, creative media or artistic bents.

Top and bottom floors form a business where the talents of the eight people who make up the Tank may work on various multimedia projects -- from publishing and public relations to video programs and museum exhibits -- and sell multicultural products.

The eight are Arnold Hiura, a former editor for the Hawaii Herald, free-lance writer, storyteller and a curator for a Japanese-American museum exhibit; Hilma Fujimoto, a graphic artist, and twin sister Eloise Nakama, both of whom ran the popular Twin Moons store in Manoa for many years; James Grant Benton, former Booga Booga comedian and writer, who does video work; Noland Conjugacion, known as musician-singer Brother Noland, who handles music and videos; designer and fabricator Stephan Doi; writer Karleen Chinen; and writer, artist and computer guy Wayne Muromoto. Both Chinen and Muromoto worked with Hiura at the Herald.

Hiura said the business was conceived to share the talents of each of the individuals. While working on free-lance media projects solo, he said, he knew he was strong in some areas, such as writing, but lousy in graphics and publishing.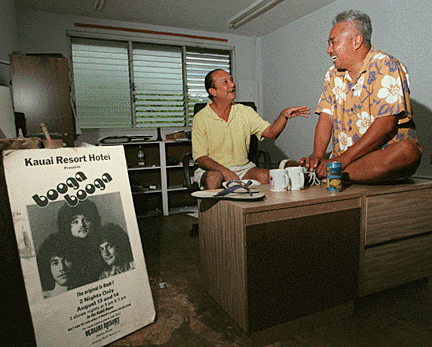 By Ken Ige, Star-Bulletin
James Grant Benton and Brother Noland talk story
in Benton's office at the MBFT building.
---
"I know my limitations," he said, "and I realized over time that what I do best is done with the help of others. Normally, I turn to people I know and trust and like. These are my friends," he said.

His friends would also come to him when they needed his help.

"This informal network was already in place," Hiura said. What Blind Fish Tank has done is formalize the connections.

Communal work may involve all or just two or three people, and Tankers also are free to pursue their own projects. Some even have other full-time jobs.

"We do separate things, but when we come across something that's a little bigger than one can handle, we go in as a group," Hiura said. "You have independence and, when you need it, support from the group."

All of this came to being because of the building. "The building is the glue," Hiura said.

He was already sharing upstairs office space in another Mo'ili'ili building with his longtime friend, writer and ghost tour man Glen Grant. When a vacancy opened on the first floor, he thought of expanding, but felt the lease rent the owner wanted was too high.

For price comparison, he looked at another Mo'ili'ili building on South King between Coolidge and Hausten. He realized its potential as a cooperative working space for himself and his friends.

"I saw this building and I said, 'Hey, you guys, I wanna show you this.' It was everything we were thinking of."

The layout of the top floor allows each person a private office off a large communal room. Downstairs, the space was ideal for retail. The property out back was suitable for what Benton calls "hibachi parties."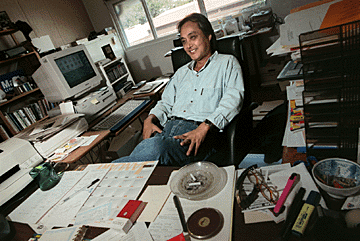 By Ken Ige, Star-Bulletin
Editorial consultant Arnold T. Hiura is surrounded by
the creative mess of his office at Moi'ili'ili Blind Fish Tank.
---
"Free-lance can be a lonely experience," Hiura said. "Sometimes you need to talk out a project or a concept, you need to bounce it. And sometimes you want to pull back, be by yourself and think. So the space the building offered was perfect."

The shared space also means shared costs. "Instead of one person buying a color printer, we can split the cost eight ways," Hiura said.

Getting the place in shape has been a continuing project since Blind Fish Tank opened in December.

"We like being in Mo'ili'ili, and not downtown. Like being in this funky old building rather than in a slick, glass tower. We want to do our own painting and hammering."

Some of that construction went on late into the night last week, when the downstairs was the setting for Blind Fish Tank's first "real thing," as retail point woman Eloise Nakama described it. The "thing" was a dual reading by Benton and author Lois-Ann Yamanaka from her latest book, "Heads by Harry."

"We worked until 12 o' clock building the stage for Lois-Ann," Hiura said. "We were hammering and sawing and drilling."

Yamanaka, he said, is part of their "extended ohana," people who lend their talents to the Tank. Others include musician Ozzie Kotani, photographer Shuzo Uemoto, cameraman Ken Libby and Grant.

"Even the vendors and artists downstairs -- they are our sisters and brothers" from such organizations as Bamboo Ridge and Temari, Hiura said.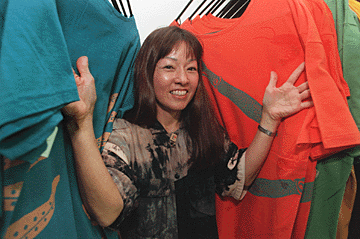 By Dennis Oda, Star-Bulletin
Eloise Nakama, above, and twin sister Hilma
Fujimoto are part of the creative mix.
---
"The shop itself is eclectic, but what connects them are creative friendships," he said.

Nakama hopes to make more friends through the retail shop "to help the community of artists and vendors thrive." Blind Fish Tank wants to nurture young artists whose works are good but who don't know how to promote themselves or handle sales, she said. The place also may be a venue for music, readings, workshops and other such programs.

The upstairs and downstairs operations will support each other through tough economic times, Hiura said.

The shop will bring income through sales while the second floor is generating service and writing contracts, book projects and publications, he said.

"If we get slow upstairs, downstairs is still making something. The pressure lessens," he said.

Right now, a collaboration on an exhibit with the Japanese American Museum of Los Angeles will carry Blind Fish Tank through the next two years, if not beyond.

The exhibit, "From Bento to Mixed Plate," will open in May at the Smithsonian Institution. Next year, it will be displayed on the Big Island, Maui and Okinawa, he said.

Hiura is the Hawaii-based curator, Doi is the designer. The project coordinator/manager is Audrey Muromoto. She is married to Tanker Wayne Muromoto, but retains an independent status on this job.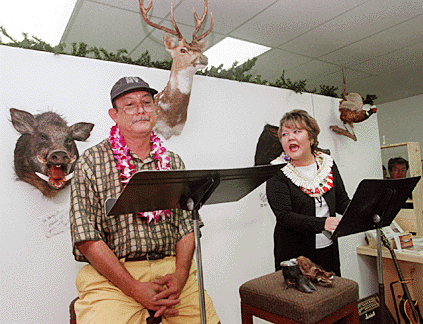 By Dennis Oda, Star-Bulletin
James Grant Benton and Lois Ann Yamanaka read with
unfortunate "friends" who were haginging around.
---
"These kinds of contracts give us a base," he said. "At the same time, we're developing proposals for other major projects so it looks as if we're OK."

"Everything here is based on relationships," said Hiura, who is Nakama's fiance. All the Tankers, who are 40somethings, realize mixing business and friendship can be dicey.

"Our eyes are wide open," Hiura said. "But the rule is friendship before business."

For Chinen, "The scariest thing is that I don't want my friendships to fall apart. You can lose money in business, but losing friends -- friends are more valuable."

Benton said members make a conscious effort "to leave the egos outside the door" when they work on a project together. "We've been friends, or friends of friends, for 20 years -- more, in fact. We know when to push or back off."

While they must be aware of the financial side of doing business, "Everybody here does stuff they believe in so we don't have to compromise our values, our sense of responsibility," Hiura said.

"We just want to survive, thrive, enjoy what we do."






Click for online
calendars and events.
E-mail to Features Editor
---
---
© 1999 Honolulu Star-Bulletin
https://archives.starbulletin.com