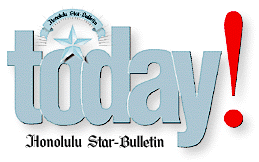 ---
Hawaii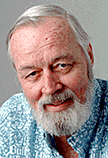 By Dave Donnelly
Tuesday, March 2, 1999
---
Opera a way
of life for some

IF you know anything about opera, you know what a reputation tenors have for being temperamental. We have a pretty good case of it going on in Honolulu right now. The tenor who was to have been featured in "Norma" at the Blaisdell Concert Hall pulled out at more or less the last minute, and had to be replaced by Drew Alan Slatton, who some considered underwhelming. The man he replaced stalked off and left town, upset that his girlfriend had left him, and he was just too heart-broken to go on. Sounds like we have another opera in the making! ... Then there's the ultimate tenor, Luciano Pavarotti, who's announced he wants somebody to write an opera about his life. It could be fun casting the faithful wife who is spurned and the younger woman he takes up with on leaving her ...

NEW UH football coach June Jones held his own in chatting with supporters who attended the "Meet the Coach" evening at Murphy's Bar & Grill the other night. He listened attentively when Mert Chillingworth offered to help Jones' efforts in recruiting local players by offering to suit up and use the four years of eligibility he didn't use at Duke. Mert last played football under Coach Jonah Wise at Roosevelt High in 1944. Jones thanked Mert for the offer, but didn't ask for any game film. The first of the '99 football fund-raising efforts put on by supporter Don Murphy raised $8,500 for the team coffers and even got some national attention on ESPN2 ...

Unclear on the concept

AN item here mentioned that artist/barkeep Hank Taufa'asau, in an effort to clean up his own act, instituted a 25-cent fine every time he uttered the overused "f" word. He then decided to make it a rule throughout his Hank's Cafe on Nuuanu, and customers caught in the act are also asked to cough up a quarter, with the collected money going to the River of Life Mission. So in walked a character the other night who had heard about it and felt it was such a great idea that he began peppering the air with the word. When another patron told him he'd kind of missed the point, the fellow dropped $6 into the jar and left ...

SPEAKING of bars, real and otherwise, did you see where Democratic National Committee spokesman Peter Kauffman jumped on the sports cliche bandwagon in suggesting that if Linda Lingle doesn't have proof of anti-semitism against her and come forward with it, "she's really lowered the bar in politics" ... Reading about politics can be maddening, like seeing side-by-side stories about budget cuts and job eliminations at Bishop Museum and the city's agreeing to pay $11 million to refurbish the eyesore Natatorium. And if the City Council thinks that's all it's going to cost, I've got some swamp land in Florida they can buy ...

Weekend of stars

MY idea of a magical get-away would be almost any weekend on Lanai at either the Lodge at Koele or the Manele Bay Hotel. The weekend of May 1 and 2 promises to be a special one at Manele Bay. On Saturday, the Visiting Artist Program will feature Armistead Maupin, author of "Tales of the City," which sold 2 million copies, was translated into 10 languages, and became a TV series starring Olympic Dukakis. Then on Sunday, David Wolper will return with a panel of Hollywood stars: James Woods, Grant Tinker, Thomas Gibson (of "Dharma and Gregg"), Scott Wolf ("Party of Five") and John O'Hurley, one of my favorite actors who played J. Peterman on "Seinfeld." Sounds like a star-filled weekend ...

---




Dave Donnelly has been writing on happenings
in Hawaii for the Star-Bulletin since 1968.
His columns run Monday through Friday.

Contact Dave by e-mail: donnelly@kestrok.com.
E-mail to Features Editor
---
---
© 1999 Honolulu Star-Bulletin
https://archives.starbulletin.com