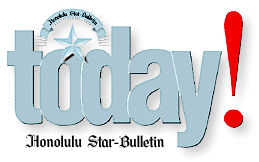 ---
Friday, February 26, 1999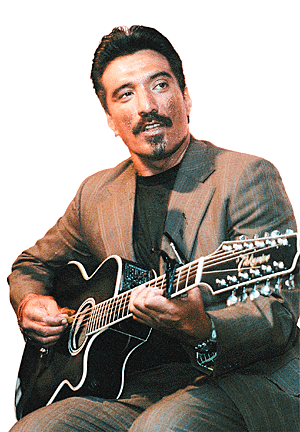 By Dennis Oda, Star-Bulletin
Above, Feary performs solo in 1997.
---



He'll always be remembered
for his musical legacy

By John Berger
Special to the Star-Bulletin

IT was almost like old times at the Waikiki Shell last November. Kalapana was in concert and a lot of familiar faces could be spotted in the crowd. Yet, for those in the know, there was a chill in the air.

It wasn't until shortly before showtime those close to the band learned that Bryant "Mackey" Feary had been bailed out of jail and would be able to play Kalapana's 25th anniversary concert at all, after being arrested on two Family Court warrants.

The concert was excellent. Feary looked a bit worn but sang with his usual appealing style. He and the group -- Malani Bilyeu, D.J. Pratt, Gaylord Holomalia (keyboards) and Kenji Sano (bass) -- played almost two hours. Former member Michael Paulo performed throughout the show. Kirk Thompson, the fourth original member of Kalapana, sat in on "Black Sand," the song he'd written as Kalapana's early instrumental signature.

The group balanced classic early hits of its first two albums, "Kalapana" and "Kalapana II," and more contemporary material. The band closed the show as usual with "Naturally," one of Bilyeu's most enduring compositions.

It seemed that Feary and the group had dodged another bullet. No one knew that Hawaii had seen the founding members of Kalapana play together for the last time.

Whatever Feary's death may say about "the system" that committed him to 10 years in prison for violating probation that stemmed from a conviction for smashing his wife's car window in 1996, Feary will be remembered for his music. As a composer, a vocalist, and as a member of Kalapana, he influenced a generation of fans and musicians. He also helped define a new sound in island music.

Kalapana's original 1973 line-up featured Bilyeu, Feary, Pratt and Thompson. Feary was the youngest. Drummer Alvin Fejerang and reedman Michael Paulo became full-time sidemen.

Feary and Bilyeu quickly distinguished themselves as two of the most accomplished contemporary local songwriters of the era. Like Cecilio Rodriguez and Henry Kapono Kaaihue of Cecilio & Kapono, they wrote separately. Pratt and Thompson collaborated on a few of the songs, but Bilyeu and Feary were the hit tunesmiths. Feary's biggest songs included "The Hurt," "Nightbird," "Moon and Stars," "Juliette" and "Way That I Want It To Be."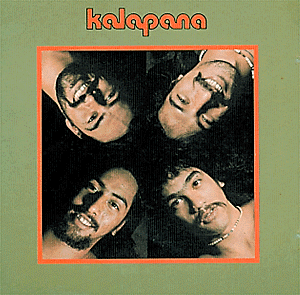 By Dennis Oda, Star-Bulletin
Above, Mackey Feary is pictured (upper right corner) with
members of Kalapana on the cover of the band's first
album, released in 1975.
---
Kalapana and C&K defined a new sound in local music that was as unique and revolutionary in its way, as the collaboration of Kui Lee and Don Ho & The Aliis in the mid-'60s. They were island residents who wrote of local experiences, but they did so in a mainstream style that was neither in the hapa-haole tradition nor in the newly rediscovered grassroots Hawaiian tradition of the Hawaiian Renaissance. Nor did they spend much time as "cover bands" recycling the hits of other artists.

The two groups inspired a generation of young pop-oriented musicians to write songs rather than recycle them.

Kalapana followed C&K in setting attendance records at the Shell in the mid-'70s. They also played a landmark post-Christmas double-bill with C&K at Aloha Stadium in 1976. It was the biggest local concert of the decade at the stadium.

Feary left Kalapana shortly afterward and eventually formed the Mackey Feary Band. Randy Aloya replaced him on bass; Paulo and Fejerang became official Kalapana members. The reorganized group released "Kalapana III" and "Many Classic Moments," but eventually dissolved. Albums recorded in Japan by successor groups weren't officially released here.

Feary released two Mackey Feary Band albums and appeared as a guest on one or two other projects. One by one, the other members of Kalapana came home and began talking to each other again. Tom Moffatt persuaded everyone except Pratt to participate in a reunion concert at the Waikiki Shell on Dec. 26, 1982. The response was tremendous. Moffatt recorded the show and released "Kalapana Reunion" the following year. Kalapana eventually began writing and recording new music as a quintet -- Bilyeu, Feary, Pratt, Holomalia and Sano.

Bilyeu and Feary enjoyed success as solo artists; Holomalia continued a parallel career as a studio engineer. The group enjoyed such consistent success in Japan that their last album, "Captain Santa Island Music," was underwritten in part by a Japanese clothing line.

Feary's imprisonment left a hole in the group. His death makes it a permanent one, although it seems that Kalapana will go on. It wasn't mentioned publicly last November, but arrangements had been made to have a friend of the band, Maurice Bega, fill in for Feary at the Shell if necessary.

Feary finished work on a solo album during the last couple of months while awaiting word on his fate within the criminal justice system. Another interesting project is said to be in the development stage.

Meanwhile, Feary's legacy is his music -- the great early hits, his late '70s and early '80s solo projects, and his many contributions to the modern Kalapana catalog.

He wrote "Way That I Want It To Be" more than 20 years ago and the lyrics could be his epitaph: "I've been bad/More than I've been good/Done a lot of foolish things/That I never should/Hitting the highway/Knocking on wood/If you can love me/I sure wish you would."






Click for online
calendars and events.
E-mail to Features Editor
---
---
© 1999 Honolulu Star-Bulletin
https://archives.starbulletin.com