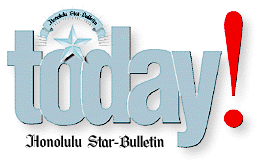 ---
Thursday, February 25, 1999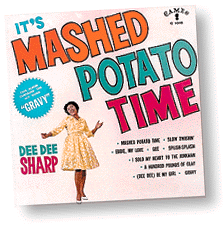 Back to do the
Mashed Potato


DeeDee Sharp last played
in Hawaii 36 years ago

By Tim Ryan
Star-Bulletin

The last time DeeDee Sharp, queen of "Mashed Potato Time," performed in Hawaii her back-up band was ... the Beachboys!

Sharp was 18 then, modest and shy, but boy, could she wail. Now, at 53, Sharp picks and chooses when and where she performs or whether she just wants to stay home in rural New Jersey with her two dogs.

Honolulu won over winter chill. Sharp is returning to Honolulu for two performances Saturday for the Oldies Radio 107.9 Birthday Bash. Also performing will be the Penguins ("Earth Angel"), Lou Christie ("Lightning Strikes"), The Champs ("Tequila"), Barbara Lewis ("Baby I'm Yours") and Ed Holman ("Hey There, Lonely Girl"), in a party setting that includes two dance floors.

We had a few questions for Sharp:

SB: Is it true that the same day you recorded with Chubby Checker you also recorded "Slow Twistin' " and your first No. 1 hit, "Mashed Potato Time?"
Joining DeeDee Sharp at the Birthday Bash will
be the Penguins, of "Earth Angel" fame.
---
DS: Oh yeah, Chubby didn't even want a girl on his record. But after he heard me sing everything was OK. Kal and Bernie Lowe, who was president of Cameo-Parkway Records, after I finished singing with Chubby, told me to go home to eat dinner, then come back at 7 to record "Mashed Potato Time" (in 1962). The two records from that day went No. 1 and No. 2 at the same time.

SB: Is "Mashed Potato Time" still your most requested record?

DS: Yes, and my 1980's disco hit, "Breaking and Entering."

SB: How did you get your start as an entertainer?

DS: I always sang in the church choir and played the piano. My mother had been very ill and I told my grandmother I was getting a job. I found an ad for a background singer who could also play piano. I applied and got it.

SB: Who was your first booking agent?

DS: Wally Amos before he was famous.

SB: What's your favorite venue now?

DS: Casinos. I can sleep all day while doing my shows at night. And I can get anything I want right in the hotel: a massage, pedicure, manicure and a facial.

SB: Hobbies?

DS: I love to read, to cook and ride horses.

SB: What's the one thing people don't know about Dee Dee Sharp?

DS: I'm a licensed clinical psychologist. I've practiced but don't like it. I had promised my mother I'd get a doctorate and I did.

SB: What haven't you done as a performer?

DS: I'd really love to act but I've never been asked. My songs have been in lots of films: "Desperately Seeking Susan," "Sister Act," "Troop Beverly Hills."

SB: We can't wait to see the queen of "Mashed Potato Time" doing that dance.

DS: Oh, not me, because I can't dance a lick. What you'll see is me standing flat-footed and singing.

107.9 Birthday Bash

Concert times: 7 and 9 p.m. Saturday
Venue: Sheraton Waikiki, Hawaii Ballroom
Tickets: $25 regular, $35 golden circle, at Blaisdell box office, Tower Records, Tower Video, Sheraton
Call: 591-2211






Click for online
calendars and events.
E-mail to Features Editor
---
---
© 1999 Honolulu Star-Bulletin
https://archives.starbulletin.com