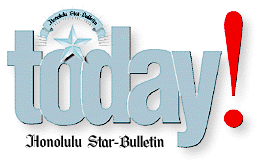 ---
Thursday, February 25, 1999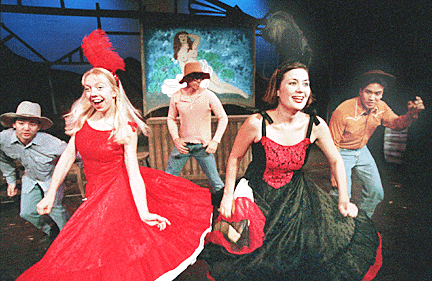 By George F. Lee, Star-Bulletin
Dancers, from left, Ken Morita, Diana Mills, John Kirsch,
Katherine Jones and John Tolentino, fill the "Molly" stage.
---



Actress took inspiration
from Miss Molly

Stories by Pat Gee
Special to the Star-Bulletin

Belle Ruff Armstrong twice chose to sing the gutsy "I Ain't Down Yet" from "The Unsinkable Molly Brown" as a student in musical comedy classes, because it inspired her in her quest to be an entertainer.

Tonight she gets to perform the number as leading lady in the Meredith Wilson rags-to-riches true story of the hillbilly who became a heroine for rescuing her lifeboat-mates after the sinking of the Titanic.

Armstrong always wanted to play Brown because she identifies with the character's "stick-to-it-ivenss, her determination and good heartedness, her quest for knowledge," she said.

The Army Community Theatre production, under the direction of Brad Powell, starts tonight and will run until March 13.

Powell said the play follows Molly's struggles, moving up from a shanty in Hannibal, Mo., into wealth and social position.

"Even with all her money, she was still not accepted by Denver society. She was still a hick from the sticks. But it was because of her personality that she was able to win a lot of people over," Powell said.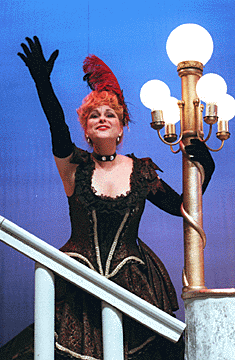 By George F. Lee, Star-Bulletin
Belle Ruff Armstrong says it was Molly Brown's
strength of spirit that made her a heroine.
---
The moral of the story is, "If you stick with what you want long enough, you can usually accomplish almost anything you want."

It's a work ethic familiar to Armstrong, a '69 Punahou graduate who has been singing and dancing since she was 5.

She's been a professional entertainer ever since graduating with a degree in theater arts from UCLA.

After 14 years of a successful nightclub career in Los Angeles and doing shows featuring a variety of music styles, she became "the only singing lady magician in Europe," working for five years with a partner.

She moved back to Hawaii in 1989, where she entered the local theatre circuit, performing as Lola in "Damn Yankees," Dulcinea in "Man of La Mancha" and in other musical roles.

At home, Armstrong has filled a room with make-up and costumes for work involving Singing Celebrity Telegrams, celebrity impersonation shows and her own magic act. She hires herself out as "Belladonna, Hawaii's Magical Enchantress" and puts on magic shows at parties through her one-woman company, "Fantasy Enterprises." For the past six summers, she has also taught a magic class at Iolani School.

As an artist/educator for the Alliance of Drama Education, Armstrong started working as drama director at St. Andrew's Priory's after-school theater program this year.

Like all entertainers, Armstrong has done her share of "pounding the streets auditioning for roles. I've had my flops, turndowns and rejections. But I was determined to keep going -- like Molly.

"That's a big part of the (play's) 'Titanic' scene: Molly wasn't going to call it quits and she wasn't going to let anyone else quit either. Her feeling was 'we got so much living and loving to do.'

"She pulled her boat together. She had them singing! She rowed 'til her hands were bloody, and she took off her own clothes to keep others warm."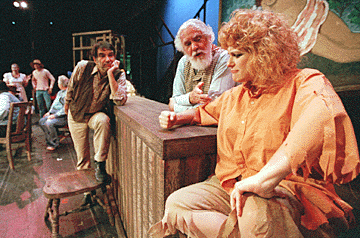 By George F. Lee, Star-Bulletin
Bartender Chrisymas Morgan (Sam Polson) shares stories
with Johnny and Molly Brown (Bob Koehler and
Belle Ruff Armstrong).
---
Armstrong was impressed with Molly's "good, kind, loving generous heart" and "quest for knowledge, to learn to read, write, to see whatever there is to see."

Like any free-lance entertainer who can't rely on a steady paycheck for any length of time, Armstrong admits the insecurity of her future is something she often contemplates. But she likes the exciting lifestyle.

"It has kept me young, spirited and GOING! I bless the goodness that has come my way. It's kept me busy. I do work a lot."

Armstrong is satisfied with her career, never having had a Broadway dream. "I don't like Manhattan," she said, although she would like to play Dolly Levi in "Hello, Dolly" and Sally Bowles in "Cabaret."

Until then, she finds fulfillment in teaching. Most recently, she's been teaching "Kindermusik," developmental therapy through music, to keiki 18 months to 5 years of age.

"I just LOVE those little babies," she says. "They really light up my life.

"People ask me, 'Do you have kids?' and I say, 'No, but I see hundreds of them all week.' "

The real Molly Brown found that all the money in the world was meaningless without love. Belle Ruff Armstrong has already discovered that.

Musical will feature
a small-scale sinking
of the Titanic

Interest in James Cameron's "Titanic" movie, spurred the Army Community Theatre decision to stage "The Unsinkable Molly Brown," according to executive producer Vanita Rae Smith, but don't expect stunning visual effects.

In fact, although the whole musical builds up to the sinking of the Titanic, director Brad Powell said that scene is the play's shortest, and the special effects to simulate the ship's demise are comical compared to those of the famous movie.

Creating an ocean scene on a small stage was a challenge, and Powell laughs every time he thinks of the scene, which lasts all of five minutes.

"It doesn't look real at all and if we pull this off, it will be due to lighting and smoke effects."

A more realistic special effect goes along with one of the show's most ingenious props -- the stove in which Molly mistakenly burns the first fortune that her husband Leadville Johnny Brown brings home. The flames, created with cellophane and lighting, "look like real fire," Powell said.

The Unsinkable
Molly Brown

Dates: 7:30 p.m. Thursdays-Saturdays, through March 13
Place: Richardson Theatre, Fort Shafter
Tickets: $12 and $15 for adults, $6 and $8 for children
Call: 438-4480 or 438-5230






Click for online
calendars and events.
E-mail to Features Editor
---
---
© 1999 Honolulu Star-Bulletin
https://archives.starbulletin.com