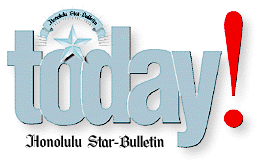 ---
Hawaii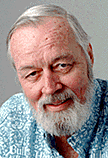 By Dave Donnelly
Thursday, February 25, 1999
---
$15 million buys
quite a view

REMEMBER Richard Fowler and his beauty queen wife Louvette? They lived behind closed walls in "Casa Blanca del Mar" on the beach at Kahala, before selling it and moving to the Pacific Northwest where Fowler's businesses were headquartered. I'd been to the "Casa" and thought it was pretty spectacular, but that was before I saw the sales brochure for the Fowlers' current home, "Diamanti," on Lake Washington. It's truly spectacular, sitting like a five-star boutique hotel on an acre and a third of manicured land stretching from the street to the lake. As you might have suspected, he's a neighbor of Bill Gates, the Microsoft magnate. Fowler now has Diamanti for sale at $15 million ... And Howie Mandel, whose filmed-in-Hawaii shows are running this week all across the country, must be doing well himself. He just sold his Malibu estate for $7 million ...

HERE'S a guy with a big job, and not one too many people would relish having, I'd wager. Tony Campolo is spiritual adviser to President Bill Clinton, and if you'd like to hear what he has to say about the president, you can hear him tonight from 7 to 9:30 at Kalihi Union Church, as part of Hawaiian Islands Ministries' inaugural Leadership Institute. If you miss him, he'll also be speaking at HIM's Straight Talk Breakfast tomorrow from 7 to 8:30 a.m. at the Hale Koa Hotel ...

Good Scouts

THINK of the thousands of young men who were once members of Boy Scouts Troop 36. After all, the troop is celebrating its 75th Anniversary Diamond Jubilee on March 21 at the Disabled American Veterans Hall at Keehi Lagoon. Among those who were former scouts in the troops were Sen. Dan Inouye, state Sen. Randall Iwase, Mariposa Restaurant G.M. David Nagaishi, Kahala Caterer co-owner Mitchell Uyeno and countless other notables and common folks alike. One reason for the troop's stability over the years was Koichi Murakami, who'd been affiliated with them for 61 years, the past 53 as scout master. He's now retired, but is expected to be at the big 75th anniversary. Tickets can be obtained from the still active former scout master Murakami at 737-1669 or write Walter Burton, 1528 Bertram St., Honolulu HI 96816 ...

BROADWAY was represented on both sides of the footlights at Diamond Head Theatre the other night. Not only was Paul Nakauchi of the Broadway revival of "The King and I" on stage, but in the audience (along with New York director Greg Zane) was Christine Yasunaga, fresh from another royal show, "The Lion King" on the great white way. She was at Diamond Head to see her cousins, Michael and Stephanie, who are among the royal children. With "The King and I" sold out for its entire run (as was the Castle Performing Arts Company production a year ago), you'd think DHT might consider making the Rodgers & Hammerstein musical an annual event, as it did in recent years with both "Scrooge" and "A Wonderful Life," two lesser works ...

It may be May for Tony

AFTER the announcement of a huge lineup of talent headlined by Tony Bennett at the Turtle Bay Hilton April 3, comes word that Bennett will be incapacitated. He'll undergo eye surgery on March 2 to correct a torn retina, and while future plans to present him haven't been finalized, he'll be unable to perform before May 15. Meanwhile, the promoter is mulling whether to do a show with the other acts on the bill, or include them in May if they're available then. Stay tuned ...

---




Dave Donnelly has been writing on happenings
in Hawaii for the Star-Bulletin since 1968.
His columns run Monday through Friday.

Contact Dave by e-mail: donnelly@kestrok.com.
E-mail to Features Editor
---
---
© 1999 Honolulu Star-Bulletin
https://archives.starbulletin.com