---
Tuesday, February 23, 1999



Cayetano gaining
in popularity


According to a Star-Bulletin/
NBC Hawaii News 8 poll

By Mike Yuen
Star-Bulletin

More isle residents approve of Gov. Ben Cayetano's overall job performance and fewer view him unfavorably. But when it comes to fixing the isle economy, a larger percentage are convinced that he hasn't clearly articulated a plan.

That's the picture that emerges when the latest statewide poll conducted for the Honolulu Star-Bulletin and NBC Hawaii News 8 -- the first since Cayetano's re-election -- is compared to previous public-opinion surveys.

The latest poll is based on telephone interviews with 428 registered voters during the three-day period that began Feb. 11. The survey by Mason-Dixon Political/Media Research Inc. of Columbia, Md., has a margin of error of plus or minus 5 percentage points. A combined 42 percent rated Cayetano's job performance as good or excellent, while 16 percent graded his work as poor, according to the latest survey.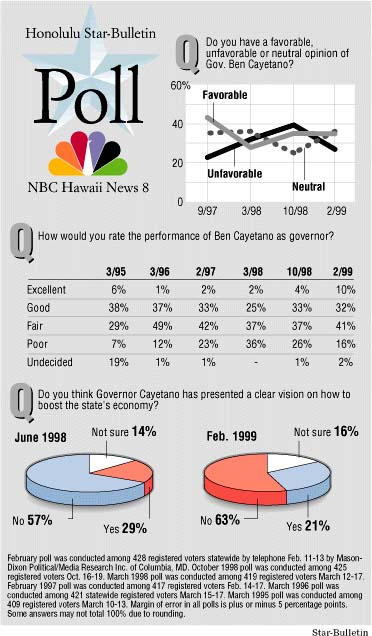 This is the first time Cayetano's job approval rating has climbed above 40 percent since March 1995, three months after Cayetano was inaugurated.

This is also the first time since March 1996 that Cayetano's poor rating has fallen below 20 percent.

In terms of popularity, Cayetano is now seen favorably by 35 percent and unfavorably by 28 percent. Since June, Cayetano's unfavorable rating has steadily dropped from 42 percent. For much of last year, public-opinion polls revealed that more people viewed the governor negatively than they did positively.

But they still overwhelmingly doubt that Cayetano has a blueprint to solving the isles' economic malaise. Now, 63 percent say that they don't believe that Cayetano has clearly articulated how to reinvigorate the state's economy; only 21 percent say they see a plan. In June, 57 percent said Cayetano didn't have an economic blueprint; 29 percent said he did.

"I think," said Walter Heen, state Democratic Party chairman, "that the people are beginning to understand how really difficult the economy question is."

The poll results suggest that isle residents are acknowledging that Cayetano is trying improve the economy "but at the same time they seem to be uncertain as to whether he is elucidating his program and ideas," he said.

Heen added: "He seems to be leading quite well. But the people are not quite sure where he's leading them."

Hawaii Republican Party Chairwoman Donna Alcantara interpreted the poll results to mean that isle residents want Cayetano to do well, since he will be the state's chief executive for another four years.

"On other hand, it is clear they feel that he doesn't have a clear vision of how he will lead this state back into prosperity," she added. "People don't feel he has the wiggle room to affect change. He's not leading. He's sitting on a system that is broken and nobody knows how to fix it."
E-mail to City Desk
---
---
© 1999 Honolulu Star-Bulletin
https://archives.starbulletin.com