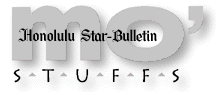 ---
Tuesday, February 23, 1999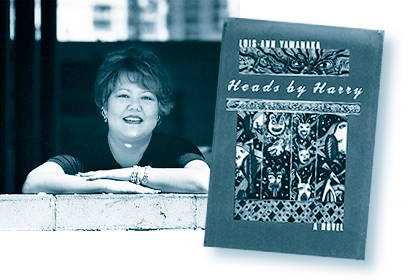 File photo
Lois Ann Yamanaka and James Grant
Benton join up for guaranteed fun.
---
Benton joins
Yamanaka for reading
Comedian James Grant Benton will join author Lois-Ann Yamanaka in reading from her latest novel, "Heads by Harry," from 6 to 8 p.m. tomorrow at Mo'ili'ili Blind Fish Tank.

"Heads by Harry" is the third in a trilogy of Yamanaka's novels, following "Wild Meat & Bully Burgers" and "Blu's Hanging."

The book takes its title from a taxidermist shop in Hilo run by Harry O., whose three children struggle to grow up with identities confused by sexual preferences and expectations of love.

"Heads by Harry" is a "keen comedy of bad manners and grand accommodation, of deep love and a profound sense of home," says ALA Booklist.

"With this stirring novel, the potency and honesty of Yamanaka's view of ... life achieves the haunting force of myth," says Publishes Weekly.

The reading is free. Blind Fish is at 2469 S. King St. For more information, call 944-0588.

Essay contest marks Black History Month
Children ages 8-13 are eligible to enter the Lawry's Foods Inc. essay contest on the theme of Martin Luther King Day and Black History Month. The grand prize is a trip for three to Washington, D.C. plus $1,000 spending money and a gift basket. Essays must be 100-150 words in length. They will be judged on originality, creativity and relevance to the theme.

Essays may be submitted with an official entry form or a 3-by-5-inch card with the writer's name, complete address, date of birth, parent's or legal guardian's name and signature to: Lawry's/Fox "I Have A Dream, Too" Essay Contest, P.O. Box 8836, Maple Plain, MN 55593-8836.

Entries must be received by April 8.

PREVIEW
Coming to the big screen

Three movies begin their Oahu run on Friday:

8MM: Nicolas Cage plays Tom Welles, a surveillance specialistshired by Mrs. Christian (Myra Carter), widow of the state's richest businessman, to discover the identity of a teenage girl seemingly murdered by a masked man in an 8mm movie she found in her late husband's safe. (R)

The Other Sister: (PG-13): Diane Keaton, Juliette Lewis, Tom Skerritt star in this romantic comedy about two mentally challenged people who fall in love. (PG-13)

200 Cigarettes: Ben Affleck, Courtney Love, Martha Plimpton, Christina Ricci: New Year's eve in New York City when couples and friends intersect. (R)
There will be sneak previews Saturday of one movie:

Analyze This: A shrink pushes a mobster to get in touch with the good fella inside him in this situation comedy. Stars Robert DeNiro and Billy Crystal. (R)


Click for online
calendars and events.
---
Send WatDat? questions, stories
or any other story ideas or comments to:
Features, Honolulu Star-Bulletin, P.O. Box 3080,
Honolulu, HI 96802 or send a fax to 523-8509
or E-mail to features@starbulletin.com.
Please include your phone number.
E-mail to Features Editor
---
---
© 1999 Honolulu Star-Bulletin
https://archives.starbulletin.com