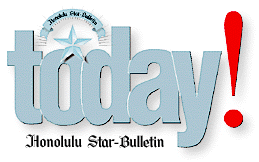 ---
Tuesday, February 23, 1999
---

"The most persevering and hazardous
struggle that can possibly be conceived."
Archibald Menzies
The botanist, who made the first recorded ascent of
Mauna Loa in February 1794, upon his return.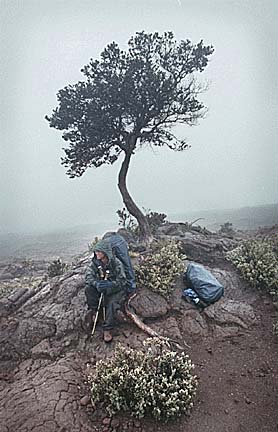 By Ken Ige, Star-Bulletin
Above: Alan Matsuoka takes a rest at the lone tree
at about the 8,000 foot mark. It is a familiar landmark on
Mauna Loa and has been called "Last Tree" though
vegetation continues along the trail.
---

Star-Bulletin photographer Ken Ige and reporter Alan Matsuoka have a quest; to hike to the summit of Mauna Loa in the winter. Though wet weather halted their ascent this year, their time on the mountain was not without rewards. And this story is almost certainly not their last on the home of Pele.

Story by Alan Matsuoka
Photos by Ken Ige
Star-Bulletin

The Alabama backpacker stomped onto the cabin porch about a half hour before sunset.

Young, lanky and drenched, he dumped his pack on an empty bunk and started unzipping and unlacing clothes and boots so he could get to his socks and change them. He said his name is Brandon, and two companions were still working their way up the mountain trail. Winds were driving a heavy mist downslope, and the temperature was freezing. Moving methodically, Brandon, a chemist it would turn out, was soon ready to go back down.

"We'll have something hot for you," Ken promised as Brandon hunkered into the weather. Ken, a photographer and my partner on this trip, fired up the camping stove and started boiling water. "Should we help?" he asked in a few seconds. A rhetorical question: The backcountry code is absolute on the point, which I had been sidestepping. Inside was no warmer than out, but at least it was dry, and we were in our third day of winter wet.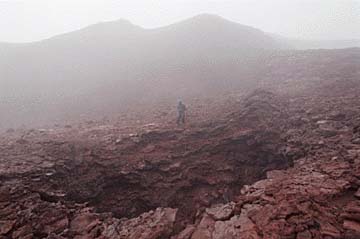 By Ken Ige, Star-Bulletin
Matsuoka investigated a large sinkhole
formed by a collapsed lava tube.
---
"I guess," I said, then in disgust at the equivocalness, "Sure. Of course."

Ken was dressed to head out first. He was 50 yards in front and already an uncertain silhouette when I stepped into the darkening gray. A quarter mile down I came across the third member of the Southern party, resting, assuring he was fine. Moments later Ken emerged shouldering the brother's pack, a monster. I fell behind to lift some of the load and point the way with my headlamp, but impending nightfall made orientation more a matter of memory than trail. Ken muscled ahead, while I served as a beacon for the lagging brothers.

The cabin burst with activity. Gore-Tex outerwear was shed, wet gear separated from the merely damp, hot tea steeped. The brother -- who Ken said had a deathly pallor when first seen -- wrapped himself in a sleeping bag and soon was snoring. "At least we know he's alive," Brandon observed. The rest of us began the process of refueling, stoking internal furnaces to counter the frigid forces outside.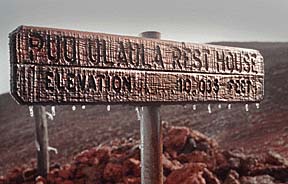 By Ken Ige, Star-Bulletin
The ice-crusted sign at Red Hill Cabin
boded ill for the planned ascent.
---
It was the first week of February, in the Puu Ulaula cabin, on the slopes of Mauna Loa on the Big Island.

Ken had proposed that we make a winter ascent of Mauna Loa's summit, when the chance of snow is greatest. "The pictures will be better," he reasoned. Then the holidays hit, followed by lingering flus, and our departure was pushed back twice. I couldn't shake a dry cough and, four days before we were to leave, Ken made an infrequent sick call, weakened after snorkeling a quarter mile off Waikiki for a picture. We were committed, though.

The 'Long Mountain'

The summit trek is nontechnical, but not without risk. Mauna Loa ("Long Mountain") is a massive shield volcano, so broad and symmetric the casual tourist eye may not distinguish it from the horizon, or register that it stands taller than Oregon's Mount Hood. At 13,677 feet, it's a cinder cone short of neighboring Mauna Kea, Hawaii's highest point. But when measured from the sea floor, which it buckles with its weight, Mauna Loa is the highest mountain on Earth, rising more than 13 miles from deepest base to tip.

We planned to cover 47 miles in five days, sleeping in cabins along the way. The challenge lay in the tedious uphill, the altitude and the weather, which can swing from sweltering to subfreezing. The first recorded ascent was made on Feb. 16, 1794, by Archibald Menzies, a botanist on the English vessel Discovery. Menzies, who had tried twice before, encountered snow and returned to base camp at 10 at night "after the most persevering and hazardous struggle that can possibly be conceived."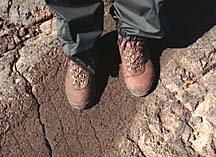 By Ken Ige, Star-Bulletin
Feet of endurance: Dubbed "The Sidewalk," a portion of the
trail has been worn smooth by years of hiking. It's a great
break but doesn't last long.
---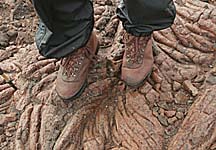 By Ken Ige, Star-Bulletin
Rippling pahoehoe lava fields have a hard, rope-like surface.
It makes walking jarring and is hard on the ankles.
---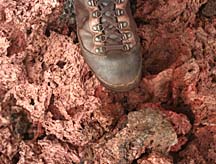 By Ken Ige, Star-Bulletin
Razor-sharp bits of broken lava probably present the
greatest trail hazard. A light and brittle surface, it is hard
on boots and harder on skin.
---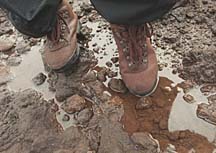 By Ken Ige, Star-Bulletin
Wet weather made for wet boots and a small stream
where the trail should have been. The boots never dried.
---
Given the pull of man to mountain peak, I imagine ancient Hawaiians stood on the summit, but apparently there is no evidence. Native tradition puts Mauna Loa in the domain of Pele, the volcano goddess, in my mind a restless, impetuous, alluringly contradictory spirit. Like the young lava fields which seem so lifeless, she is said to appear as a maiden or an old woman.

The night before we set out, sleet and snow fell on the summit, and a winter weather warning was issued. People were advised to take precautions to protect life and property. Conditions didn't change as we drove through the rain from Hilo Airport to Volcanoes national park. "I wouldn't go," a ranger said flatly. Then, seeing he dissuaded no one, he returned to his checklist and took down the colors of our sleeping bags and space blankets.

Bad start

We were on the trail shortly after 10 a.m., a cold moderate wind at our back, mist and rain cutting visibility to a couple hundred yards. Our first day's goal was the Puu Ulaula ("Red Hill") cabin, 7.5 miles away with a 3,400-foot elevation gain to 10,035 feet. That didn't include dodging, though. Water flowed and pooled along the path of least resistance, the trail in many places. "Mauna Loa stream," Ken said as he skirted a section trickling like the real thing.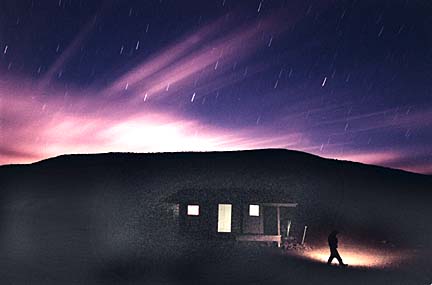 By Ken Ige, Star-Bulletin
Above: A moment of clear skies provides one of
the unexpectedly beautiful moments of an ill-fated trip. Clouds
and freezing rain soon changed the scene. The nighttime
temperature in the cabin was 34 degrees.
---
Our boots were no match. We had both sent our boots to mainland cobblers for resoling, but then neglected to waterproof them again. My toes felt moisture in an hour, and soon my wool socks were sloshing. Stamina went next. Both of us usually train regularly, but because of our flus we were ill conditioned for 50-pound packs. We were shuffling and leaning on our trekking poles when we finally approached the cabin, the white haze that signified the sun already close to setting.

If our boots dried, we would continue. If they didn't we knew wet boots meant frostbite.

Cabin fever

Our boots never dried. Nothing did The next day started at 32 degrees and crept to 37, rainy and windy like the last. We scaled down our plans and decided to stay on at Puu Ulaula in hopes of salvaging the assignment. An Oregon backpacker had written in the cabin's log that there was "snow everywhere" the morning before we arrived -- the good news and the bad news. We spent the day staring out the door at rain that wouldn't turn into snow, occasionally braving the wind-chill to escape cabin fever and dejection.

That night in my sleeping bag, I spoke to Pele -- prayed, I suppose. I tend to give credence to the knowledge of native peoples, on the theory that those who have been around the longest are in a position to know best. And with the gods, one never knows. I do know that years ago my girlfriend and I drove to Halemaumau Crater one night just to see what it would be like. Almost as soon as the engine noise and headlight beams vapored into darkness, we were filled with foreboding, and fled. The sense of wrongness was physical.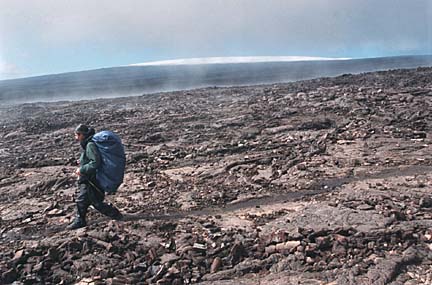 By Ken Ige, Star-Bulletin
Above: On the final morning the sun emerged,
raising steam from the damp slopes and gleaming
off the snow-covered summit.
---
I awoke at 5 a.m. to stillness and a bird's melodic twittering, an unexpected sound. I slept again. Three hours later, with the temperature 27 degrees, I swung open the cabin door to resume our watch. "That's snow out there, dude," Ken said. It was ice, in fact, shimmering in the weak morning sun, but it was all we needed -- a visual image of cold. We rushed out to take photos. Icicles hung from the roof. Lava fields sparkled white on black. And in the smallest pits of the rock, green moss overlaid by frozen drops glistened like bright emeralds.

Uplifted, we began to explore where we were, and found a singular landscape. We watched as a low rainbow briefly spanned a rippling lava field, to be replaced by haunting fingers of fog. Ken shook his head. He had climbed to Mauna Loa's summit twice before, and always considered Puu Ulaula a rest stop. "And just 10 minutes away, there's all this," he said. Wistfully, we went to look at the trail to the summit, and felt its draw. But we would head down in the morning.

Later that day, it did snow, but not enough to stick to the ground. And that night, the Southerners arrived.

Not the end

Our final morning dawned sunny, the sky taking on the brilliant blue it does at high altitudes, as if it held its own light. While Ken and I packed to leave, the Southerners hung out their wet gear, the brother fully recovered and cheerful. They had tried to climb Mauna Loa in 1992, they said, and were turned back by Hurricane Iniki. Now they had flown in for a week solely to make another attempt.

I went up Red Hill for a last look, seeing Mauna Loa clearly for the first time. Snow was low on its flanks, the long white mantle setting off its shape against the sky and the darker lands below. A majestic sight. "Look at all that snow," I said to the third backpacker, who was joining me with his camera. "A friend once told me," he said, perhaps not catching my drift, "to respect Mother Nature, 'cause she don't respect you."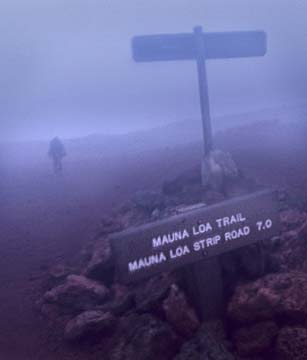 By Ken Ige, Star-Bulletin
At 5:30 p.m. on the first day of their hike, Ken Ige and
Alan Matsuoka reach Red Hill Cabin. The late hour and heavy
mist hamper visibility. The hikers are soaked through
and the temperature is 36 degrees.
---
I hiked out with an odd emotional mix, like a soldier who engaged honorably but is retreating. The Southerner's maxim was true up to a point: We had not come fully prepared, and had paid. Yet I felt only chastened, not defeated or rejected. During a break we gazed once more at the mountain, a beauty showing what must be earned and would not be easily given. Then we tore ourselves away, and headed down.

Respect her, it seems, and she may ask you back. And if she does, go. And be worthy.

---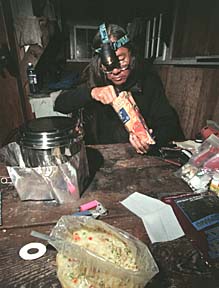 By Ken Ige, Star-Bulletin
Alan Matsuoka digs into a beef pasta freeze-dried dinner.
Camping food is improving and eating out of the
bag leaves no dirty dishes.
---
A successful hike
starts with packing
the right stuff

Light packs make for happy hikers. But when climbing high on Mauna Loa in any season, take enough gear to withstand temperatures in the 30s -- snow can be at the summit in August. Three, or even four, layers of clothing may be needed. Specific items include:

Outerwear: Pants and jacket should be waterproof and windproof. Pants that zip down the side make it easier to regulate body heat while on the trail.

Underwear: Long underwear made of synthetic materials like Patagonia's Capilene is vital in retaining warmth. Medium weight or heavier is best.

Socks: Wet socks sink trips. Take enough to ensure you always have a dry pair.

Headgear: A cap with a visor helps retain heat and shields the face from sun and rain. A balaclava or ski mask will be appreciated in single digit temperatures.

Gloves: Gloves made of synthetic fleece (like Polartec) provide warmth, shells make them windproof and keep them dry.

Gaiters: Gaiters will help keep lava grit and water out of boots.

Other items are:

Shelter: Cabins are on the trail -- if you get to them. If not, the night will be long without some protection. Balance the risk with the weight of a light tent or bivy bag.

Sleeping bag: Three- or four-season. Put it in a stuff sack and/or plastic bag to stay dry. Cabins have bunks with mattresses, so pads can be left at home.

Sunglasses: Essential to protect eyes from the blinding glare of sun on snow.

Sunscreen: High-altitude sun burns skin faster.

Medication: Prescription drugs like Diamox may ward off the excruciating symptoms of altitude sickness.

Foot/hand warmers: Chemical packets about the size of a baseball card, used by skiers, produce low-level heat. Relatively expensive, but an option.

Diamox aids all those altitude ills

Altitude sickness is perhaps the most difficult aspect of hiking Mauna Loa. You can be in shape and you can have all the right gear, but altitude sickness on this trail is virtually unavoidable.

Altitude sickness is the body's inability to adapt to a rapid gain in elevation. Common symptoms include headache and nausea. Many who climb to Red Hill Cabin at 10,000 feet experience enough symptoms that they don't continue up.

Most hikers who make it to the summit cabin at over 13,000 feet report flu-like symptoms or a bad hangover.

Most cases on Mauna Loa are mild Acute Mountain Sickness (AMS). Severe (possibly fatal) forms of AMS begin when the brain starts swelling (High Altitude Cerebral Edema) and when fluid starts leaking into the lungs (High Altitude Pulmonary Edema).

Signs to watch for: Confusion, bizarre behavior, slurred speech, staggering or abnormal walking, congested cough and inability to catch one's breath even when resting. If such symptoms occur, immediate descent is required.

The problem is acclimatization. People can adapt to changes in altitude if given adequate time. Above 8,000 feet, doctors recommend climbers try to ascend not more than 1,000 feet per day. But the Mauna Loa hike climbs from 7,500 feet to 10,000 the first day. Even if you spend a day at the first cabin to acclimatize, your second leg goes from 10,000 to over 13,000 feet in a day.

To make matters worse, exertion hampers acclimatization. Exertion = Mauna Loa's uneven trail (it's impossible to gain "a rhythm") + Heavy Packs (a "safe" pack with winter clothing and gear usually weighs 40-60 pounds including water) + Long Days (between seven and 12 hours hiking each day).

Everyone acclimatizes at a different rate. Fitness does not play a part. A couch potato may acclimatize better than a marathon runner.

There are just two common ways to protect against altitude sickness: Gradual ascent (impossible on this trail) or Diamox. Diamox (acetazolamide) is a prescription drug that effectively speeds acclimatization.

See your doctor for more information.
The trail

Length: 7.5 miles
Elevation gain: 3,400 to 10,035 feet
Markers: Lava-rock ahu (or cairns) with signs at 7,000 feet and every 1,000 feet higher.
Cabin: Eight bunks, a picnic table, separate pit toilets and a water tank.






Click for online
calendars and events.
E-mail to Features Editor
---
---
© 1999 Honolulu Star-Bulletin
https://archives.starbulletin.com