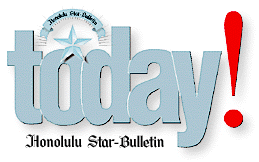 ---
Tuesday, February 23, 1999
On this page, colors from Laura Mercier conjure visions
of sand dunes, rich marble and dusky sunsets.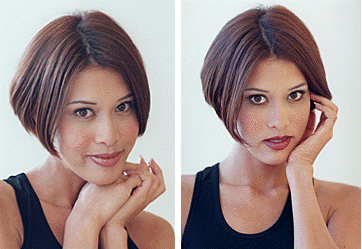 By Dennis Oda, Star-Bulletin
Spring's face is soft and pretty. Model Rochelle Ovitt wears the
transparent, watercolor-wash look created for her by Julie Morgan
of Bobbi Brown at Neiman Marcus. Bobbi Brown national
makeup artists will be in the store March 5 and 6 and April 16
and 17 to demonstrate products and techniques.



For evenings, colors are intensified and given a touch of spring's
new iridescence coming into play. Here, Heather Saffrey, for
Laura Mercier at Neiman Marcus, created a more glamorous
look for Ovitt. Laura Mercier national makeup artists will be
in the store March 11 to 13. Call 951-8887 for details.
---



For the workplace and for
an evening out, spring into a
palette this season that
simply glows

By Nadine Kam
Features Editor, Star-Bulletin

FORGET the masklike vamp, cadaverous Goth or the notion of the face "made up" to be "nude." With spring comes a blush of color and a trend in makeup that can be described simply as "pretty."

It's about time!

Color started creeping up on us last year, but it was just too hard to face. Few women could surrender to blues and greens and bright pinks after subsisting several years on browns, tans and beiges.

Luckily, colors this season aren't so extreme. Imagine the colors of a dusky sunset or the colors of a conch shell sitting in the sun, all rosy pink, tan and sandy and freckled with soft browns. Add to that a slight "shimmer," one of the season's buzz words, along with "gloss" and "glow."

The matte look is dead, replaced by a dewy look achieved through wear-anywhere cream-to-powder formulations that add transparent color to the skin without greasiness.

Even M.A.C, the champion of the matte look has gotten into the act. "We're still coloring the brow, but we're not stenciling. We're still coloring the lip, but it's not with a deep dark line or sculptural," said Cian Salerni, regional trainer for M.A.C.

"You know how people look when they get caught in the cold? Their cheeks are all rosy and their eyes are bright? That's the look we're after, fresh and clean."

"Women today are looking for a glow," said Heath Fedele, a national makeup artist for Trish McEvoy. He was in town recently with fellow artist Richard Smith to perform makeovers at Neiman Marcus.

"You know how models faces these days look so luminous? What is important is letting skin show through for a fresh look. You would use foundation only where you need it."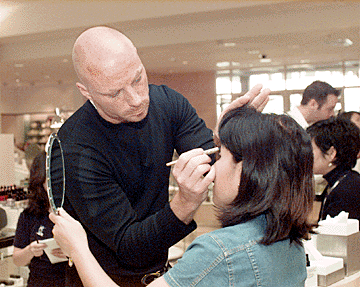 By Ken Sakamoto, Star-Bulletin
Trish McEvoy national makeup artist Richard Smith performs
a makeover on Carolyn Cravalho at Neiman Marcus.
---
In place of foundation he uses Trish McEvoy's "Face Shine," a multi-purpose, oil-free translucent cream that can be used on cheeks, lips and eyelids. "Just a little gives a glow to the skin," he says.

Basic to the McEvoy line is a refillable "Face Essentials Kit" that features a base eye shadow, eye contour powder, eye liner powder and powder blush, all color-coordinated. In terms of what to add to this basic kit, Fedele said the new neutrals are bronze and berry, perkier versions of the deep plums and browns of the past season.

The idea of simple, easy application is echoed at the Bobbi Brown counter at Neiman Marcus, where resident artist Julie Morgan, who worked with Brown in New York before coming to Hawaii, shared Brown's philosophy of creating products for real women. The line includes stick foundations, stick bronzers and stick blushes that are portable and can be applied quickly to achieve the subtle effect of a watercolor wash.

"They give the skin a real look," Julie said. "Bobbi knows that women have busy lifestyles and they don't need 100 different products, so she concentrates on basics, essentials. She believes in style that endures."

And lip glosses that look like Vaseline smears are passe. New glosses are super sheer, looking like you've just licked your lips. Bobbi Brown dubs its product "Lip Shine."

Sheerness similar to watercolors is so crucial to the season that at Laura Mercier they've actually dubbed spring's new line the "Watercolours" collection. New lip and eye shadows are inspired by Impressionists Monet, Degas and Renoir.

If it all sounds like a lesson in Art 101, it's probably because Mercier started out as a painter, who created makeup for magazine covers in Europe. These days, her work can be seen on almost every major magazine cover. She created Jewel's look for January's edition of Vogue. She was responsible for Madonna's "geisha" makeover in this month's "Harper's Bazaar." And she turned Meg Ryan from girl next door to femme fatale in another issue of Harper's last year.

For lips in the Mercier line, look for muted corals and pinks with silvery undertones. New lip colors have a built-in iridescence. There's also a powder blue eye shadow, called "Cloud," and a mauve shadow that coincide with spring's pastel fashions.

Heather Saffrey, a resident artist at the Mercier counter at Neiman Marcus, said some of the shimmer of the season can be achieved by using one of Mercier's metallics -- frosty lip or eye colors that can be layered over existing makeup. This makes it easy to update a makeup wardrobe, she said, without discarding the colors one is already comfortable with.

More iridescence can be found at M.A.C counters statewide. M.A.C's newest line is called Pure, an apt name for a line of barely there cosmetics that add sparkle with just a whisper of color.

Salerni described the new colors as glazes "you can see through. They're almost transparent. It's not a hide-behind makeup."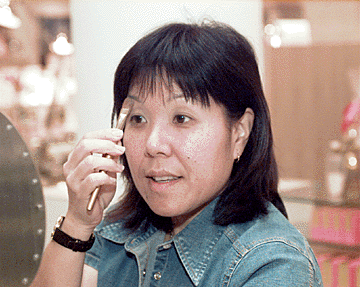 By Ken Sakamoto, Star-Bulletin
Carolyn Cravalho did half the work during a makeup consultation
with Trish McEvoy makeup artist Richard Smith, who says, "As
much as you would like to kidnap your favorite makeup artist,
it's still illegal, so we do our best to teach women how
to use our products, step by step."
---
The look starts, again, with a creamy base in pale, frosty colors that add a highlighting shimmer to cheeks, eyes or lips.

"There's no structure to this makeup," Salerni said. "You just take your finger and rub it in, or you use a sponge. No matter where you put it, it looks great!

"This makeup is so simple to use. I just love it! It makes life so simple."

New lip colors include transparent "Ozone," with its touch of gold frost; the popular "Gliss," a peachy color splashed with gold frost; "Kool," a shimmery lilac; and "Hue," a peachy pink with silvery frost. Eye shadows echo these colors with the same iridescence.

Even at Yves Saint Laurent, known for its strong classic colors, there's been a move to softness and pastels.

YSL national makeup artist Joseph Costas was in Liberty House last week performing makeovers and described YSL's new look as being mostly pastel with bold lip colors and a well-defined brow that frame the face.

New Powder Creme eye pencils highlight or line in shades of "Porcelain Pink," "Quiet Violet," or "Celestial Blue."

These pale shades don't tend to disappear into your skin. YSL has long been known for use of pure pigments that deliver saturated color so that what you see in a lipstick is what you get when you put it on.

Watch out for "Tropical Pink," a new bold lip colors that is brighter than any lawn flamingo you'll every see. More subdued are "Cassis Royal" and "Indian Lilac."

Costas, who grew up in Massachusetts and now makes his home in Arizona during the five weeks of the year he is not traveling, compares the new colors to those of his desert home, with its warm teals, burnt oranges, soft yellows and powder blue skies.

"You see that color and you realize color is the basis of life," he said.

Can't get enough?

What: Two Faced cosmetic creators Jerrod Blandino and Jeremy Johnson appear at Liberty House. Call for appointment.
Pearlridge: 4 to 8 p.m. Thursday (945-6714)
Waikiki: 6 to 10 p.m. Friday (945-5212)
Ala Moana: Noon to 4 p.m. Saturday (945-8896)






Click for online
calendars and events.
E-mail to Features Editor
---
---
© 1999 Honolulu Star-Bulletin
https://archives.starbulletin.com