---
Monday, February 22, 1999



R A I N B O W _ B A S E B A L L
---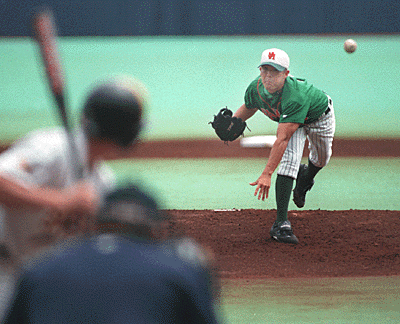 By George F. Lee, Star-Bulletin
Troy Yoshimasu delivers to the plate during the Rainbows'
series-sweeping 9-1 win over No. 2-ranked Wichita State.
---
Shock waves


The Rainbows reward a crowd
of 2,741 with their third straight
win over No. 2 Wichita State

By Al Chase
Star-Bulletin

Fans entering the quarry before yesterday's baseball game at Rainbow Stadium found themselves in a traffic jam.

This hasn't happened for some time and definitely not when the Rainbows are the only Hawaii team in action in what is officially called the Makai Campus.

However, 2,741 fans wanted to know if the No.-25-and-soon- to-move-up Rainbows could sweep the No.-2-and-headed- downward Wichita State Shockers. After all, the Shockers (6-4) had not been swept in a three-game series since 1987 (at Louisiana State), the year WSU began its current streak of 12 consecutive NCAA regional appearances.

But, it was the third game of the series and left-hander Troy Yoshimasu was starting on the mound for Hawaii. That has meant lots of UH runs and a 'Bow victory the past two weekends.

The Rainbows (13-2) did not disappoint the largest turnout of the season. They staked Yoshimasu to a 9-1 lead after five innnings and that score held as three relief pitchers completed the game for the sweet sweep.

"This weekend was a really big one considering we played Wichita State and considering we're going on the road and everyone knows how tough it is to win on the road," said UH third baseman Kenn Wakakuwa. "Everybody realizes we still have to win in the WAC and that's going to be tough, so we all have to play a little tougher."

Wakakuwa shifted to third base when Matt Wheeler stepped on a ball and sprained his left ankle during batting practice. He had no fielding chances, but made the most of his five plate appearances with four hits and four RBIs.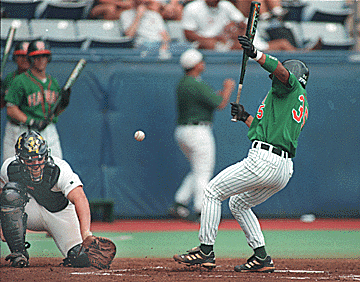 By George F. Lee, Star-Bulletin
Sean Takamori was hit by a pitch to lead off the first inning.
He stole second and scored on Kenn Wakakuwa's single.
---
"My power is to the right side and everybody knows that, but for a while I was trying to pull everything," Wakakuwa said. "So today, I tried to let the ball go deeper on me. I also switched bats. I was using a 33 inch and changed to a 34 inch. This helps me to be not too anxious and stay back and wait (on the ball)."

His four singles went to left-center, center, center and finally he pulled one into the hole to left.

The series boiled down to the Rainbows being able to match the Shockers' pitching in the first two games, playing much better defense and getting opportune hits. The 'Bows also did more of the little things like executing the sacrifice bunt or taking an extra base on a throw to the plate that isn't cut off.

And, they cashed in on the little things the Shockers didn't do, like a throwing error on a pickoff try at first or a throw in the dirt to first base by the catcher on a sacrifice bunt.

Yesterday's first two UH runs were good examples of this. Leadoff hitter Sean Takamori was hit by a 1-2 pitch. He stole second, his 12th in 13 tries, to get into scoring position. Wakakuwa singled him home, then took second on a wild pitch to get into scoring position. He went to third on a groundout and scored on Scooter Martines' single.

Three big runs scored in the fourth inning when the WSU left-fielder couldn't track a wind-blown fly off Michael Dartt's bat. It should have been the third out but one run scored and Wakakuwa followed with a two-run single.

The 'Bows scored three more runs in the fifth after two were out with the help of a hit batter and three singles.

The top of the fifth also found Yoshimasu experiencing difficulty finding the strike zone. He actually walked the last batter in the fourth, but picked Brad Wright off first. Yoshimasu then walked Eric Absher to start the fifth, but picked him off also. When he walked two more after two were out in the sixth, it was time for the UH bullpen to finish up.

"His tempo was off. He was out of rhythm and trying too hard to make his pitches," UH pitching coach Carl Furutani said. "I let him stay out there for a while because I wanted him to battle. All our pitchers battled in this series."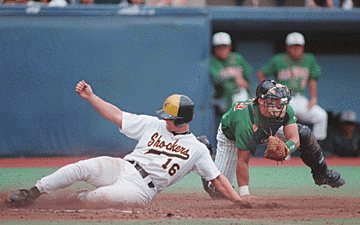 By George F. Lee, Star-Bulletin
Wichita State's Brian Preston slides hame safely
in front of Hawaii's Lars Hansen.
---
Lars Hansen, who had three hits, said it has been a plus to not have to catch all three games in a series as he did at times last year.

"With two of us behind the dish it gives me a chance to relax and go over in my head what's needed in game three," said Hansen, who has been behind the plate for the first and third games of each series. "Coach Les wants me around at the end of the year and I'd sure love to be around."

Wakakuwa usually catches game two. Injuries sidelined Hansen for the majority of the second half of the '98 season.

"We needed respect from people and you get that from beating Wichita State," Dartt said.

"What a series. That's baseball," Martines said.

"I thought Wichita State's first two pitchers were exceptional. I didn't know what they had left for the third game. I was surprised it was such a big drop," UH head coach Les Murakami said.

"With the 9-1 lead, I stopped running and bunting. I felt the game was over. But, if we didn't have pitching, I would have continued to run and bunt.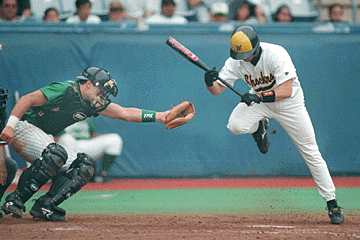 By George F. Lee, Star-Bulletin
Rainbow catcher Lars Hansen lunges for an errant Troy
Yoshimasu pitch as Wichita State batter Eric Absher
dances out of the way.
---
"Our team is not a great team, but it's a team that knows how to play the game. Most of these kids have played on winning teams before, so they don't go out with a 'try-not-to-lose' attitude. They go out to win."

OFF TO TEXAS: The Rainbows leave tomorrow night for Fort Worth, Texas, where they open the Western Athletic Conference season against Texas Christian Friday, Saturday and Sunday. Murakami opted for a night flight so his team could practice twice before the first game.

INJURY REPORT: Wheeler had X-rays last night. Nothing is broken and he is day-to-day. Also yesterday, Derek Honma was hit on his left collar bone by a batted ball while throwing BP. He will be examined today.




'Bows vault to No. 14

Hawaii's three-game sweep of Wichita State moved the Rainbows to No. 14 in the Collegiate Baseball poll, which was released this morning.

Wichita State, which was ranked No. 1 before losing to UH-Hilo last weekend, fell from No. 2 to No. 16.




Collegiate Baseball
NCAA Div. I Poll

(As of Feb. 22, 1999)
http://www.baseballnews.com

Rank, School, (Record)		Pts	Prev
 1. Florida St. (12-1)		484	1
 2. Rice (13-2)			480	3
 3. Texas (10-3)		474	5
 4. Miami, Fla. (9-3)		470	6
 5. Stanford (10-3)		468	9
 6. Florida (3-3)		467	7
 7. Auburn (9-2)		465	4
 8. Louisiana St. (4-2)		463	8
 9. Long Beach St. (5-4)	460	10
10. Cal. St. Fullerton (8-3)	458	14
11. Georgia Tech. (6-4)		457	11
12. Texas A&M (8-2)		454	17
13. Oklahoma St. (6-1)		452	19
14. Hawaii (13-2)		449	25
15. Arizona St. (16-4)		445	22
16. Wichita St. (6-4)		444	2
17. Texas Tech. (9-4)		442	13
18. Pepperdine (10-1)		440	23
19. Florida Intern'l (12-0)	438	24
20. Clemson (3-0)		436	20
21. North Carolina (6-0)	433	28
22. Alabama (4-3)		432	18
23. South Carolina (5-2)	430	16
24. Washington (4-2)		426	21
25. North Carolina St. (7-1)	423	--
26. Mississippi St. (5-1)	420	--
27. Baylor (8-4)		417	--
28. Oral Roberts (6-2)		413	26
29. Houston (5-4)		410	27
30. Wake Forest (4-2)		406	30

Box Score

Rainbows 9, Shockers 1

Wichita State		Hawaii
		ab	r	h	bi			ab	r	h	bi
Hooper ss	3	0	1	1	Takamori rf	4	2	2	2
Blasi 2b	4	0	0	0	Dartt 2b	3	1	1	1
Abram rf	3	0	0	0	Wakakuwa 3b	5	1	4	4
Magness 1b	3	0	1	0	Aloy 1b		4	0	1	0
Hill 3b		4	0	1	0	Martines lf	5	0	1	1
Wright dh	3	0	1	0	Nakano dh	3	0	0	0
Absher cf	2	0	0	0	Hansen c	4	2	3	0
Hawkins ph	1	0	0	0	Miller ss	2	2	0	0
Bozarth c	1	1	0	0	Baker cf	4	1	1	1
Preston c	2	0	0	0
McCarty lf	4	0	2	0
	Totals	30	1	6	1		Totals	34	9	13	9


Wichita State	001	000	000--1
Hawaii		201	330	00x--9

E--Blasi (2), Bozarth (1), Bryan (1). DP--WSU 1 (Blasi-Magness), UH 1 (Dartt unassisted). LOB--WSU 8, UH 8.

2B--Dartt (3), Aloy (5). SB--Takamori (12), Hansen (1). SH--Dartt (5), Miller (2).

			IP	H	R	ER	BB	SO
Bryan (L, 1-1)		3-2/3	8	6	2	1	2
Adair			3-1/3	4	3	3	0	1
Lee			1	1	0	0	2	0
Yoshimasu (W, 4-0)	5-2/3	2	1	1	5	5
Jones			1-1/3	0	0	0	0	1
Bergman			1	1	0	0	1	1
Childers		1	3	0	0	0	3

WP--Bryan (1). HBP--Takamori (by Bryan), Miller (by Adair).

Umpires--Tomaszewski (plate), Torres (first), Ormita (third).

T--2:51. A--2,741 (tickets issued 3,551).
E-mail to Sports Editor
---
---
© 1999 Honolulu Star-Bulletin
https://archives.starbulletin.com