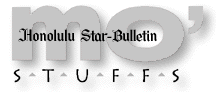 ---
Monday, February 22, 1999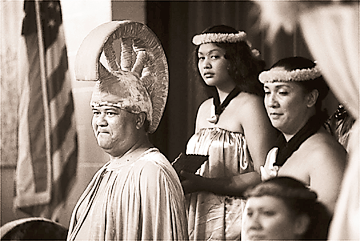 File photo
King and Queen in 1997 were King Charles
Kapua and Debbie Robbins.
---
Call out for Aloha
Festivals court
People of Hawaiian ancestry are being sought to serve as Aloha Festivals king, queen, prince and princess Sept. 10-19 on Oahu.

The chosen royal court will preside over festival events, and are a way to connect the modern festivities with Hawaiian traditions.

Candidates for king must be at least 30 years old and 5'11" tall. They must have hair no longer than shoulder length. Facial hair is OK, but must be neatly trimmed.

Queen candidates must be at least 30 years old and 5'5" tall.

The prince must be between 16 and 20 years old, at least 5'9" tall, must have short hair and be clean shaven.

The princess must also be between 16 and 20, and must be at least 5'2".

Both the prince and princess must be unwed and remain so throughout the year they are on the court. To apply, call the Aloha Festivals office, 589-1771. The application deadline is March 5.






Click for online
calendars and events.
---
Send WatDat? questions, stories
or any other story ideas or comments to:
Features, Honolulu Star-Bulletin, P.O. Box 3080,
Honolulu, HI 96802 or send a fax to 523-8509
or E-mail to features@starbulletin.com.
Please include your phone number.
E-mail to Features Editor
---
---
© 1999 Honolulu Star-Bulletin
https://archives.starbulletin.com