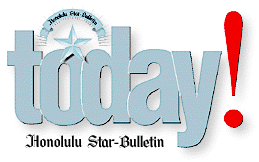 ---
Monday, February 22, 1999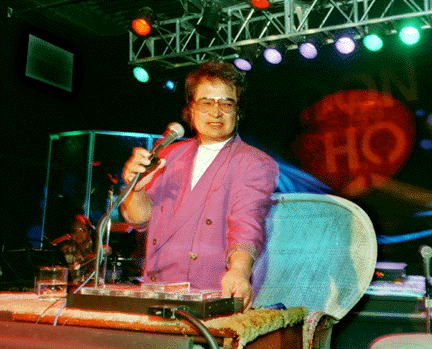 By Dennis Oda, Star-Bulletin
Don Ho on stage at the Waikiki Beachcomber Hotel,
where he performs at 7 p.m. Sundays through Thursdays.
---
For nearly 40 years he's been
an isle fixture, an international
icon of aloha, but Don,
we hardly knew ya

By Burl Burlingame
Star-Bulletin

THE band is pretty well hidden on a darkened stage at the Waikiki Beachcomber Hotel, goosing a cheerful jazz melody as a kind of overture. Don Ho -- the dim silhouette of Don Ho -- wanders out on stage and begins fiddling with a console that is plunked stage-center.

The console has switches, knobs, computer screen, a gooseneck microphone, a telephone like those you see stewardesses using on airliners. Capt. Kirk's duty station on the starship Enterprise doesn't have this many controls.

Suddenly the lights come up. Ho is standing there in the gleam, regarding his controls with the bemused distraction of a software engineer running his first compilation algorithm. He has airline-style earphones on. He's very retro-'60s chic in a shiny double-breasted suit and high-neck T-shirt. Austin Powers would be proud.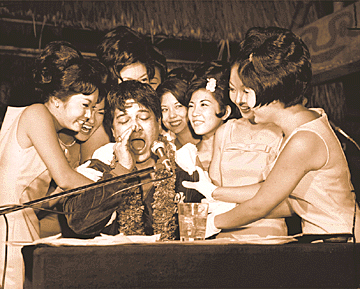 By Craig T. Kojima, Star-Bulletin
Above, Ho is shown back in 1967 surrounded by fans.
---
The band swings into a familiar melody, a too-familiar melody. Tiny bubbles, sings Ho, in that unmistakable whiskey baritone, in the wine. Makes me feel happy. Makes me feel fine. Tiny bubbles. Makes me warm all over. With the feeling that I'm going to love you until the end of time.

He stops. The band keeps time.

"Tiny Bubbles," mutters Ho. "We've been playing that song every night for 39 years."

He makes some infinitesimal tweak on the controls.

"I really, really hate that song."

His timing is masterful. The audience -- several hundred, mostly haole, largely older and apparently heterosexual -- erupts with laughter. Within the space of a single verse of a decades-old pop song, Don Ho has made the audience his.

Here's to the golden moon. Here's to the silver sea. But mostly, here's a toast to you and me.

Name the people who have represented "Hawaii" to the rest of the world. Much as we revere Queen Lili'uokalani, much as we salute the accomplishments of King Kalakaua or Gabby Pahinui, they are flickers on the world's cultural radar. To the rest of the planet, Hawaii is Duke Kahanamoku, Hilo Hattie and Don Ho. No one else even comes close.

They are also creatures of the 20th century and of mass communications. Worldwide celebrity is a recent phenomenon, and it takes the international, cross-cultural reach of sports, of movies and of music to break through.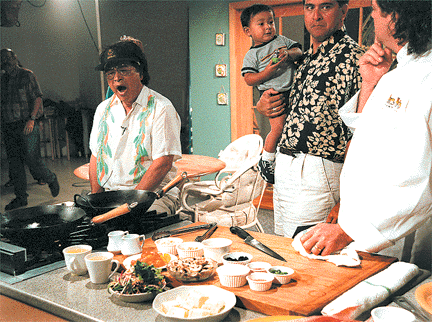 By Craig T. Kojima, Star-Bulletin
Ho takes a break on the "Hawaii's Kitchen" set with
host Brickwood Galuteria, center, and chef Mark Ellman.
---
And it takes timing. Don Ho's could not have been better. In the 1960s, at the same time popular music was being reformulated from plain vanilla to more colorful fare, at the same moment young folks were discovering that pocket money can be blown on records, at the same instant that the recording industry discovered the cheap, long-playing vinyl disc, Don Ho broke through the scrim of national consciousness with his laid-back, exotic and vaguely hedonistic charm.

Enjoying yourself. That's a large part of what the '60s were all about. Along with cigars and high-fat burgers, the '60s are back in vogue. So is Don Ho.

When we tell Ho we'd like to spend a day observing him, like an artifact under glass, he laughs and says, "We should have done this 30 years ago, in the '60s. Then we'd really have had some fun!"

Don Ho's Island Grill is a new theme establishment at Aloha Tower. It cheerfully replicates the casual Barefoot Bar ambience of groovy old Waikiki -- circa 1968 -- while serving up good food and great music. Located on the waterfront, where you're likely to see a fishing trawler bobbing behind the stage, it seems to still be trying to decide whether it's a bar, a restaurant or concert hall. The dilemma is solved moment to moment by shifting the tables around.

Ho's name is on the restaurant; his mementos are scattered throughout. But the Island Grill is ramrodded by entrepreneur Barry Silverman; he's in charge. Ho's involvement, beyond his name, isn't exactly clear. He takes a walk-through almost every day, checks the menu and has a meal. Mostly, though, Ho shows face. His presence is a kind of living philosophy and object lesson: Ain't no big thing, bruddah. Have fun. Buy another round. This is what life's all about. Suck 'em up.

And so, on a weekday morning, Ho is putting golf balls around the KHON television studio. He's there to tape "Hawaii's Kitchen" with Brickwood Galuteria, with guest chef Mark Ellman from the Island Grill. Although Ho will be cheerful enough, and he'll banter expertly with Galuteria, the show's real stars are a fried fish and a steaming plate of look fun noodles. Ho's role is to look over Galuteria's shoulder and show face.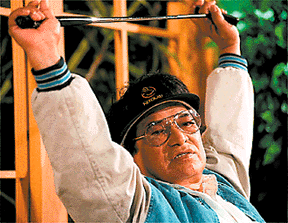 By Craig T. Kojima, Star-Bulletin
Above, Ho prepares for a round of golf.
---
Ho is wearing a warm-up jacket, a flowered shirt, a Koolau Golf Course visor and shorts. A night-watchman-sized bundle of keys dangle out of his back pocket.

"Island Grill is cookin,' man!" Galuteria says enthusiastically. Actually, Galuteria says everything enthusiastically. He's like a 50-year-old cheerleader.

"Yeah," murmurs Ho.

"Robert and Roland (Cazimero) going to play there this weekend, yeah? Robert said he was never, never, never going to play in a bar again."

"Well, we have him on a technicality," said Ho.

"That's right! It's a grill! Not a bar!"

The cameras are being set up, the cooking choreography rehearsed.

"If you ever want to do the Jerry Springer Show, Hawaiian style, I'll host it," Ho says to no one in particular. "We'll show those mainland girls what real beefing is."

A run-through goes smoothly, and Galuteria compliments Ho on his unflappability. "Best advice I ever got -- the camera is your friend, not your enemy," explains Ho. "Don't let it get to you."

Countdown. Tape rolls. We're in. "No matter where you're from, who's the man from Hawaii?" chirps Galuteria, and points at Ho.

"Robert Cazimero," says Ho, with a faux-bashful smile.

Outside the studio, Ho immediately strips off his shirt and walks barechested through the parking lot before changing into a battered polo shirt. Ho has spent a lifetime being casual, making it look easy, and on his terms. Pictures of Ho from the '60s -- an era when stylish clothes defined musicians as much as their music, and sometimes more so -- often show him barechested, bare feet up on a desk. He looks comfortable and in charge. The Ho style is no style at all. No one else does it as well.

For the past 18 years, Ho has had Haumea Hebenstreit to keep things boiling evenly. Her official title is Executive Producer, and she manages Ho's Beachcomber show. But she's also Ho's personal assistant and, frankly, Ho's keeper. An intense, wiry young lady with a ponytail, she's permanently plugged into a cell-phone headset and various computers and communications devices.

While Ho practices putting, Hebenstreit is whispering into her headset, closing deals, making appointments, checking her watch. It's a kind of symbiosis -- the two of them are almost like a science-fair demonstration of left- and right-brain activity.

Hebenstreit has a musical New Zealand accent, the result of education there. "Doesn't Haumea talk beautifully?" marvels Ho.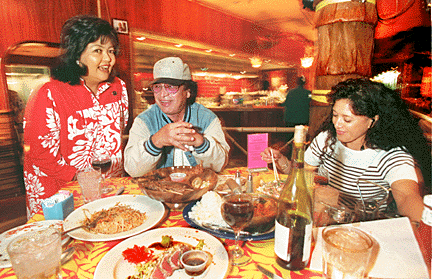 By Dennis Oda, Star-Bulletin
Don Ho and his executive producer Haumea Hebenstreit
run into City Councilperson Rene Mansho at the entertainer's
Aloha Tower Marketplace restaurant.
---
Juggling must be in Hebenstreit's genes. She's the daughter of Hawaii TV pioneer (and Buddy Holly lookalike) Carl "Kini Popo" Hebenstreit and Florence "Johnny" Frisbie, a dancer, model and author from the Tahitian atoll of Puka Puka.

Ho's Toyota Camry is blocked in by a gauntlet of closely packed KHON vehicles. He jumps behind the wheel and expertly wiggles the car out of the space, a feat that draws a gasp of admiration even from Hebenstreit.

"Top gun! Top gun!" crows Ho, and off we go.

There are two pieces of 20th-century technology that have molded Donald Tai Loy Ho, born Aug. 13, 1930.

The first is the jukebox. Growing up in his mother Emily's Kaneohe bar, the famous Honey's, the jukebox ran constantly. Things were jumping in the '40s, with the wilderness of the Koolaus awash with jazz-savvy sailors and soldiers. Honey's jukebox gave equal space to Hawaiian music, to cool-cat jazz and popular swing. Johnny Alameida alongside Count Basie alongside Tommy Dorsey alongside the Andrews Sisters alongside Ukulele Ike.

"It created a nice hybrid sound in my head," said Ho. "Everything was treated equally, and it went all day and all night long. Later, I realized I knew all these songs, hundreds of songs, and I don't know where they came from. I picked up music through osmosis."

Kaneohe in those days, he recalled "was beautiful. Like a neighbor island. Not easy to get to. I still live there, but the center of Kaneohe is like a big parking lot now."

The other piece of technology is the airplane. Excited by the giant bombers and swift fighters that filled the skies over Hawaii during the war, Ho joined the Air Force as soon as he could, attending flight school in Texas, and graduated as a fighter pilot just as the war in Korea wound down, building hours in T-6s, T-28s and T-33s.

"I managed to have one good crash landing in a T-33. Ran out of gas, so I popped the canopy at about 300 miles per hour. I put her down on a farm. As I was sliding along the ground, the barn was coming up awfully fast so I put the flaps down, right into the mud."

Ho said his life changed after the close call. "I was a shy kid, quiet, well-behaved. The crash made me realize that life was to be enjoyed."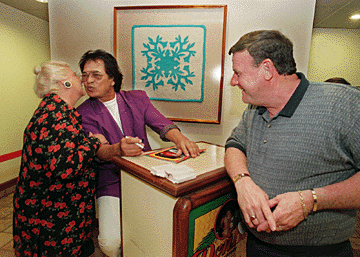 By Dennis Oda, Star-Bulletin
After the show, Do Ho gives every woman a kiss, young
or old, it doesn't matter. Here, Bob Zeiders of Canada
watches his wife, Donna get a kiss.
---
Ho transferred to the Military Airlift Command, flying gigantic C-97 cargo transports out of Hickam. "I had the Travis (Air Force Base in California) to Tokyo route. How can you beat that? Heaven for an American kid!"

To entertain himself while TDY, Ho bought an electric Hammond organ with push-button chords. He figured out songs by pushing the chords at random. "It was great for an old guitar player like me." He kept it in the fireplace and considered the instrument a diversion. Nothing more.

In 1959, tiring of the flying game and intrigued by Hawaiian statehood, Ho separated from the Air Force and took over managing his mother's bar in Kaneohe. It wasn't easy. "Family of six in a 10-by-12 room, making $25 a day -- if we were lucky," Ho says. "How did we do that? How did we survive?"

Ho, who makes a couple of cell-phone calls to his stockbroker while driving -- knowingly chatting about the volatility of internet and pharmaceutical markets -- spins over the Pali for the Koolau Golf Course. The restaurant there is named Honey's, after his mother's bar. "They let me play on the course in exchange for the name," he says. "Hell of a deal."

Over lunch, it's mentioned that we think we have Ho figured out.

"Go on," says Ho, and sits back expectantly.

He's a command pilot by training, with a pilot's personality. It's a particular, peculiar type of personality, one that is meticulous, detail-oriented, checklist-bound, although not afraid to delegate, always thinking ahead through potential problems. At the same time, a pilot goes out of his way to make it look easy and effortless, natural, graceful. The Right Stuff.

Ho's position on stage is similar to that of the cockpit of an aircraft, his eyes on the gauges, his ear on the synchronized purr of the engines. He is attuned with his whole being to the zen of flight, the aerobatic grace of performance.

"Not bad," says Ho. "I'm the left-seater, all right," referring to the commander's position in the cockpit.

Another characteristic of pilots is that they don't discuss the flight itself, just the nuts and bolts of technique.

"I didn't know what to do about getting customers into Honey's. Kaneohe was really quiet in 1960. Liquor salesmen wound hang around, trying to get me to buy their booze, but it was no sale. So they'd stay and have a drink, and never go home. I figured that if they drank enough of their own beer, they'd keep me afloat."

One day, the father of one of the inebriated liquor salesmen stuck his head into Honey's looking for his boy. "This place needs music," he sniffed. So Ho dusted off his chording organ and kept it under the bar, "fiddling around" with it while waiting for customers.

"I loved the 'ipu' beat, and you hear it a lot in my music. I started to apply it to modern tunes, and guys started coming in with their ukuleles. It got to be a happening. People love live music. It was country people and they love to sing -- boy, could they sing! -- and Sonny Chillingworth would come in and I sang harmony. Our jam sessions got to run all day and all night.

Honey's became the hippest place on Oahu. Waikiki came calling, and Ho began to sit in at the Barefoot Bar when Sterling Mossman took breaks. Local audiences followed Ho, and tourists began to sense the excitement.

"In the early '60s, the whole texture of Waikiki changed," recalls Ho. "It had been older tourists, and suddenly it was full of kids. Kids who would do anything to live here. Rick Ralston (the Crazy Shirts tycoon) had his little T-shirt booth outside the hotels. There was a whole mix of people, a rock 'n' roll and jazz ethic, and they'd wind up at our place after hours and stay to 4 a.m. I could not believe what was happening. The only thing to do was to get up on that wave and ride 'em, brah, as far as she goes."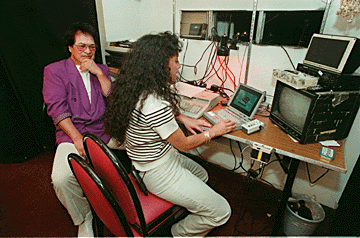 By Dennis Oda, Star-Bulletin
Backstage after the show, executive producer Haumea
Hebenstreit works on the computer while Don looks on.
---
Ho became friends with composer Kui Lee, who had a positive gift for melodies that reflected the nervy ambiance of post-statehood Hawaii. The work they did together defined Ho's sound to this day.

"Kui and I often talked about the social aspects of life here, and we wanted the music to reflect that. We were from modern times, not the past, but we were also from Hawaii.

He also merged with a group of brilliant musicians, the Aliis. They were ex-Air Force as well.

"The Aliis were like any other group -- they wanted to do their own thing," laughs Ho. "So I let them do it for a week or so, then they wanted to go back to the unpredictability of the regular show.

"When we started we only knew about 20 songs. The audience pushed us into playing everything. We had to learn a lot about music, to be ready with the right chords and key. It was a kind of scientific approach to organizing music."

Although his shows regularly broke bar-sales records, Ho -- the always-in-control command pilot -- was "very anti-drug. You had to be careful around me. It wasn't until later I realized that probably half my audience was on drugs. That's how naive I was."

The final piece fell into place when promoter Kimo McVay entered the picture. Tirelessly promoting the unique sound and unpredictable entertainment of the Ho show, McVay made sure the rest of the world listened as well.

McVay strong-armed record producer Sonny Burke into hearing Ho's show, and after two songs, Burke turned to McVay and announced he was going the sign him. They recorded a couple of best-selling live albums, and Burke particularly wanted to capture Ho's rendition of "Born Free."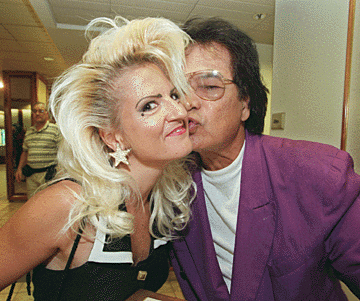 By Dennis Oda, Star-Bulletin
Joanne Horan from Australia gets a kiss
from Don Ho after the show.
---
"Born Free" became Ho's anthem, a song with resonance in his life and that of his audience, many of whom were GIs on R'n'R. "I remembered those times when I'd travel around America, an Air Force officer, and I still would be refused service in many restaurants because of the way I looked. I related to that song, and so did the Vietnam vets. I didn't know it was about lions until later!

"But when I was in the studio, I was too whipped after an all-night performance to do it right. I wanted to go. But Sonny and Kimo leaned on me to record a song they thought was great. I didn't like it. So, to get away, I sang it once and ran home."

The melody was "Tiny Bubbles." Since "Tiny Bubbles," Don Ho has been a household name.

"Two weeks later, it was on the radio everywhere," said Ho. "Suddenly we were in demand on the mainland. We were playing at the Coconut Grove and the Mexican waiter asked me, who the heck is this guy Don Ho?"

The mainland tour was eye-opening. "There's a whole world out there in the entertainment business that people in Hawaii don't have a clue about. It's efficient. It's organized. It's business-like."

Ho took notes. To this day, although his star has waned and waxed with regularity, he has worked steadily and full-time in the Hawaiian music industry. Virtually no other Hawaii artist can make that claim.

Lunch over, it's time for golf. Ho is paired with Hebenstreit, Silverman and a couple of powerfully built haole dudes. Ho isn't sure he needs socks with his golf shoes, but Hebenstreit finds a spare pair in her golf bag.

Ho trash-talks his golfing ability. "Take all the mulligans you want," he announces. "Hit the ball until you're happy. Just don't hurt the ball. I'm too old for this game anyway. I only started getting serious about the game recently, because I kept getting invited to charity matches. I thought I'd better practice."

They start on the back nine of Koolau, a course that -- to this non-golfing reporter -- looks pretty spooky; long, cramped fairways, plunging ravines, brisk winds. (A sports writer later explains that Koolau may be the most difficult course in the world.)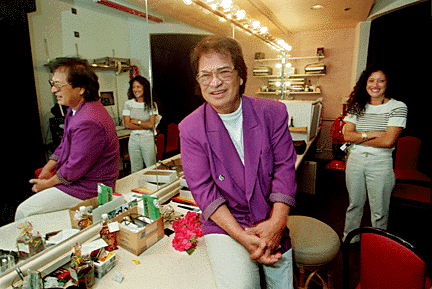 By Dennis Oda, Star-Bulletin
Don Ho relaxes backstage after his show. The dressing room
is nothing fancy and he seems at ease with it. Executive
producer, Haumea Hebenstreit looks on.
---
"Beautiful, eh?" exclaims Ho. "I just like walking around here. Golf is an excuse."

The other golfers take mighty swings. Their balls rocket away into space, lost. Ho steps up to the ball, makes what looks like a half-hearted swing, and his ball arrows down the course, right on target. "Beginner's luck," he shrugs.

He chips it up on the green. "Go baby!" Ho commands the rolling ball. "You wanna stay on the dance floor forever?" He taps it into the cup. Ho has bogied the hole, everyone else at least tripled. He continues to play that way, effortlessly placing the ball right where he wants it.

"Of course!" laughs Hebenstreit.

At one point Ho vanishes. He's gone 20 minutes. Eventually he staggers from the jungle alongside the course, carrying a hundred or so lost golf balls in a bag.

"I love it after a Japanese tournament," he says gleefully. "They always lose lots of brand new balls!"

Few people have worked longer with Don Ho than Kimo McVay. "Frankly, he's a genius," said McVay. "It's not that he's just a good singer -- he has perfect pitch; I haven't heard him hit a flat note in 35 years -- but he has an ability to completely mesmerize an audience. His timing is exquisite, right up there with Jack Benny. It's an amazing thing to watch him work.

"I think Don would rather go to his grave than not get up on stage every night and entertain people. He's a 68-year-old professional with the reflexes of an athlete. He was a star football player at Kamehameha Schools, did you know that? I guarantee you he'll die in the saddle, when he's a hundred years old, doing the show in a rattan wheelchair.

"The weird thing is, Don packs his showroom every night, no problem, and locals think he's dead. That's because Waikiki has ceased to exist for most local people."

Following the show, Ho makes himself available to the all-tourist audience, signing dozens of autographs. "I never had a problem being famous," he explains later. "You have to be among the people to release tension. It's when you lock yourself away, like Elvis, that you have problems."

Although Ho wishes there were more local people in his audience, he knows it reflects the demographics of modern Waikiki. It isn't the same hangout for Hawaii citizens that it was in the '60s.

Ho's solution for the non-local-ness of Waikiki is simple. "$2 parking for Hawaii residents and military! Who wants to pay $6, $7, $8 for parking? It keeps local people out of Waikiki, and if there are no local people in Waikiki, it looks like anywhere else. Imagine going to Mexico and not seeing any Mexicans. Waikiki has also become architecturally scarred. We need to think in terms of 'success,' not 'money,' to define what to do about Waikiki."

Ho and Hebenstreit change clothes and head over to the Island Grill for a late supper. He makes the round of tables, and makes kissy-face with City Councilperson Rene Mansho. "I love Don Ho," she declares. "I've always loved Don Ho. Who doesn't love Don Ho?" He grins like a schoolboy.

Ho, who hasn't eaten much all day, enthusiastically attacks a plate of ribs. "I could get used to eating here all the time," he says.

A fishing boat chugs by, and you can hear the waves slop against the pier. A TV set on the wall replays a Don Ho TV special from the '60s; the colors are Day-Glo. People are laughing, chatting, sucking 'em up. A cool sense of jazz pervades the atmosphere. It's deja vu all over again.

But then we notice that the full cans of Dole pineapple juice on the table, used to support a pizza pan, say PRODUCT OF THE PHILIPPINES in fine print.

"So?" says Don Ho. "Things change. Don't look back."






Click for online
calendars and events.
E-mail to Features Editor
---
---
© 1999 Honolulu Star-Bulletin
https://archives.starbulletin.com