---
Monday, February 22, 1999



48% say
suit won't lower
gas prices


The oil companies are
found most to blame for the
high cost, a poll reveals

By Rob Perez
Star-Bulletin

Nearly half the people who responded to a recent poll are skeptical that the state's antitrust lawsuit against local oil companies will bring down gas prices.

But a growing number of residents blame the companies -- not the cost of doing business here -- for Hawaii's highest-in-the-nation prices, according to a poll done for the Honolulu Star-Bulletin and NBC Hawaii News 8.

Some 48 percent of the poll respondents said they don't believe the lawsuit will result in lower prices.

The state alleges in the lawsuit that the oil companies conspired to keep prices artificially high -- a charge denied by the companies. The state is seeking more than $500 million in damages and a prohibition against continuing the alleged conspiracy.

During the statewide telephone poll of 428 registered voters, 36 percent said they believe the lawsuit will trigger lower prices, while 15 percent were unsure.

When asked to pick among five answers on what is mostly to blame for the high prices, 44 percent chose the oil companies. The next most common answer: the cost of doing business in Hawaii, cited by 27 percent.

When the same question was asked in a Star-Bulletin/News 8 poll last June, 38.3 percent blamed the companies and 35.8 percent picked the cost of doing business.

The shifting percentages suggest more people are questioning why the companies haven't lowered prices by greater amounts in light of dramatic drops in crude oil prices. The crude reductions led to substantial drops in mainland pump prices. Although Hawaii's major gas wholesalers have profited tremendously from the slide in crude costs, the companies say their pricing is fair and driven by competition.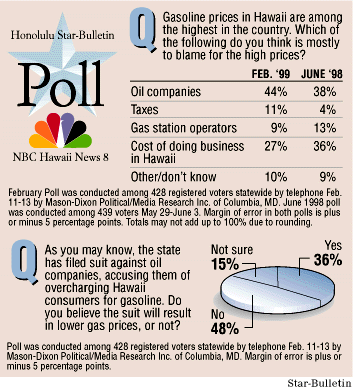 Hawaii's two main oil companies, Chevron and Tesoro Hawaii, declined comment on the survey results, citing the pending litigation.

Bernice Freitas, 83, a retired nurse living on Maui, said the state doesn't have much of a case and therefore doesn't expect prices to be affected.

"I think this is a lot for show," she said.

Gilman Hu, 68, an architect from Manoa, said he hopes the state wins the lawsuit. But even a victory probably won't result in significantly lower prices, he said.

"I don't really think this is going to go anywhere," Hu said. "The public here is so used to being shafted."

The poll was conducted Feb. 11-13 by Mason-Dixon Political/Media Research Inc. of Columbia, Md. It has an error margin of 5 percentage points.
E-mail to Business Editor
---
---
© 1999 Honolulu Star-Bulletin
https://archives.starbulletin.com