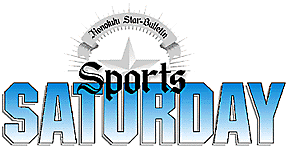 ---
H A W A I I _ S P O R T S

Notebook



Saturday, February 20, 1999

W A H I N E _ B A S K E T B A L L
---



Wahine playbook

Vs. San Diego State Aztecs

Coach: SDS, Barb Smith (2nd season, 16-32). UH, Vince Goo (12th season, 238-106)

Season: SDS, 6-17 (3-8 WAC). UH, 14-9 (6-5 WAC)

Top players: Sophia Sledge, 5-8 guard, 11.2 points and 2.1 steals per game; Charley Murray, 5-8 guard, 2.9 assists per game, 38 percent 3-point shooter; Anita Bundage, 5-11 forward, 6.5 rebounds per game.

Interesting facts: All seniors (55 and older) admitted free for Senior Night honoring the lone Wahine senior, BJ Itoman ... Raylene Howard is first in the WAC in field goal percentage (.564) and third in scoring (20.4 ppg). She is tied for 23rd nationally in scoring ... Itoman is third in the WAC in steals (2.7 per game) ... SDS leads the series, 12-11, but the Wahine have won the last three games ... SDS averages 22 turnovers per game, UH 14 ... Aztecs lead the WAC with 12.9 steals per game.

Keys to the game: The Wahine, coming off a tough, two-point loss to WAC Pacific Division leader Utah, now must focus on winning their final three games against the bottom three teams in the division to build confidence and momentum for the conference tournament ... "Our goal is to get there, play the best we can and play on Saturday," UH head coach Vince Goo said ... Hawaii clinches a tourney berth with a victory tonight ... The Aztecs need to win their three remaining games to have any chance for a trip to Las Vegas. That's a major challenge since they are 0-8 on the road and stuck in a four-game losing streak ... The Wahine have to be careful not to suffer a let down ... "We'll have to handle their man pressure and make them not handle ours. And we'll have to defend their inside people, who are quicker than Utah's," Goo said.

Tip-off: 7 p.m., today, at the Stan Sheriff Center

On the air: Live on KHNL TV (Ch. 5) and KCCN radio (1420 AM).

---
R A I N B O W _ B A S K E T B A L L
---



Rainbow playbook

Vs. San Diego State Aztecs

Coach: SDS, Fred Trenkle (5th season, 53-82). UH, Riley Wallace (12th season, 181-170).

Season: SDS, 2-21 (0-11 WAC). UH, 5-18 (2-9 WAC).

Top players: Matt Watts, 6-3 senior guard, 13.5 points per game; Myron Epps, 6-6 freshman forward, 11 ppg, 5.5 rebounds per game; Vince Okotie, a 6-7 freshman forward, 8.3 ppg; Marcelo Correa, 6-10 sophomore center, 6.8 ppg and 4.8 rpg; Donte Wilson, 6-3 junior point guard, 8.3 ppg.

Interesting facts: One of Hawaii's two victories in the WAC came against the Aztecs (87-67) at the Stan Sheriff Center on Jan. 23 ... Trenkle, whose team has been outscored by an average of 21.5 ppg, announced last week that he will resign at the end of the season ... Hawaii leads the series with SDSU, 27-16, in games dating back to the 1970-71 seasons ... Marquette Alexander continues to lead the Rainbows with a 16.5 ppg average in WAC games and a 13.6 ppg average overall. Alexander has led the team in scoring in nine games. He is second in rebounding, averaging 5.1 per game ... UH averages a league low 63.1 ppg ... Mike Robinson leads Hawaii off the glass with 5.8 rpg. He scores 11.3 ppg ... The biggest problem for Hawaii is turnovers; UH commits 17.4 per game.

Tip-off: 5 p.m., Hawaii time, today; Cox Arena, San Diego.

On the air: Live on KCCN radio (1420-AM).
E-mail to Sports Editor
---
---
© 1999 Honolulu Star-Bulletin
https://archives.starbulletin.com